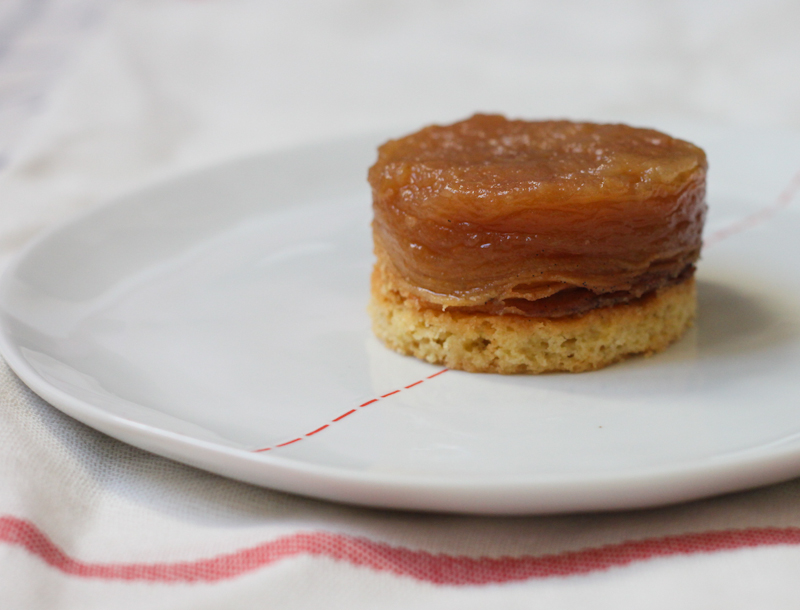 Anything baked with apples almost always has my attention. The apple upside down cake has become one of my go-to recipes for dinner parties and there's nothing better than a chausson aux pommes from Poilâne, warm and flaky, buttery and comforting. Last week, I had a really good pear and apple crumble at La Cantine de la Cigale made with stewed apples and pear, topped with a nutty streusel, and interestingly, a layer of crème diplomat (pastry cream lightened with whipping cream) sandwiched between the two layers.
With a sackful of apples at hand that I had bought from the Marché des Producteurs last week, I set out to make tarte tatin. I used a technique inspired from La Pâtisserie des Rêves, where apples are sliced thinly and cooked in a caramel until they've softened completely, to the point that they look like they've almost turned into a compote while still retaining the visible layers. It's a bit of an effort, and it is imperative to start one day before so the apples can cook and then cool and firm-up overnight, but the results are well worth it.
A few things to keep in mind while making the apples for this tarte tatin: slice the apples very, very thinly. I used a mandolin for this. Once you've done that, pack them into the moulds tightly. The apples will shrink considerably. I used a silicone mould to bake the apples. (I still stand by my opinion of silicone moulds for baking cakes and such. With apples, I'm not concerned with browning the fruit, but more interested in making sure the apples will unmould easily without falling apart). In his recipe, Philippe Conticini suggests using Golden Delicious apples for their high pectin content that will help the apples firm up and stick together. I used my favorite Chantecler apples and they worked well too.
Instead of the traditional puff pastry, I chose to make Palet Breton – thick shortbread made with salted butter, for the apples to sit on. The dough for this is pretty soft, so it's best to refrigerate it for a few hours before baking. And once ready, simply top the cooled apples on it. You could even let the apples sit for a while before serving if you'd like the shortbread to soak up a bit of the apple and caramel juices.
Ingredients
Apples

4 big apples (Golden Delicious, Chantecler, Granny Smith)

Caramel

80g sugar
20g water

Syrup

20g water
25g sugar
20g butter
1 tbsp lemon juice
1 pinch of sea salt
Seeds from 1 vanilla bean

Palet Breton

2 egg yolks
80g sugar
100g salted butter
140g flour
6g (~1/2 tsp) baking powder
Method
Peel, core and thinly sliced with a mandolin. Set aside.
Caramel: In a pan, cook the sugar with the water until lightly caramelised. Pour the caramel at the bottom of the silicone muffin pan, diving it equally between the 6 moulds.
Next, arrange the apple slices into the moulds and pack them tightly.
Syrup: In a pan add all the ingredients of the syrup and bring to a boil. Pour this syrup over the apples, dividing it equally.
Bake in a preheated oven at 160C for 1 hour. Let it cool completely before refrigerating it overnight.
Palet Breton: Whisk together the egg yolks and sugar until pale in colour. Next, beat the butter in until it forms a homogenous mixture. Mix together the flour and baking powder and fold it into the egg mixture. Roll the dough into a log of about 1.5 inches in diameter and wrap it in clingfilm. Refrigerate for a few hours, or overnight. To bake: cut the dough into 1/4th inch sliced. You can either bake it in a metal muffin pan if you have one (to prevent them from spreading) or bake them on a baking sheet lined with parchment paper. If you follow the second method like me, once the palets have baked, and still warm and slightly soft, you can cut them with a cookie cutter to the same diameter as that of the apples.
To assemble, unmould the apples and top them over the Palet Bretons. Brush with the caramel syrup that remain in the mould. Serve.
http://purplefoodie.com/apple-tarte-tatin/