Whenever I spot an apple recipe in a book, it gets bookmarked. Especially lately. I've been consuming apple desserts as if they're the only kind available: apple tart, apple strudel, green apple sorbet, apple cake, apple bread. Anything at all made with apple is picked up without a second thought.
I'd bookmarked this recipe in Falling Cloudberries (one of my favourite cookbooks!) a while ago and I finally got around to making the cake a few weeks ago for the first time when we had friends over for dinner. I thought it was a bit much for 4 people, but it got over sooner than I imagined. I made it again, because I just had to share the recipe with you.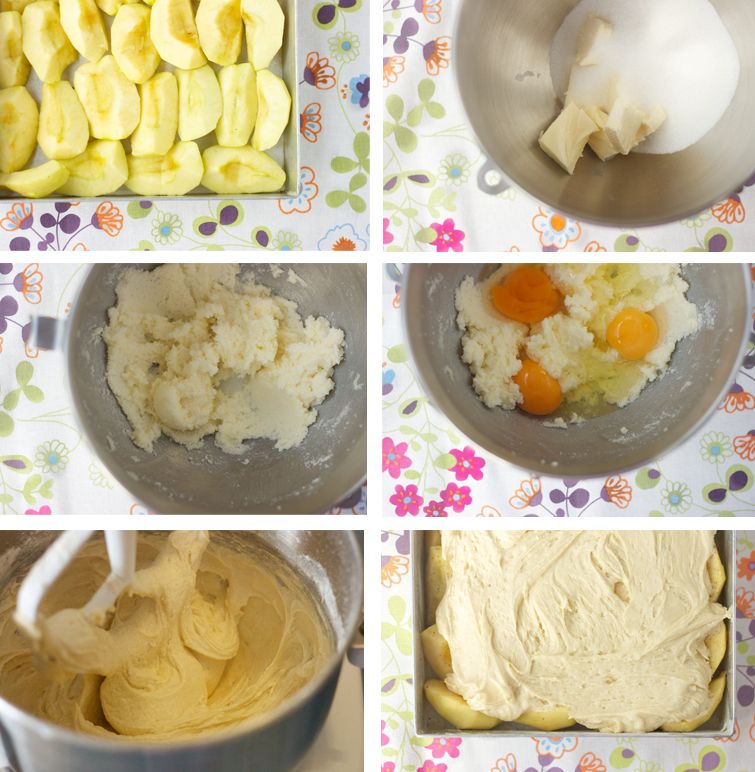 It's an incredibly simple recipe: You cut up the apples and lay them in the baking dish, sprinkle with cinnamon and sugar and pour over the cake batter and pop it into the oven. One thing to be sure of is to always cut the apples much larger than you think is necessary. They cook down quite a bit, so it's important that by the end of baking the apple chunks are substantial (I used small golden apples so I quartered them). As per the book, this isn't meant to be an upside down cake, but I did just that so that the apples could be doused in caramel sauce. Now, about the sauce: if you'd like the sauce to seep through the cake and flavour it, pour it when the cake is still warm. If you want the caramel sauce only to sit on the apples, then wait for the sauce and cake to cool completely.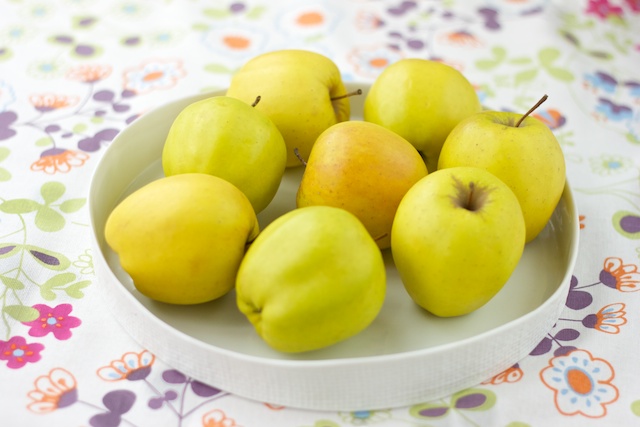 Caramel Apple Cake
Yield: 9-10 servings
Adapted from: Falling Cloudberries (USA | UK | India)
Ingredients:
3-4 apples (I used 7 small Golden apples), peeled and cut lengthwise
1 tsp freshly ground cinnamon
7 tbsp / 100g butter, softened
1 cup / 200g sugar, plus a little more for sprinkling
1 tsp vanilla extract
3 eggs
1 2/3 cup / 200g flour
2 tsp baking powder
1/4 cup / 80ml milk
Topping: Caramel Sauce
Equipment:
A 9 inch square pan or a 10" springform cake pan.
Method:
Preheat the oven to 375ºF/190ºC. Grease and flour the baking pan.
Arrange the apples into the pan so that they sit tightly. Sprinkle with cinnamon and sugar.
In a bowl, using a stand mixer or an electric mixer, beat together the butter, sugar and vanilla, followed by the egg. Mixing them in one at a time, until the mixture is soft and fluffy.
Whisk together the flour and baking powder and fold it into the egg and butter mixture. Finally, stir in the milk until it forms a consistent batter.
Pour the cake batter over the apples and smooth out the surface.
Bake for 35-40 minutes until a skewer inserted comes out clean.
Let the cake cool down for ten minutes. First, run a knife along the edges of the cake and then place a plate on the pan and turn the cake over. Tap it gently, and the cake will fall into the plate.
Now, depending on how you'd like the cake (read above) spoon the caramel sauce over it.
What's your current favourite apple dessert? Perhaps you have an apple dessert to share with me, one that I absolutely must try?