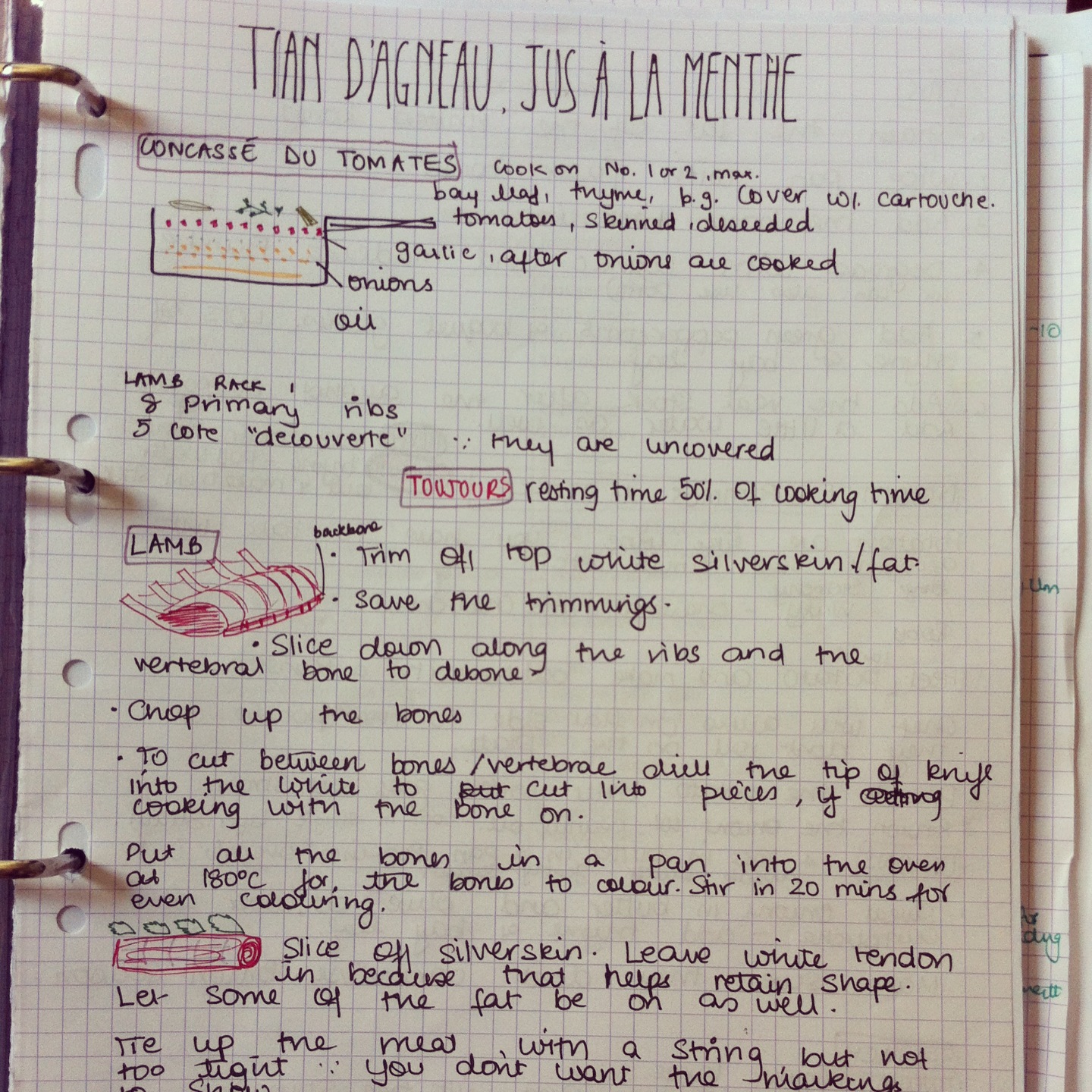 I absolutely hate having a practical class that involves cooking fish on a Monday. Why so? That's because the market is closed on Monday, so the fish is typically ordered in over the weekend and is sitting in the walk-in refrigerator in its own liquid until Monday morning. A restaurant would scale the fish, clean its guts out, chop off the head and then store it, but because we need to practice all of that, it is left alone. This week, we had to make trout stuffed with a mix of morels and cultivated mushrooms that we learned in the demo class on food from Alsace last week. I've never worked with trout before, so this one was fun. Trout has a bone structure very different from the fishes I've done so far. It has an almost concave central bone such that it's protecting the stomach below. And the bones are very fine too – I had to run my fingers over them several times and pluck at them with tweezers before it was ready to cook. I'd imagine that this fish has a structure made for a butterflied presentation. It's also an extremely slimy, slippery fish with very tiny, almost inconspicuous scales.
Over the weeks, I've realised that one of my favourite tasks to do in the kitchen is filleting a fish. Every time I fillet a fish, I have the paragraph from Kitchen Confidential going through my head "He knows how much fillet you get off every fish that swims, keeps a book on every cook who works for him with their individual yield averages for each and every fish they ever cut for him – so he knows, when Tony puts a knife to, say, a striped bass, exactly how many portions Tony is likely to get compared to the other cooks.Tony averages 62.5 percent usable yield on red snapper, and Mike averages 62.7 . . . so maybe Mike should cut that fish." I try as hard as I can to leave as little meat as I can on the bone, because I always want to be the one cutting the fish.
Actually, it's not just the filleting, but the entire process that begins with scaling a fish, snipping off its fins and tails and then finally cleaning its guts. Some fish can be downright nasty, like the mullet that I once bought at the market after being lured in by the inexpensive price tag, but that turned out to be not-so-inexepensive after all. That said, most of the fish we've used at school have been pretty easy to manage. I like how you have to slide the fillet knife gently into the stomach and go in just until you've slit the flesh but not deep enough to cut open the guts (if you do end up doing that, there is quite a bit of bloody mess to clean up). Once the stomach is open and the insides exposed, a little bit of pulling and a lot of prodding and snipping at the gills and the fish is vide. Next, it's time to deal with the head. Back in Basic, we were taugt to scoop out the eye carefully, in a way that you don't puncture it and let all the black liquid from it ooze. The eye must be removed because it gives a very unpleasant taste to the fish, say some chefs. Other chefs think it's not worth the effort and go ahead and use the entire head portion to flavour the sauce. Once the fish is clean, the best task of filleting with a sharp, flexible fish knife awaits. Depending on whether it is a flat fish or round fish, the technique varies. Also, with flat fish, you end up with four fillets and with a round fish, two.
For our second practical class, we made Tian D'Agneau (lamb) with a peppermint jus. I liked this recipe so much, I marked a few stars next to it in my journal. Seared lamb that is cooked rosé and sits on a bed of slow cooked onions, tomatoes and wilted spinach. The strong flavours of the lamb matched perfectly with the peppermint jus. The jus, like all sauces, starts with a litre of stock and whatnot and gets reduced to a few tablespoons packed with flavour. Oh, and potatoes – cut with a Parisienne scoop and then cooked in oil until brown, drained off, tossed with butter and finally popped into the oven until they absorb it all. How could anybody not like it? I left my potatoes in a little too long so they browned a bit more than they should have, but other than that I was really happy with what I made. And the best part about this class? The chef loved my sauce! So much so that he asked the entire class to taste it. Oh, yeah.
And for our third practical class of the week, we made Coq en Barbouille – which is a lot like Coq au Vin. The chicken is marinated overnight in red wine so we had to focus on the sauce, garnishes and the liaison – or the binding agent. This time, it wasn't a simple roux or a beurre manié, but a liaison made with fresh blood (eek). I only made half of my sauce with the blood and tossed it all after. I can't get my head around how boudin noir is so popular in France. I guess it's something you have to have grown up eating to like it.
One of my pet peeves at school is when the chefs at demonstration show us a way to do something, we replicate it exactly, but get scoffed at by the other chef in the practicals (we seldom get the same chef for demo and practicals). This class particularly was a contention of a lot of these conflicting views. "Degrease the pan after you've browned the chicken!" said the chef in practicals, even though the chef in the demo class didn't do that. Neither did he tell us to remove the skin and serve it without the bone, which the chef in practicals found absolutely preposterous. But what happens to us? Get marked down for the things we weren't shown. However, if I were to be an optimist – it's great to get different perspectives on how a recipe should be made, and that's how we'll learn that there are several approaches to working the same recipe and there is no right or wrong. Once you have strong techniques, developing your own style will follow naturally.
The week ended with a demo on the foods of Ile de France. Tomorrow I'm going to cook lamb chops braised in onions and potatoes, a recipe that is touted to be created by Louis IV's mistress.
Read the previous weeks at Le Cordon Bleu:
Week 4
Week 3
Week 2
Week 1