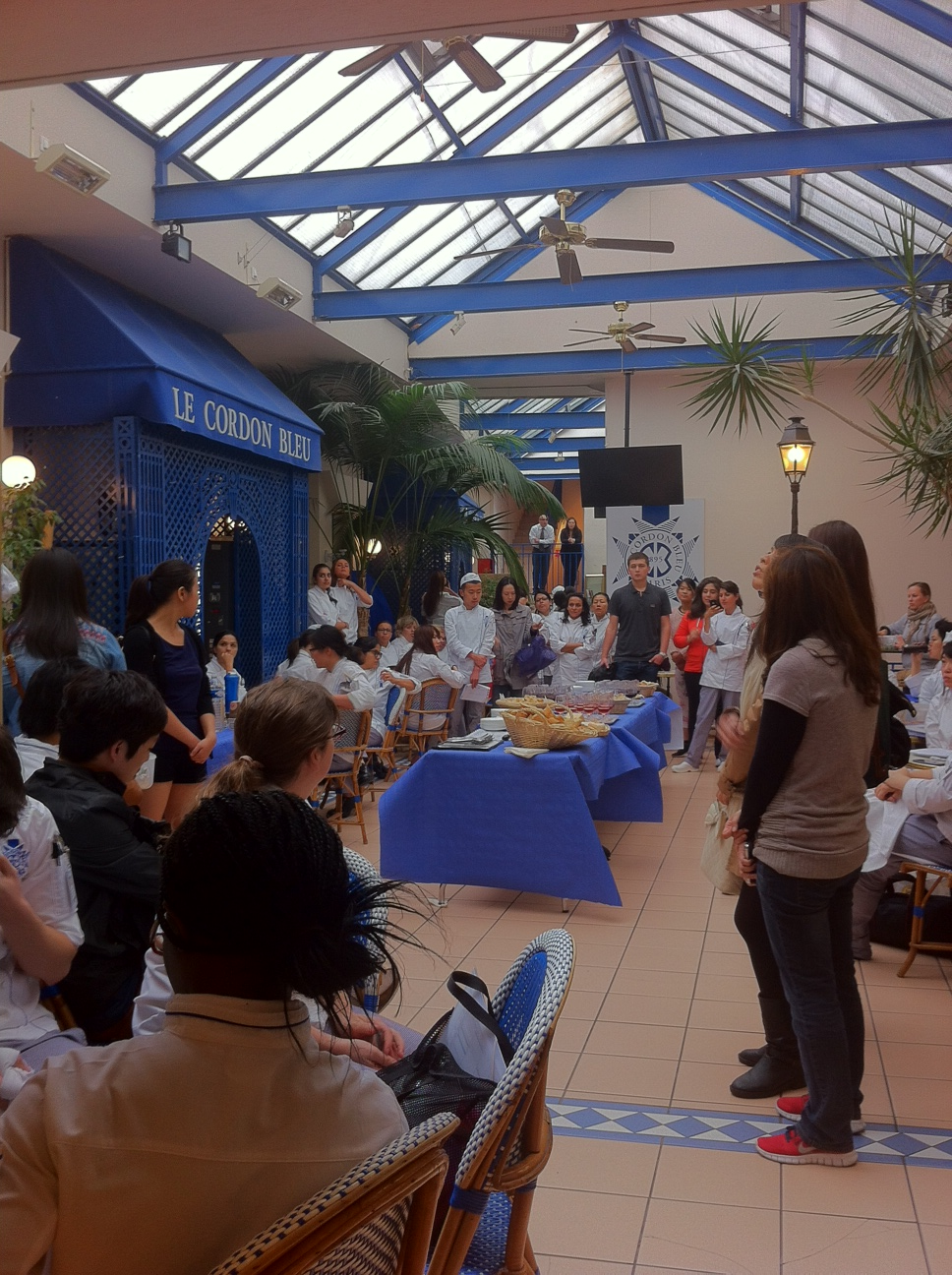 On the first day of the week, I got myself locked out of my locker, again. This had already happened once before, back when I was studying Basic Cuisine and the folks at school had to break into my locker with mighty big cutters. I really didn't want to go through this all over again.
I had taken my knife kit and recipe folder home for the weekend and had freshly laundered chef whites (over which I spent hours bleaching, spraying stain remover, washing and ironing) so the only things I really needed from the locker were my kitchen shoes. And I knew I had the keys at home – somewhere. So I sneaked into the class in my tan suede boots and went straight for the last row, instead of my usual front row seat, hoping I wouldn't be noticed, and God forbid, asked to leave the demonstration room. That worked – but it certainly wouldn't during the practicals in a class of 10. Luckily, a friend lent me her shoes because she couldn't attend her practicals and I managed to scrape through the day without having to break into my locker. Thank goodness.
***
New additions to my knife kit include a Japanese fish scaler and a pair of tweezers I bought from Chef Ju (the only female chef at school, and she used to make us iced chocolate on hot days) at a bargain – they cost a lot more at Mora. During a break at school I also went by to Ceccaldi, an artisanal coutelier workshop in the St. Germain district that I'd been meaning to visit for a while, and fell in love with the high carbon knives they make. I've been thinking about these and the Spanish Pallares Solsona knives  (Heidi sells their kitchen knife in her online store) and trying to justify spending a small fortune on them (all in the name of education, of course). Back to the knife workshop in St. Germain – they make hand crafted knives in high quality carbon steel (known for retaining a sharper blade longer than stainless steel blades, and also easier to sharpen) and come in a whole range right from pocket knives to hunting knives. Most of the knives are made in Corsica, with just the pocket knives being made at this workshop. They also sharpen knives here for a small fee.
***
Kitchen learnings at cooking school:
Do not put too much oil into the pan while browning the meat/bones – not only will you have to worry about skimming the sauce later, but it also won't help attain that coveted brown colour that's a result of the meat bits that stick to the pan (called the suc) that are constantly scraped in and incorporated back in.

A bowl of water and vinegar on the side is way more efficient to quickly clean knives instead of having to run to the sink every now and then.

Duck breasts are done when you think they aren't.

Apricots + rosemary taste phenomenal together.

Use potato starch to quickly thicken a sauce, but not too much. Mix it with a little cooled water before adding it to the sauce and bringing it to a boil (just like cornstarch)

I do not like farcis – gorgeous, plump jumbo prawns ground in a mixer and then passed through a tamis (fine drum sieve) and seasoned so it can be used as a stuffing for fish. I'd much rather eat big, juicy prawns.
***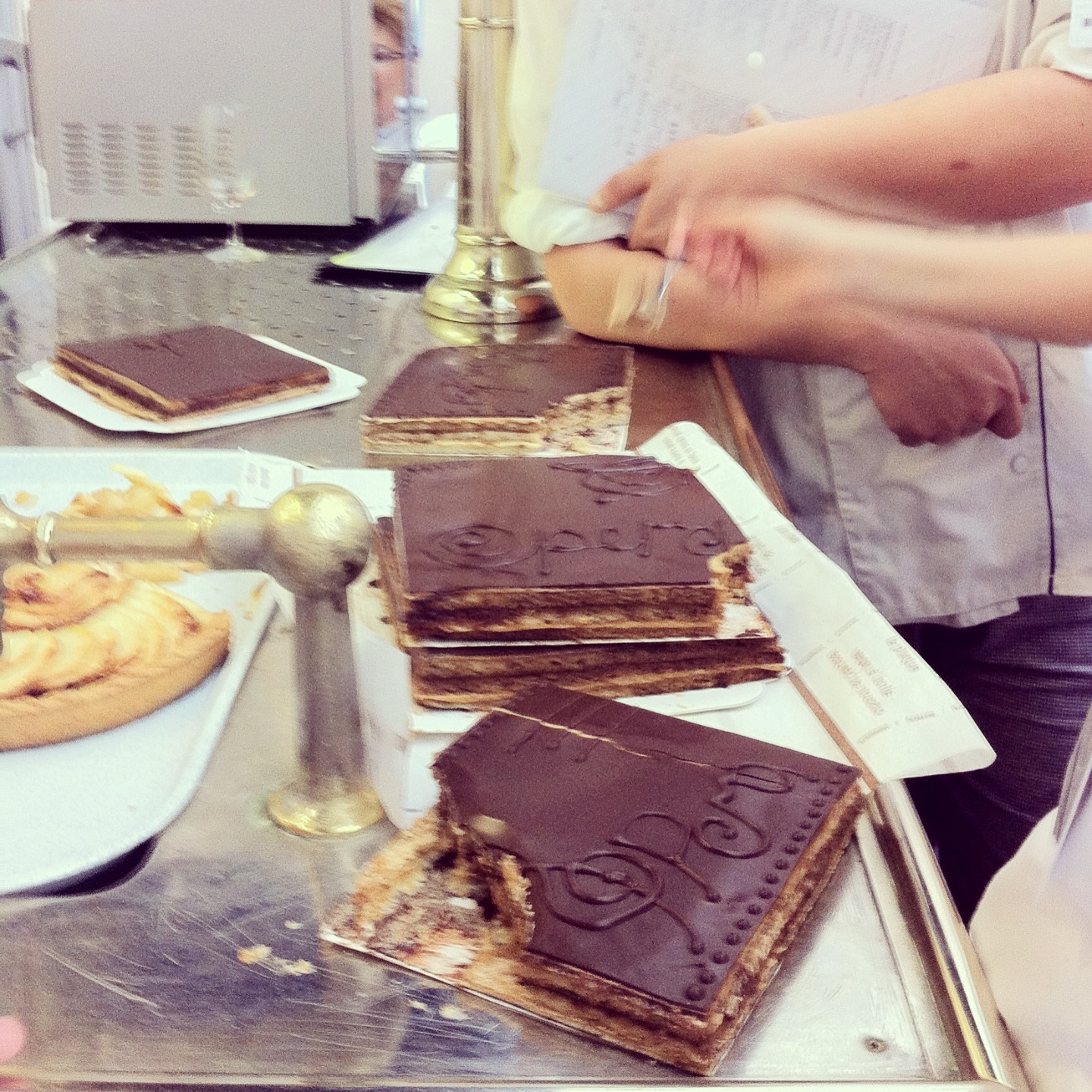 One of my favorite things about the Paris school is getting to gorge on the pastries that the Patisserie students make. Those who don't want to take it back home simply leave it in the Jardin d'Hiver (first image) for everybody to taste. And it's pretty amazing how even though everyone uses the exact same recipe, each pastry is different from the next one, and distinctly so. In the photo above the famous Opéra cake is up for tasting – a cake where the coffee, chocolate and buttercream take centre stage  My favourite so far has been the raspberry and passionfruit tart I brought back home. We also had a little welcome party that the school hosted with wine and cheese. At 11AM. Such a nice touch.
***
Overall, Week 2 was much more relaxed with only 3 days of school. Looking forward to making a 3 meat pie on Monday morning!
PS: If you're using Google Reader, you should switch to Feedly (just one click!) before they shut down tomorrow.