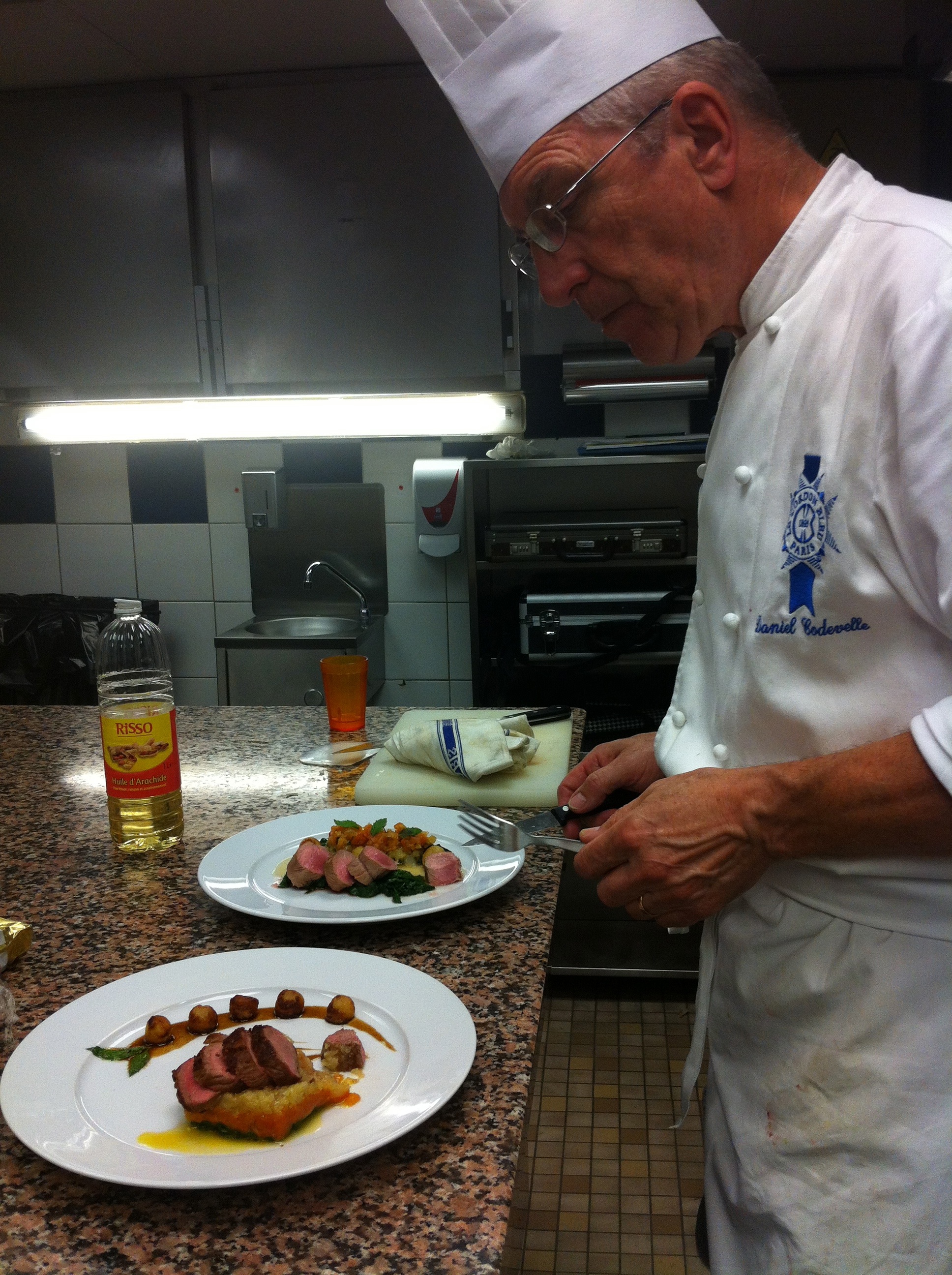 The moment of truth - chef tasting the final result. Mine's the one in his left.
I wrote a diligent report of my weeks at Le Cordon Bleu until Week 6, and then I stopped. I really wanted to continue, but committing to something or getting into a rhythm doesn't come very easily to me – and so I trailed off. I began the weekly chronicling  as a way to capture memories to look back at a few months or years down the line, and to reminisce about the glorious time I had at Le Cordon Bleu, Paris. I scribbled notes on the métro, I clicked photos whenever an opportunity presented itself and even thought of a book title based on something the chefs say all the time. I have it all on chits of paper and in my head, and now on my blog, lest I forget it all.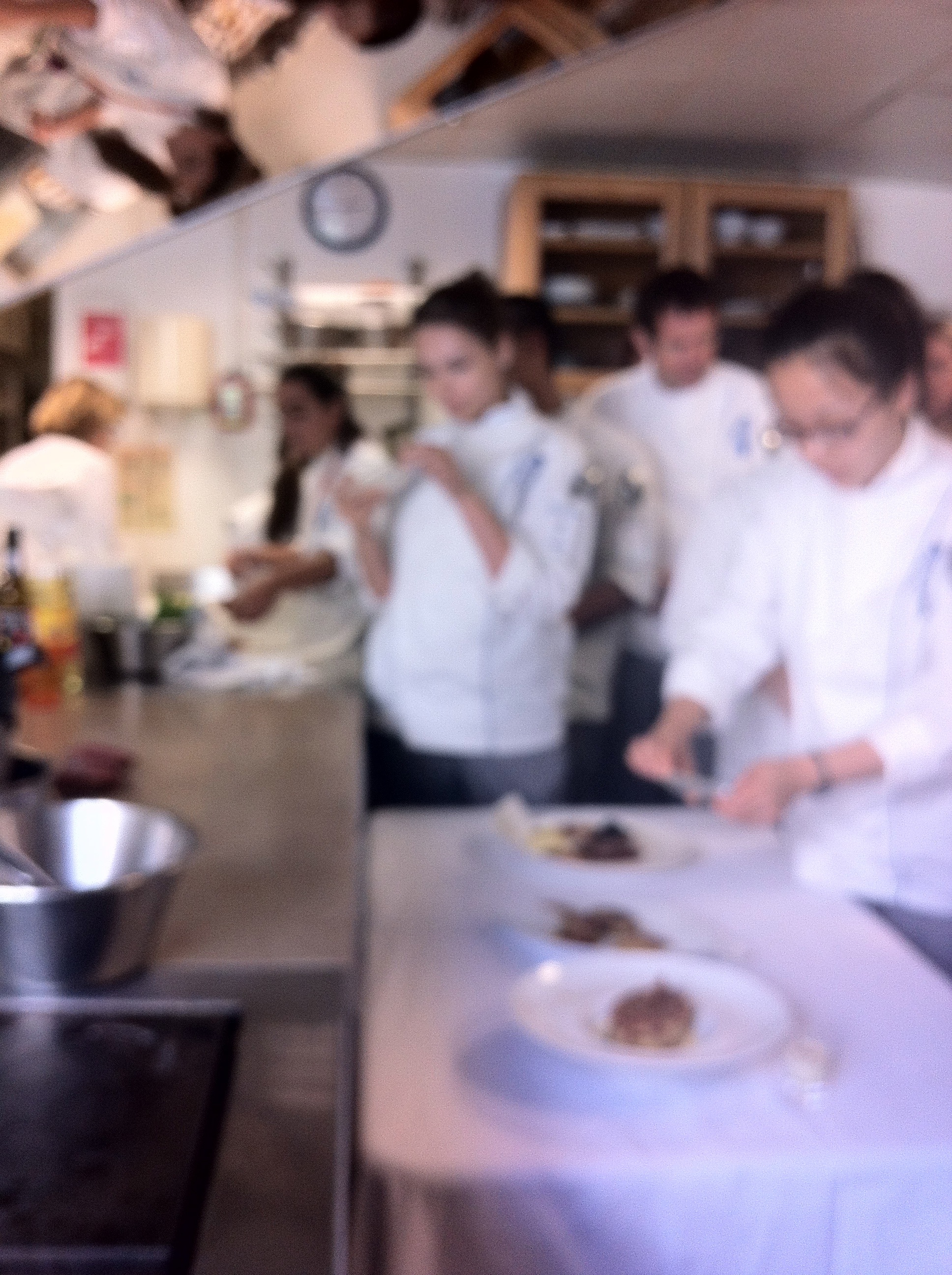 Things I learned
Smoking fish isn't as scary as I imagined. We smoked a pike-perch in a metal box, slightly larger than a shoe box, with saw dust that the chef ignited with a blow torch. He then covered it tightly with the lid and let the fish smoke on either side, flipping the fish over halfway – making sure the fish was kept on a wire rack and not touching the saw dust. I hope to smoke some salmon like this.
I love butchery. Deboning a rabbit saddle without a single nick in the flesh – this was a task for making rabbit tournedos that would be stuffed with forcemeat (surprise surprise!) and prunes. The chef insisted we take our time to carefully debone the saddle because it was very easy to end up with holes along the backbone given that rabbit bones are quite pointy. In my practical class I asked the chef to show me his technique because I was curious to see if he had a different technique from what the chef in the demo class showed us. It was – and that was what I eventually ended up liking because it didn't depend on the pressure you apply by pulling the backbone from the meat by hand as we saw in the demo, instead it relied on precise knife skills where you run the knife along the contours of the backbones. "C'est impeccable!" said the chef when he saw my deboned rabbit saddle.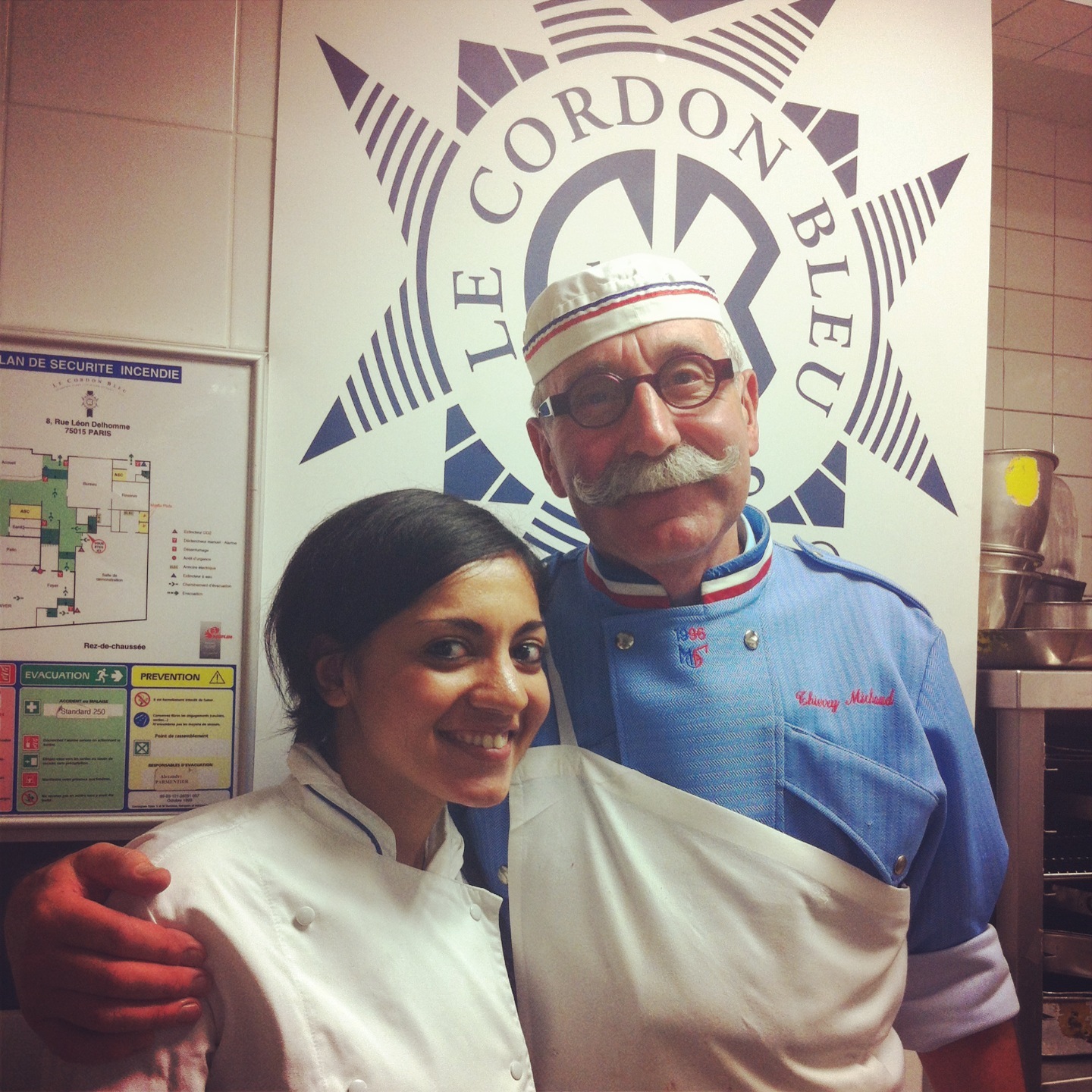 I really, really love butchery. Lesson no. 27 was something I was more interested than others. We had MOF butcher Thierry Michaud visit school and break down an entire lamb. It was absolutely mesmerising watching him butcher the animal with such skill and grace. When we lived near Convention, I used to love to peek into his shop whenever I passed by not just to look at his quality meats, but also to get a glimpse of his old world moustache.
You can revive a split mayonnaise. You do this by starting with a clean bowl with some warm water into which you slowly drizzle in the split mayonnaise a little by little until it comes together. Much like the hollandaise we fixed with ice cubes.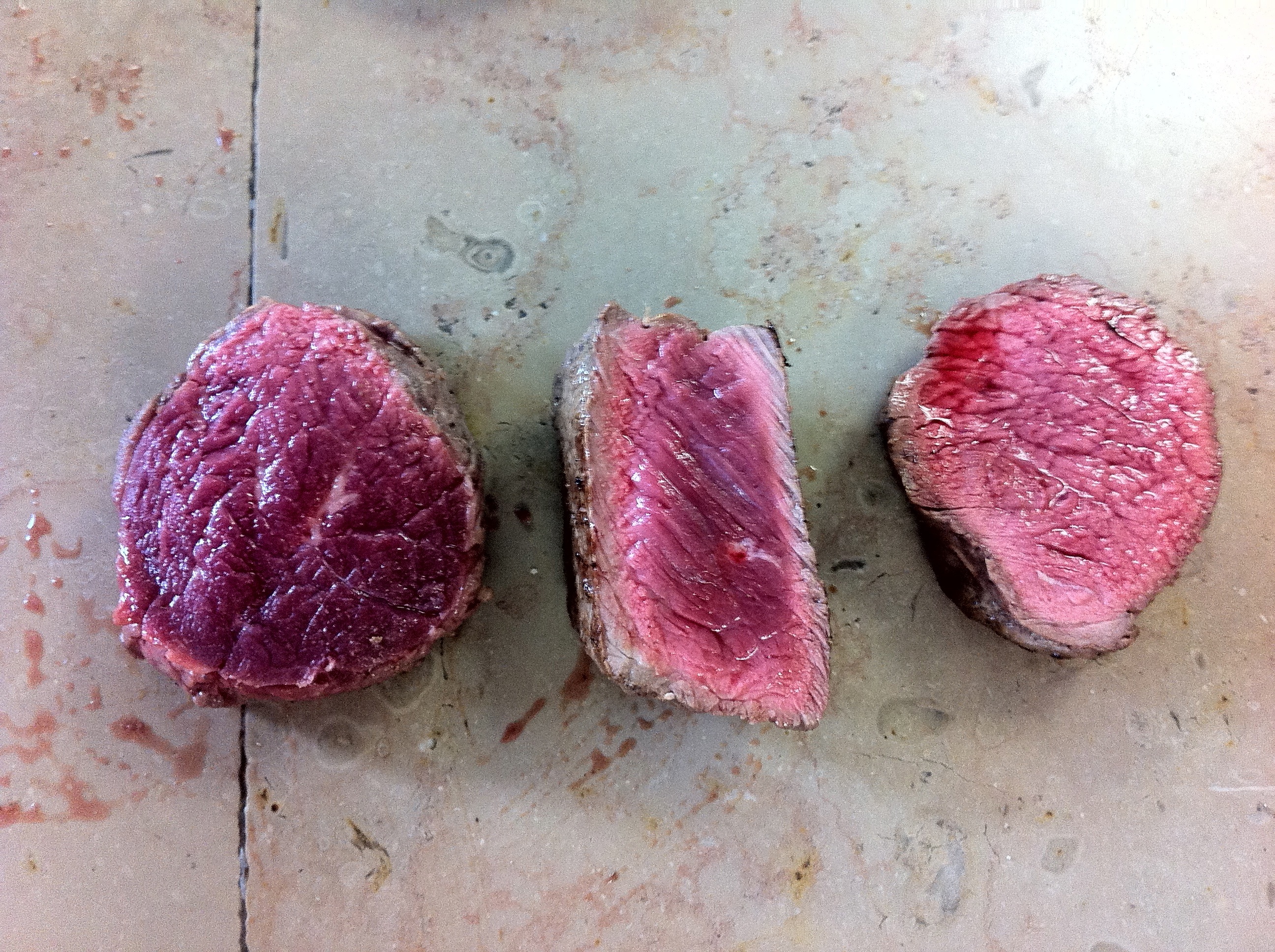 Cooking steak based on touch and timing. One of my favourite classes was when we made pan fried steak. We had to make three servings, making once of each kind: bleu (rare, very bloody), saignant (medium rare) and  à point (medium doneness according to the French, but not quite in the rest of the world). Once we cooked the steaks and let it rest, the chef would cut into each of them, and before he did, we'd have to tell him just how well done the steak is supposed to be. I got two out of three correct. I was too worried about overcooking the steak beyond à point, that I actually pulled it off while it was still saignant.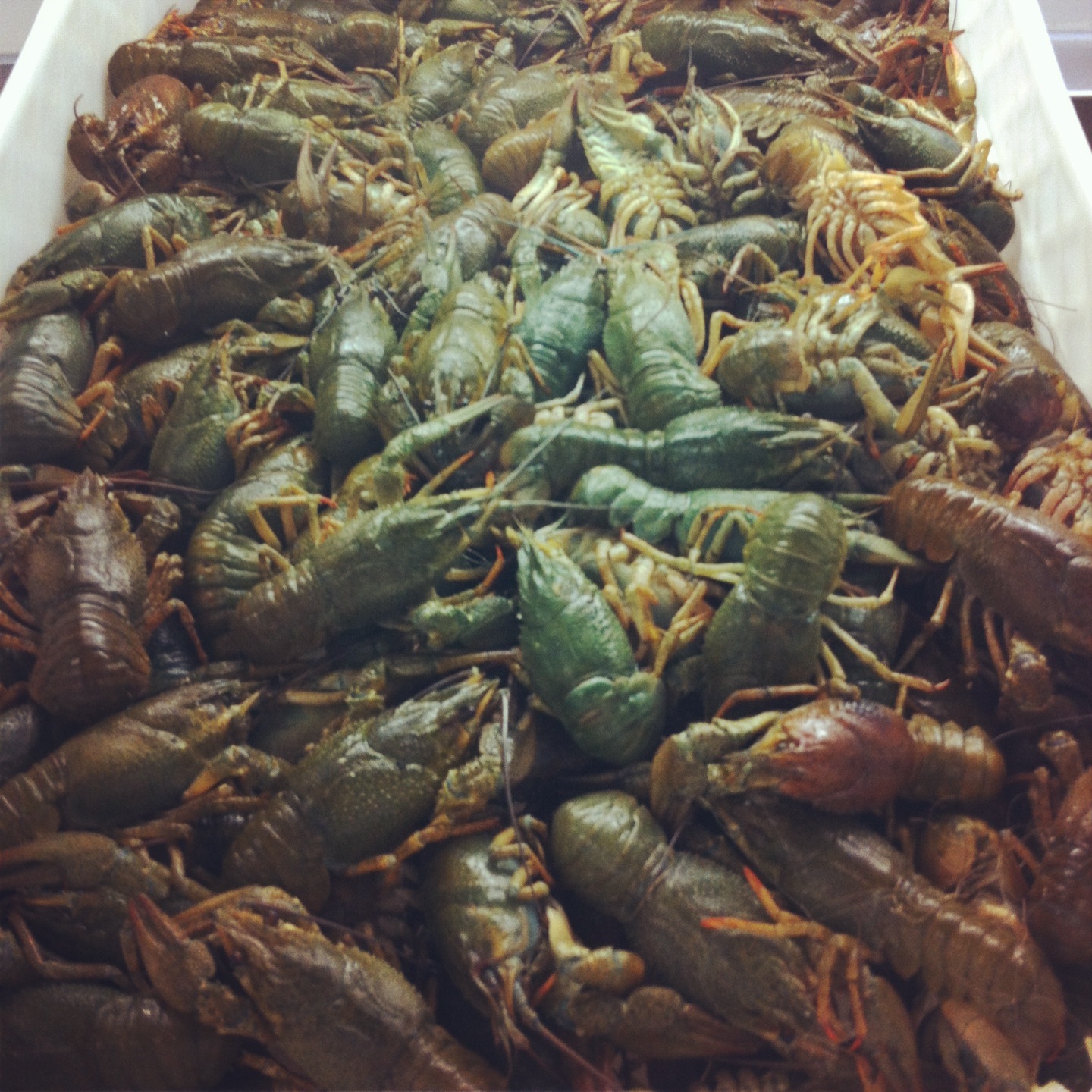 Killing things alive isn't easy. I love eating meat. And I do enjoy a bit of butchery. But when it comes to killing something alive, I am not entirely comfortable. Especially, when you have to twist the tail off a dozen crayfish in order to pull out their guts, while holding them by their head, hoping they won't scratch you. Luckily, my Korean classmate – helped  snap my crayfish with much more élan. Suffice to say, there were a fair share of shrieks in class on this day.
Mango and passionfruit is a brilliant flavour pairing. One of the best parts of being at school is that the patisserie students, wont to all the sugar and butter, leave all their cakes and pasties in the Jardin D'hiver (student common area) for us hungry cuisines students who can't wait to get more sugar on our palate. On once such occasion, I discovered the stunning chocolate spheres filled with a chocolate cream made with mango and passionfruit and dotted with crunchy biscuits. I ate this as fast as I could lest I'd have to share.
Favourite things I made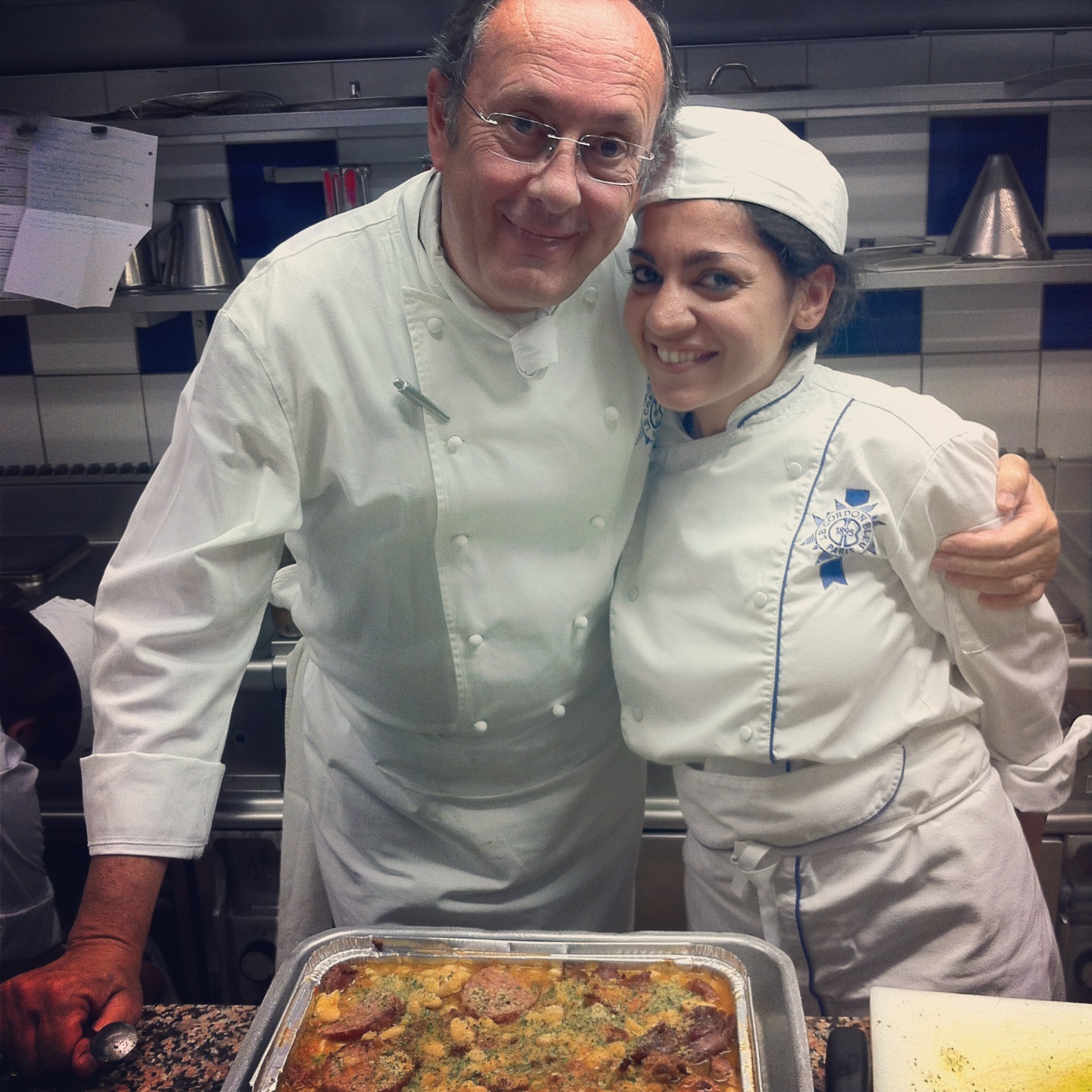 Cassoulet. In the peak of summer, we were cooking a quintessential winter dish from the Languedoc region of France: white beans, tomato concassé, duck confit, Toulouse sausage, lamb, garlic sausage and lots of garlic all mixed together then sprinkled with seasoned breadcrumbs and browned until crusty and golden. I couldn't stop myself from stuffing my face even though I was breaking a sweat eating this hearty fare.
Sea bass in salt crust. I loved making this! It is such a classical French presentation, charming in its own way. This recipe also proves that after weeks of cooking filets and paupiettes of fish, fish cooked on the bone taste the best and this salt crust does an excellent job with holding the flavours in.
Things I couldn't care much for
Bouillabaisse.  The fancy, iconic fish stew from Provence is probably my least favourite dish from Intermediate cuisine.  Making it is great fun because we fillet three types of fish(!) but not the eating part. The bouillabaisse is thickened with fish bones that gets crushed along with the stock it's cooked in in a food processor or a food mill to make the soup.  Then, it's thickened again with rouille (a kind of potato based mayonnaise). What you have in the end is a very potent fish soup that doesn't agree with my palate.
Things I need to work on
Keeping my station uncluttered. I feel like whenever I lost my marks, it had to do with a cluttered station. "This is a bazaar!" said Chef Garnier once. Uh oh.
Memories
Chef Stril and the sharpening stone. After buying the Japanese fish scaler and tweezer that Chef Terrian sold to students to make écailler and habiller easier, I wanted to get myself the Japanese whetstone for sharpening knives. I relentlessly pursued Chef Stril for one (with hope he'd have one left in secret stock) – so much so that he gave me his sharpening stone for the weekend. And then when I asked him yet another time for when I could buy them from Chef Terrian – he offered me his! So now, I have a sharpening stone, a stand and razor sharp Wusthof knives.

		
		
			


			


		
	Group C!
Dinner at the Eiffel Tower. We had a class dinner at Eiffel Tower at Le 58 Tour Eiffel – the restaurant at the Eiffel Tower! I've lived in Paris for two years, but this was my first time up the tower, that only got better in the company of friends, food and the incredible view of the most beautiful city in the world.
Exam Day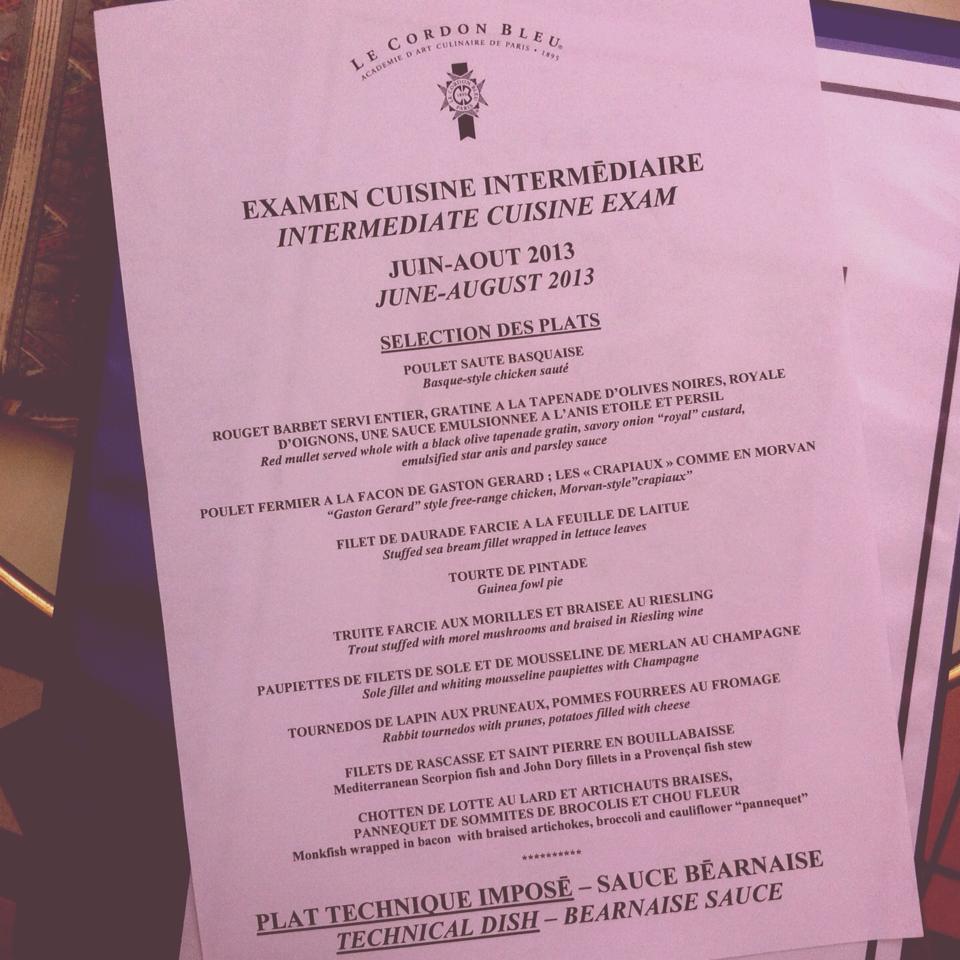 We were given a list of ten recipes that we needed to know perfectly well: ingredients, quantities and method. On exam day, we'd pick a chit and find out which one of the ten recipes we'd be making. Out of all the recipes, I was happy to get any of them except the bouillabaisse. The recipe for bouillabaisse isn't complicated in technique, but it takes a lot of time because you have to clean and fillet 3 different types of fish and then cook all the garnish vegetables – potatoes, onions and fennel separately before putting it all together. As soon as I read my chit, I was relieved. No bouillabaisse. I had to make monkfish wrapped in bacon and served with artichokes and pancakes. Right from the get go, I sped through the recipe. What I underestimated was the time the pancakes will take to cook – the batter for this recipe was runnier than most pancake batters. Plus, because we cook them in carbon steel pans (that are excellent at browning things), you don't want them to brown sooner  than they are firm enough to flip over and therefore you cook them on a low heat – which adds a few minutes per pancake.  We were also tested on technique. For this we had to make a béarnaise sauce – a sauce where you make an egg yolk sabayon along with reduced vinegar and shallots. This was easy.
Certificate Ceremony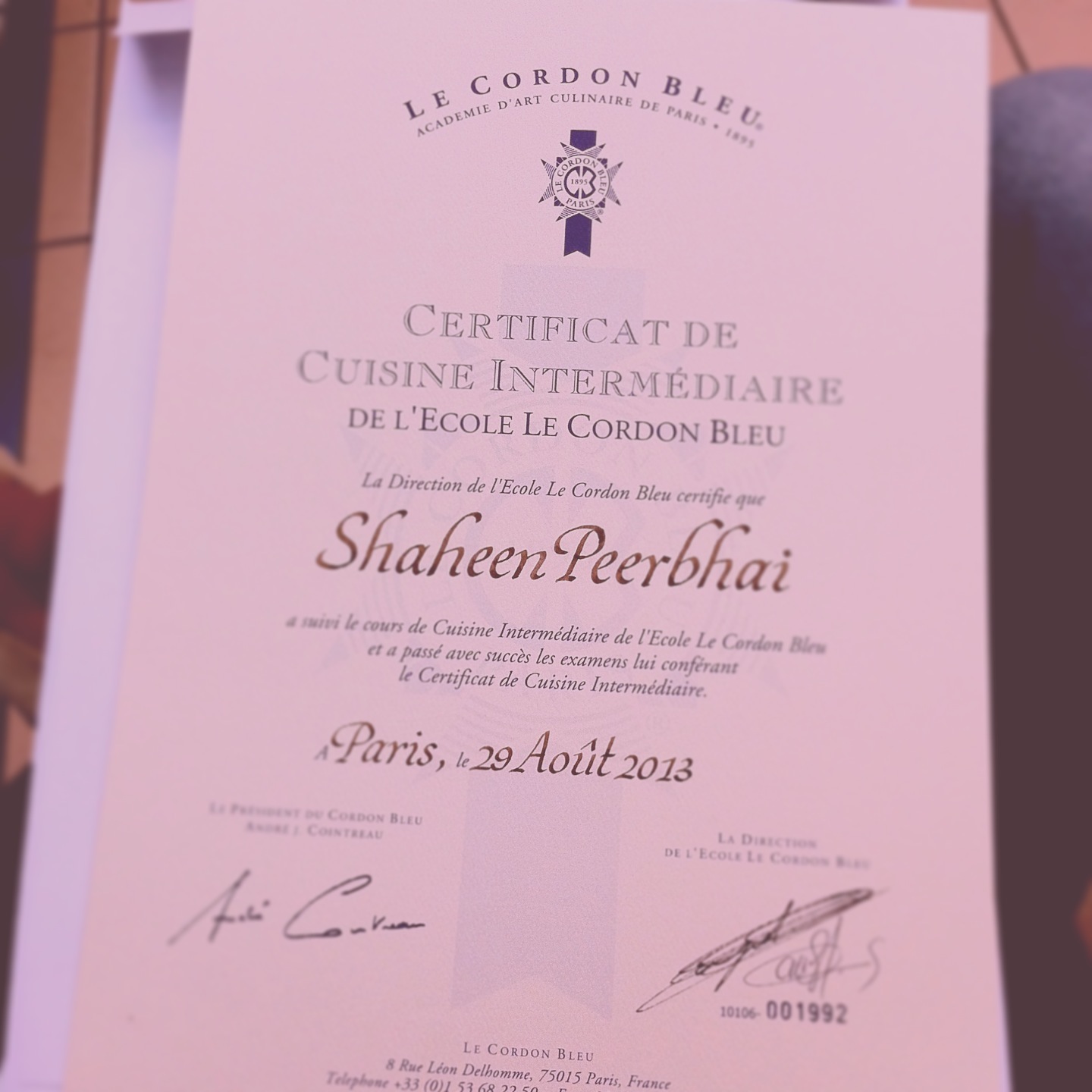 On 28th August, 2013, we had our certificate ceremony where the chefs lined up on the stage and the Director gave a little speech. Chef Poupard, who is the main chef in charge of Intermediate level wasn't around because he was indulging in some bronzage à la plage in Normandy. Chef Vaca and Chef Caals gave our certificates and took photos.  After this, like every term, we had a cocktail party in the demo room on the first floor. Here's a 15 second video Arjun took at the ceremony.
Souvenir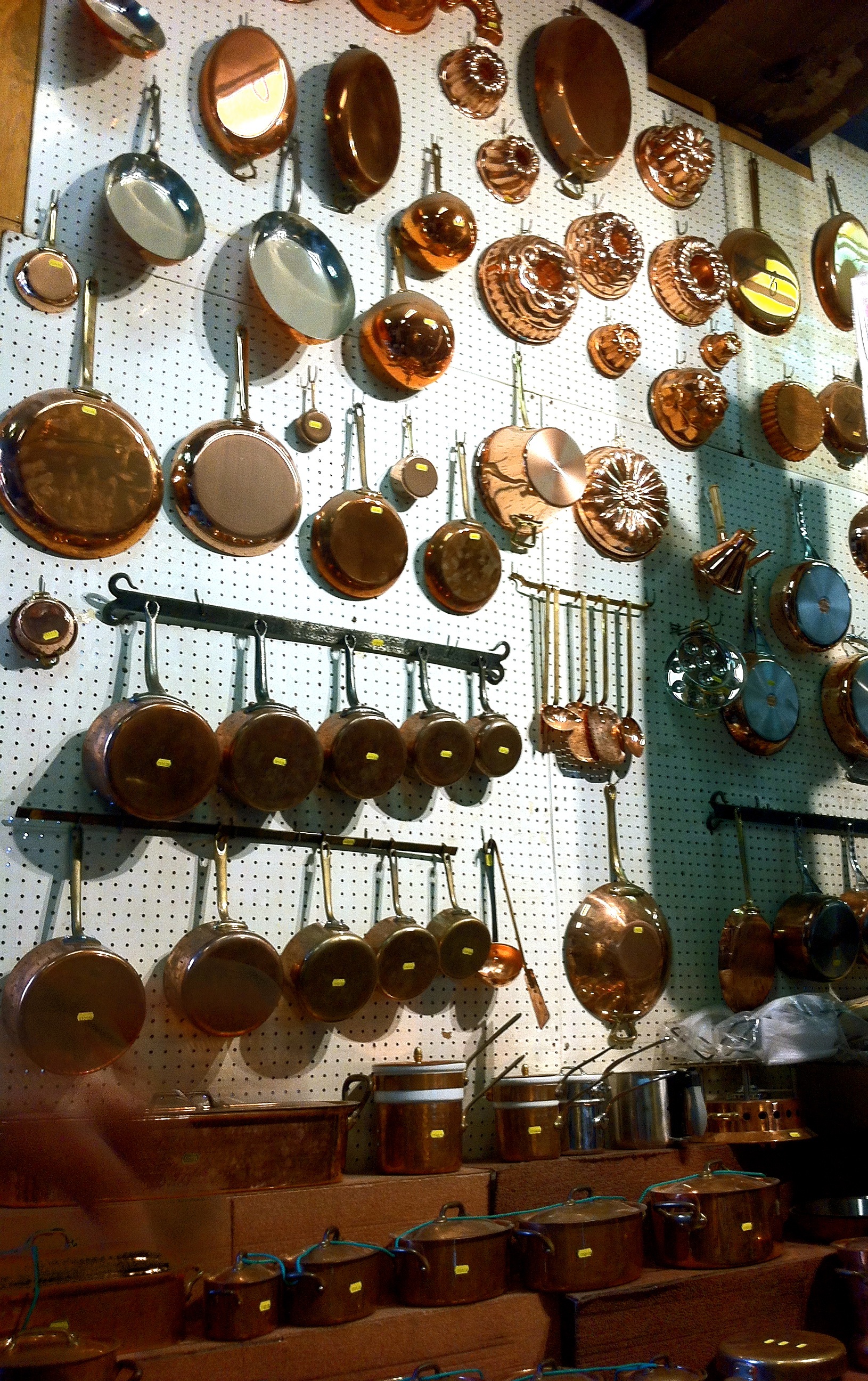 I like creating and following little traditions of my own. The time I completed Basic Cuisine, I went and bought myself a little Eiffel tower cookie cutter . Keeping in line with the ritual, I popped into my favorite kitchen store, E. Dehillerin, and bought myself two little carbon steel blini pans as a souvenir for Intermediate Cuisine at Le Cordon Bleu. We used these tiny blini pans to make crapiaux and pannequets a couple of times at school, and I even used them on exam day for the pancakes (pannequet). Nothing could be more fitting.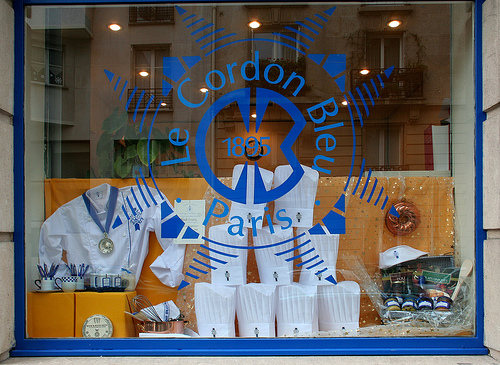 Studying at Le Cordon Bleu was an experience of a lifetime, and I'm so grateful for having been given the opportunity by The Culinary Trust. I can't wait to take on Superiour. À bientôt, Le Cordon Bleu!