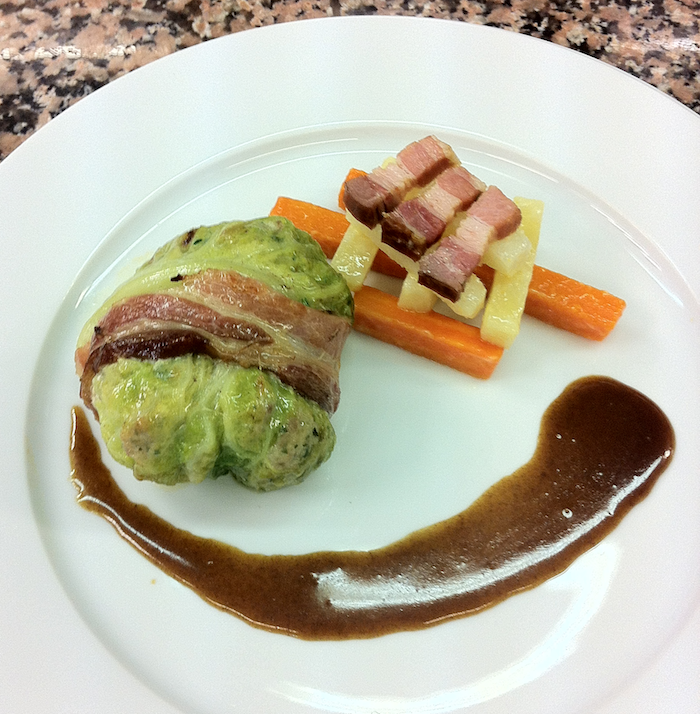 The regions we covered at Cordon Bleu this week were Champagne, Auvergne and Côte d'Azur. Or, to be more precise, we just touched upon these regions, because for most of them, we study only a traditional three course menu, which is not doing justice to them. So, it would be ideal is to supplement the learnings from school with literature on the gastronomy of France. I've only begun my search, so if you have recommendations, please send them my way! Two books I'm especially looking forward to reading are Mastering the Art of French Eating by Ann Mah and Provence, 1970, both of which release this fall.
Recipes for the class on Champagne included a leek tart made with Chaource, a soft-rind cow's milk cheese that oozes when sliced into (at least in the summer). This recipe sheet also got embellished with a couple of stars, just so I don't forget what an excellent recipe this one is. For our practical class, we made paupiettes (meat flatted thin) of sole fish stuffed with whiting mousseline. While I imagined we'd learn dainty techniques to wrap the fish in cooking parchment, Cordon Bleu proved to be surprisingly not-so-traditional with the use of cling film to roll the fish into for cooking. We also learned another way to remove the skin – by making a little incision by the tail end of the fish and then pulling the skin right off with with the help of a little paper towel: the tougher it is to pull out the skin, the fresher the fish. So when removing the skin is a breeze, you probably don't want to eat it.
For Auvergne we learned about how the volcanic soil lends that special flavour to Puy lentils (one of my favorite things to cook in the winter with sausages and lardons – warm and comforting) and about the abundance of natural springs in the region. The recipes were tartine of pig trotters topped with foie gras, chou farci (stuffed cabbage) and a very forgettable Flognarde or sweet flan. With the chou farci, it was my first time using the gorgeous web-like caul fat, so that was exciting. However, flavour-wise, it was pretty dull. And given that we're making so much farce (minced meat usually mixed with shallots, cognac, parsley and eggs), I can't even come home and perk it up like I did back in Basic, where more often than not the meat would get washed, sliced and dunked into a Thai curry.
I was excited for the next two classes on the foods from Côte d'Azur (and next week, Provence) because I much prefer the food from South of France to any other region in France. It's low on all the butter and cream that only the French metabolism can keep up with and is packed with flavours I love: tomatoes, basil, olive oil (almost Italian, almost). In the demo class, we made puff pastry galette with marinated sea bass, an Estouffade de boeuf (which would have been so much better if given more time to cook or made in a pressure cooker, which the chefs hate), and Tulipe cookies with a lemon emulsion.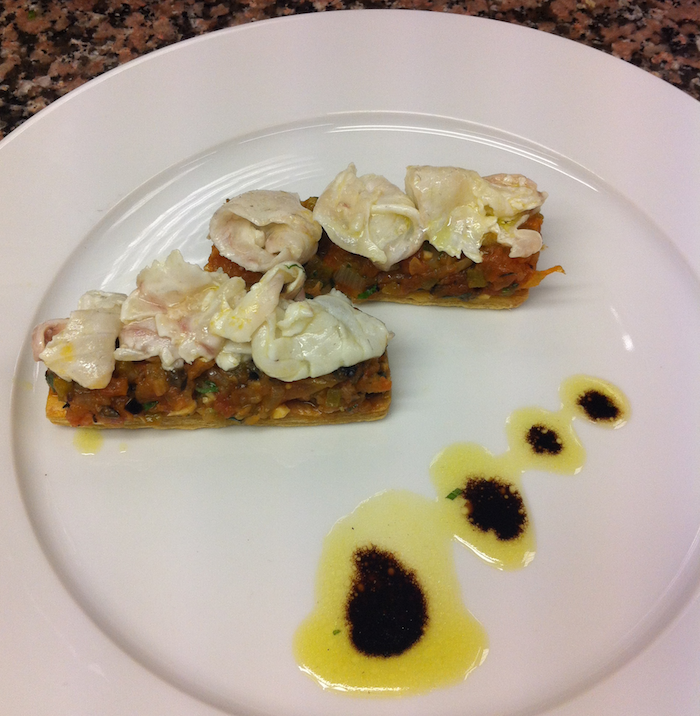 For the first time, and probably the only time, we made the entrée for practicals: marinated sea bass on puff pastry with an almost ratatouille like vegetable garnish made with onions, tomatoes, bell peppers and olives. This also turned out to be my favourite recipe from this week that we made in class. For this recipe, thinly sliced fresh sea bass (a breeze with a flexible fillet knife) is marinated with olive oil and lemon and in just 10 minutes, the acidity from the lemon "cooks" the fish and it's ready to be eaten. Serve it right when it looks like it's still a bit translucent, because it's going to continue to cure with the lemon that's on it and by the time it's served it should be just right and not overcooked. The fish in my photo is a wee bit overdone. Or, in chef's words, "Un petit peu trop cuire."
Read the previous weeks: Week 5  // Week 4 //  Week 3 // Week 2 // Week 1