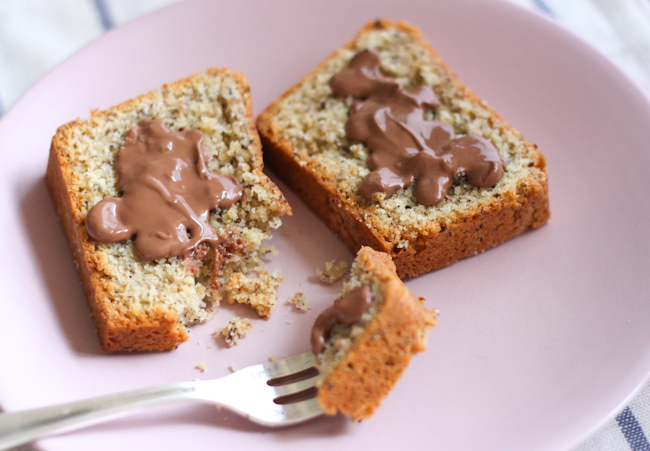 I've got to admit, I'm not one of those people who always picks a corner piece of a brownie or the first slice of a freshly-cut pound cake. I'll let others have it. I much prefer the soft, gooey or buttery (as the case may be) interior. Inadvertently, one fine afternoon, I came across a hazelnut cake that changed my whole perception of crusty bakes, making it quite possibly the first time I've truly appreciated the crust of a cake.
I love this recipe for so many things, I might as well bullet point it:
Did I mention the crust? Oh boy. I don't think I've enjoyed the crust on a cake this much. Ever. The firm, buttery and almost crunchy crust is such a pleasure to bit into. The contrast of textures from the moist, crumbly crumb and the crust is unbelievably good.
It's not overtly sweet. I absolutely loathe biting into a cloyingly sweet dessert. And while the recipe sits firmly on the not-so-sweet side of the spectrum, it also means that I can top it with pieces of milk chocolate for the classic hazelnut-milk chocolate flavour. For this, I dotted the slice of warm hazelnut cake with the milk chocolate and popped it back into the oven (switched off) that was still warm from the baking.
Hazelnuts are quite possibly my favourite kind of nuts. And a cake that's got hazelnuts constitute 50% of the dry ingredients, is bound to make it to the top of my list.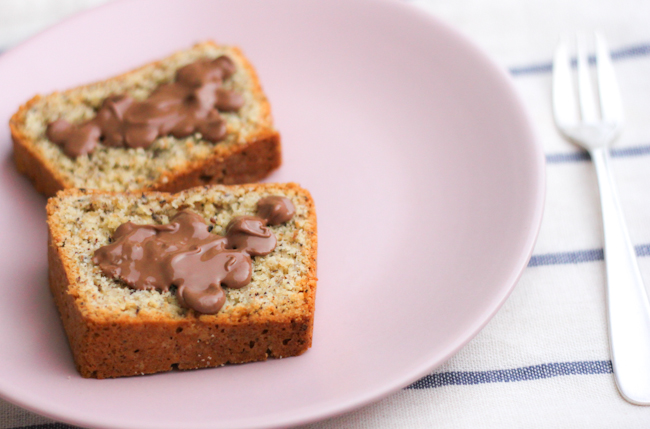 To make the most of that much extolled crust, you've got to eat it warm, as soon as it's out of the oven. I scarfed down three slices just like that. As for the rest of the cake, I managed to finish it within 24 hours, sliced sliver by sliver trying to tell myself that it was a small cake and that it didn't have that much butter.
This cake recipe is adapted from one of my new favourite blogs, A Tale Of Two. I was mixing and sifting within minutes of reading the recipe! I've changed quite a few things: I halved the recipe and baked it in a loaf pan, I didn't add any nuts into the batter, I reduced the baking powder because the 2 tablespoons of baking powder in the original recipe scared me (but they tell me, you can't taste it!), I also added a wee bit more salt than the stated pinch and thought it gave the cake slathered in chocolate such a well-rounded flavour, I didn't seperate the eggs either – I began to, but then the yolk broke into the whites so I just threw it all in together. In the end, I made a cake that's a far cry from what Anne and Philine intended it to be, but I'm sure they like this one, too.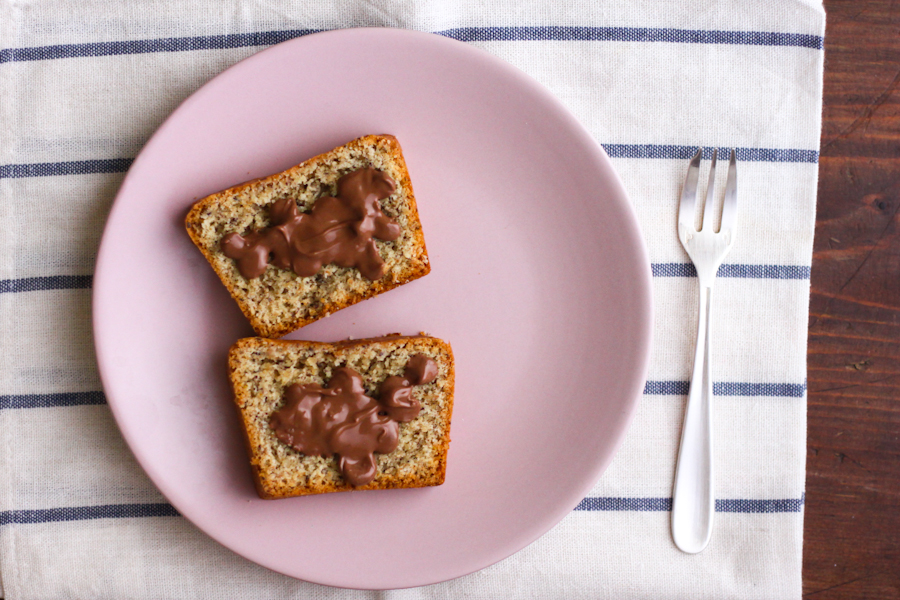 Ingredients
125g butter

100g sugar

1" vanilla bean, split and scraped 

2 eggs

125g flour

1/2 tsp salt

125g toasted hazelnuts, ground

1 tsp baking powder
Method
Preheat the oven at 175°C. Line a loaf pan with baking parchment. 
Beat the butter, sugar and vanilla together. Add the eggs, one at a time making sure to mix thoroughly and scrape down the sides in between additions.
Whisk together the dry ingredients: flour. salt, ground hazelnuts and baking powder. Fold it into the wet ingredients.
Pour the cake batter into the loaf pan and bake for 30-40 minutes or until a skewer inserted comes out clean.
Unmould thee cake immediate on a wire rack, slice and eat.
Serve with melted milk chocolate.
http://purplefoodie.com/crusty-hazelnut-cake/