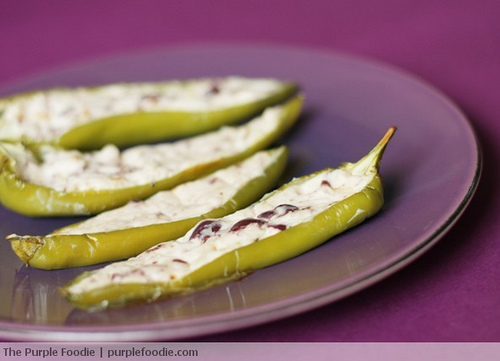 The last time I had stuffed peppers with cream cheese at a brunch, I wasn't impressed. In fact, I was so disheartened that I didn't feel like using these peppers to stuff with cream cheese because it reminded me of that bland pepper. When I got these robust peppers at the farmers' market, I knew these are made for stuffing. I decided to make a darn good stuffed pepper to make me forget about the one that scarred me.
After taking a bite into the cream cheese laden pepper filled with purple olives and copious amounts of garlic that would keep a vampire at bay for several nights, I knew what was missing in the abovementioned bland pepper – the stinking rose! It has the power to transform flavour like no other spice. It uplifts all the other ingredients. Heck, it perks up even the most mundane broccoli. I didn't keep them in the oven for too long because I was afraid the cream cheese would dry out. Good call. Needless to say, everyone polished off the plate of stuffed peppers in a jiffy.
I can imagine goat cheese being such a delicious stuffing too, topped with some fresh mozzarella. And to take it a level higher: wrap it in bacon and then cook it on a grill.  I used local chillies, but you could use larger than regular sized (easier for stuffing) jalapeños too.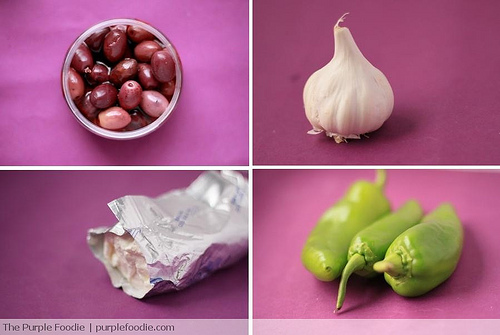 Cream Cheese Stuffed Peppers
Serves: 4-6 as a side dish
Ingredients:
250g / 10 oz chilli peppers, halved and deseeded
Stuffing
1 package / 225g cream cheese
4 tbsp black olives, chopped
1 teaspoon chopped garlic (of course, I used more)
½ tsp salt
2 tbsp fresh herbs ( mint, basil or thyme)
Method:
Preheat the oven to 175C/350F. Grease a baking sheet and place the cut peppers open side up and roast for 7-9 minutes. The peppers will crackle away. Remove from oven, let it cool.
In a bowl combine all the ingredients for the stuffing. Check for seasoning.
Stuff the filling into cooled peppers (a piping bag can be really neat) and refrigerate for 20 minutes until the cheese firms up.
Place the stuffed peppers on the baking sheet again and bake at 175C/350F for 7-9 minutes until golden spots being to appear on the surface of the cheese.
Serve warm.