You have visited the page for an old baking class. To be notified of new baking classes, in India and around the world, enter your name and email at PurpleFoodie Baking Classes.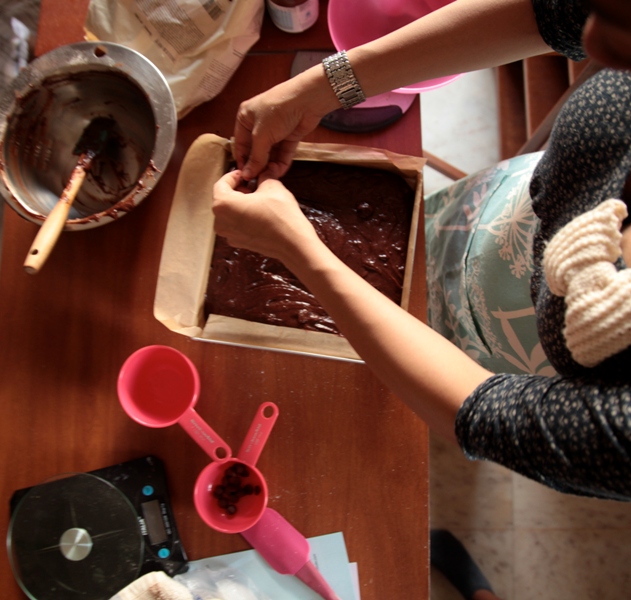 I'm back home in Bombay for a short trip and I'm going to be conducting a few baking workshops! My suitcase from Paris was weighed down with all the cooling racks, tart pans, madeleine moulds, Fleur de Sel and whatnot because I was determined to share with you the tricks I learned while studying at Le Cordon Bleu in Paris and London.
Later this month, I'm going to bring along my oven, whisk and mixing bowls and have a few workshops at a little villa in Bandra and show you a just how easy it is to whip up the perfect tea time treats or bake the most indulgent triple chocolate cookies (that are bound to make you super popular).
WHAT'S BAKING?
I will be demonstrating the following:
Tea Time Treats (that could easily pass off as breakfast treats in my books)
Strawberry and roasted almond cake
Cinnamon sugar pull apart bread
Fig and hazelnut bars
Caramel apple upside down cake
Intensely chocolatey brownies
Chocoholics Anon.
Triple chocolate cookies
Chocolate chip pound cake
Banana nutella cupcakes
Chocolate mud cake (a Purple Foodie bestseller from the catering days!)
Parisian hot chocolate
WHEN?
Saturday, 19th January 2013
11AM – 2PM: Tea time treats
4PM – 7PM: Chocoholics Anon.
Sunday, 20th January, 2013
11AM – 2PM: Tea time treats
4PM – 7PM: Chocoholics Anon.
WHERE?
Nargis Villa, Sherly Rajan Road, Bandra West, MUMBAI – 400050. [Landmark: Opposite ICICI Bank]
HOW MUCH?
Rs. 2,800 per class to learn all these yummy things and bring all the bakes back with you. For me to plan this well, I request you to please make a non-refundable deposit of Rs. 500 when you reserve a spot for a workshop.
HOW CAN I RESERVE A SPOT?
There is limited seating on a first-come, first-served basis, so please reserve your spot quickly. Here's what you need to do: Email me (shaheen@purplefoodie.com) the following information and I'll get back to you ASAP to reserve your spot.
Class interested in:
Date:
Preferred method to make the deposit: PayPal or online bank transfer. NO CASH DEPOSITS, PLEASE. *
If you have any questions, you can call me on 9167 043935 (but I'd really, really prefer if you could just email). Also, here's a look at the photos from a previous class.
I'm so excited to be back here in Bombay and am looking forward to meeting all you awesome people, baking with you and chatting away about all things butter, sugar and flour. I hope you'll join me.
xx
Shaheen
UPDATE (2:30 PM IST, 10 Jan):
Thanks for the overwhelming response and the kind words, everyone. I'm flattered! All 4 classes for this weekend were sold out earlier today.
Since there are so many of you who still want to join,
I will soon announce some additional classes for later this month.
This is what I'm going to do now:
For those of you who have already emailed me your details and I haven't replied yet, I will try and respond to you by tonight.
For those of you who haven't emailed me yet, you can still do so to book your slots for my next class.
* ATTENTION: If you are making a cash deposit at the bank, there is no way for me to identify you. If you already have, then please let me know which part of the city you made the deposit.
UPDATE (12:00 PM IST, 13th Jan):
Thank you everyone for your enthusiasm! I'm beyond amazed. I need a little more time to finalise things for the new batches, and as  soon as I have something, I will put it up here – most probably by 16th Jan. Thank you for all your support! x S
UPDATE (11:30 AM IST, 16th Jan):
New batches announced! http://purplefoodie.com/baking-workshops-mumbai/