As pastry students we take our studies very seriously. So seriously, that last week we drove 4 hours to eat at a bakery in Lyme Regis (SW coast of England). Never mind the fact that it's a gorgeous little town right by the sea.
One of my closest friends at Cordon Bleu, Sylvie, told us about the Town Mill Bakery she discovered a few years ago. I quickly looked up the website, read up their philosophy and was sold on the idea of driving all the way there just to see the bakery. As I've come to learn, Sylvie is a girl with great taste, and someone whom I can trust blindly for recommendations. She is the one who told me to get myself to Broadway Market, took me to Pitt Cue for the most amazing meal, followed by a 72% cacao chocolate ice cream at Gelupo and more recently, booked us both a spot for the cutest London supper club that is touted to be harder to get into than The Ivy.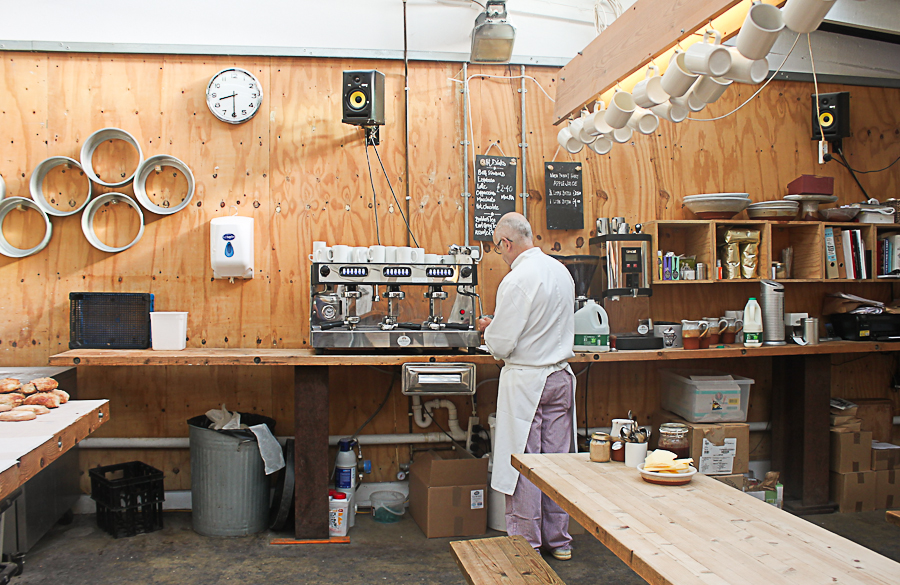 The Town Mill Bakery in Lyme Regis is where everybody feels at home. As you step in, there's a pigeon hole full of theirs jams, peanut butter (simply the best – pure, chunky and unsweetened) and knick-knacks. On your left is a table full of freshly baked goods on display that changes depending on the time of day you're there and the season. Walk in to the large open space and you will find bakers working on the furthest bench, delicious bakes presented on the next bench and people enjoying their time at the bakery on the two large communal tables. Pine benches, chalkboard menu and exposed beams add to the relaxed atmosphere. You can see sacks of Shipton Mill flour, cartons of Callebaut chocolate, trays of freshly roasted peanuts, boxes of pecans, cherries and pistachios, jars of lentils and the bakers making pain au chocolat in the morning and pizza dough in the evening.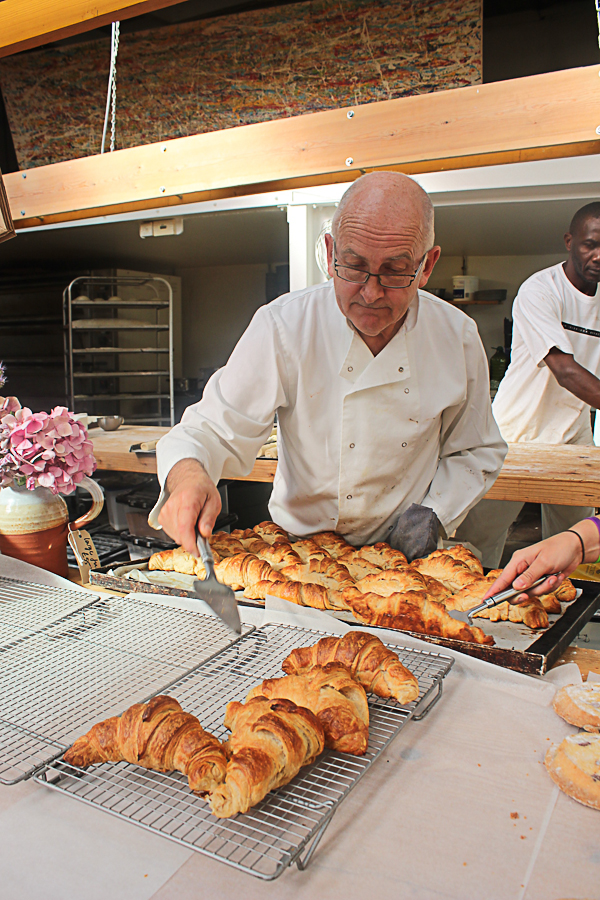 Here's how it works at the Town Mill Bakery:You find somewhere to sit, grab a wooden board and serve yourself from whatever is on display. If you'd like drinks, you order them with the folks by the coffee machine, and they'll make their way to you. Finally, remember what you've had and then pay on your way out. They trust you, and that feels good.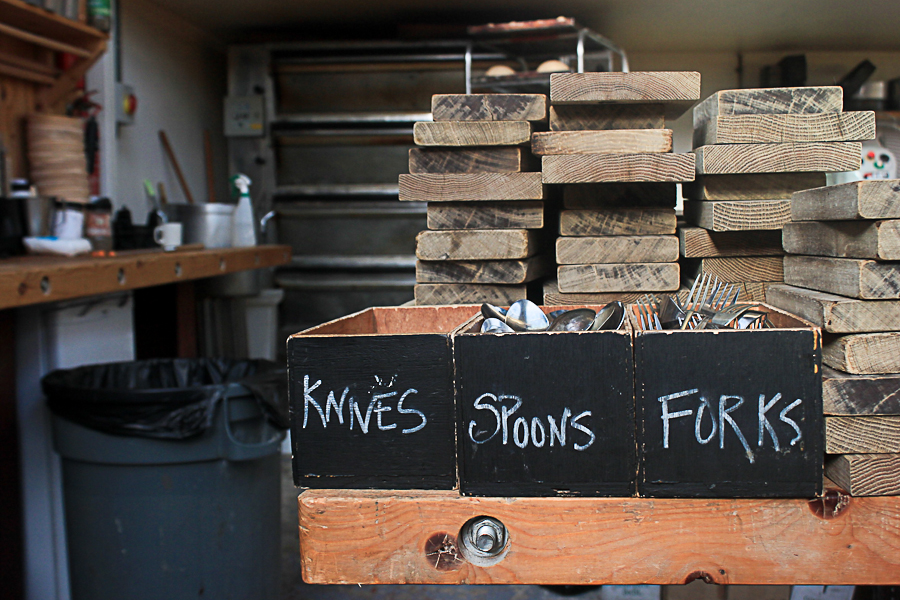 We went to the bakery for tea just as we reached Lyme Regis and ate a slice of the peanut butter and chocolate cake and Eccles cake with coffee and hot chocolate. The scones looked lovely, too. Every bite of the buttery, sugary sweet Eccles cake (£2.50) tempered with the less sweet hot chocolate (£2.40) was a perfect tea time treat. And then in between bites, either of us would spring up to take photos of something we'd just noticed. We sat there, looking around and soaking in the atmosphere, observing everything and (not so) secretly hoping that we'd have a place like this some day: good food made using traditional techniques and the best ingredients, a great atmosphere and happy people, both in the kitchen and at the table. We made our way out of the bakery after having our fill, but couldn't wait to be back the next morning for breakfast.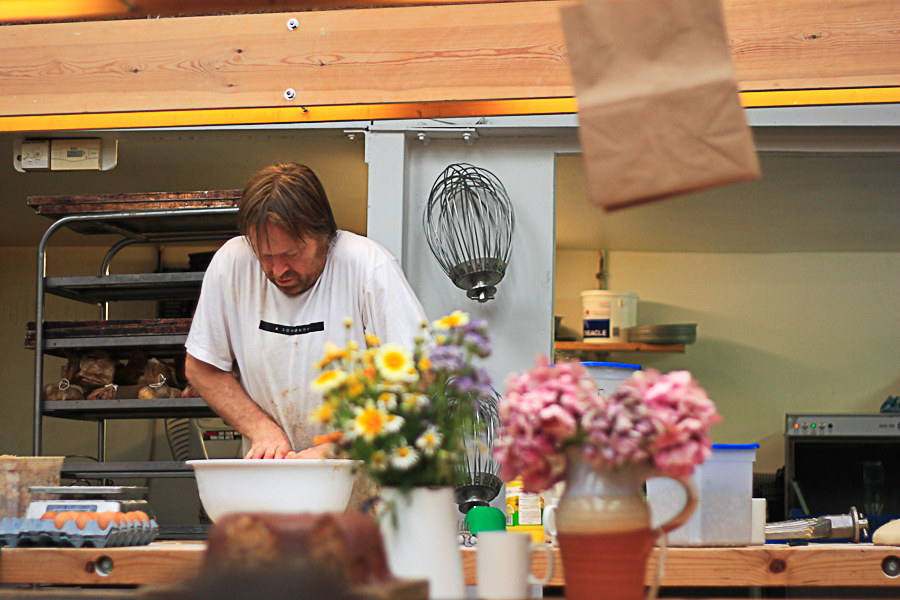 The next morning, we woke up early and made sure we were amongst the first to be at the bakery at 8:20AM. For breakfast, they lay out their massive loaves that you can cut slices of and toast (£2.50, unlimited), slather with as much peanut butter, raspberry jam or butter (although being so close to Devon, I wish they served clotted cream) that's shared on the table. They also have a big bowl of muesli (£2.50) and a pitcher of milk that you can help yourself to for breakfast. I ate two large slices of peanut butter and jam toast and packed another Eccles cake and chocolate chip cookie for the road.
With two meals at the Town Mill Bakery in two days, it still felt insufficient but we had to make our way back to London.
Travel Notes
Lyme Regis is a town known more for its fossil than its food, but there are still a few places other than the Town Mill Bakery to eat well at. You could eat at Hix (came recommended by several locals when we were looking for a place for dinner. Also has a branch in Soho, London) and the River Cottage Canteen. Other than walking by the sea side and popping in and out of the cute little shops on the main street you can make your way up to the Town Mill, buy cheese from the Town Mill Cheese Shop, buy ale at the Town Mill Brewery, and watch Berey Pealing create gorgeous ceramics at Town Mill Pottery. They have mackerel fishing trips into the sea every few hours from the coast as well. The one thing I wish I'd eaten before leaving Lyme Regis is the crab sandwich that seems to be scribbled on the menu of every little place by the sea. We stayed at a lovely hotel in Axminister called The Cranberries with a gorgeous view.
Town Mill Bakery
2 Coombe Street
Lyme Regis DT7 3PY
Open everyday for breakfast, lunch, tea and supper.