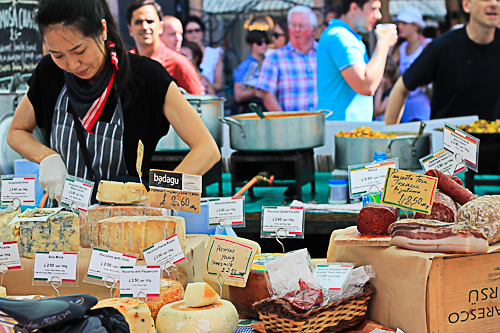 On a Saturday, Arjun and I headed out to explore yet another market in London, Broadway Market.
A mishmash of cultures convene at the half century old Broadway Market to sell and consume some fantastic food and vintage fashion. With over 80 stalls at the Broadway Market that include street food, cheese, fresh produce, jewelry stands, vintage clothes, paintings, old vinyl records and street performers, you need to allot a good amount of time to take it all in leisurely.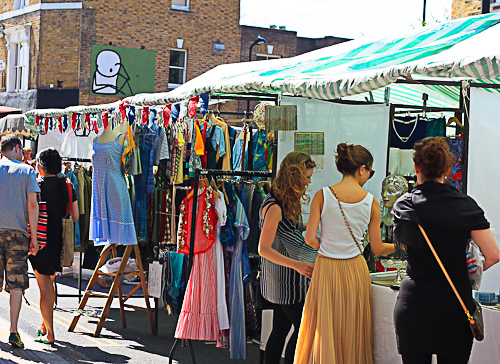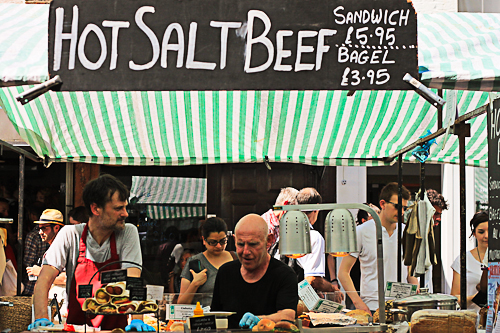 Broadway Market feels like a very relaxed place to be, and dare I say, less contrived than Borough Market. A place where you must spend an entire afternoon: eat a bit, walk through the market, tap your feet to musicians playing at every few hundred yards; interval and generally, have a very good time. Also, there's a big park, London Fields, at the other end of the market where you can lay down on the grass for a bit (should you need a break from all the feasting) before you want to take on Round Two of eating.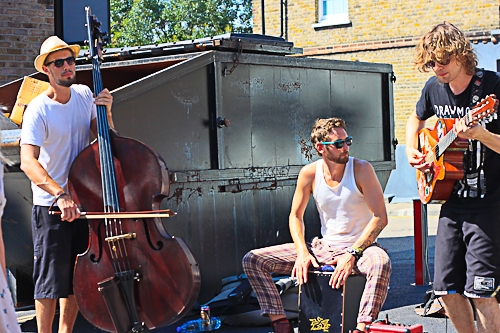 The colour, the smell and the energy at the market is palpable; walking down the street is a total treat for the senses. We wanted to eat everything! But we thought we'd stick with recommendations first and headed straight to the Broadway Market School Yard for Yum Bun. Yum Bun, which came recommended by a classmate (whose sister is a food blogger and has also written about Broadway Market. Hi Suzy!) was yummy, but a tad salty for my taste. The Caribbean Chef, that's right next door, piqued Arjun's interest (it might have been because the place had "Eaten by Bolt' with photos of his pasted all over). Here, we tried a 'Variety Box' that had a bit of everything on offer. I haven't really eaten Caribbean food before, so this was interesting. In fact, the flavour profile quite matches Indian food with all that coconut, a bit of spice and turmeric in there. I especially liked the caramelised plantains.
Our next stop was a small Turkish shop next to the School Yard where we bought some dried broad beans and really sweet grapes. I also spotted some purple sprouting broccoli here(!)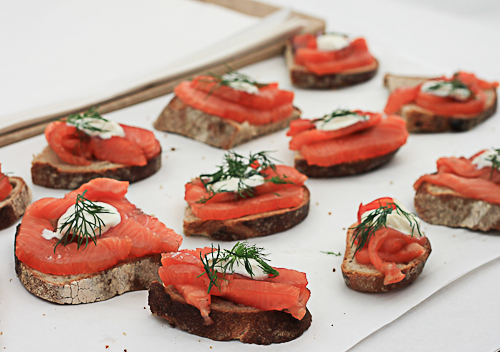 As we strolled through the market, we spotted tubs of olives and chutneys, gorgeous tomatoes, roast chicken, freshly smoked salmon (I need to learn to do this), roast hog sandwiches (at Roast Hog, that had a long queue and looked every bit worth the wait), cheese, yummy looking banoffee pies and mushrooms in different shapes and sizes amongst other things.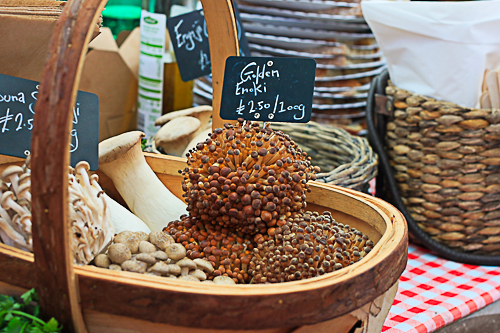 People who know me know that I don't like coffee but queer as it may sound, I love iced coffee. At Ca Phe VN (our final stop) I noticed glasses of iced coffee more than anything else that was on offer on their menu. It looked really good – deep, dark chocolatey in colour with a bucket load of ice (on a 30C day, that's all everybody really needs.) Vietnamese coffee + sweet condensed milk + half a dozen ice cubes = holy moly. I savoured every sip of the coffee and haven't stopped dreaming about it since. I need to go back there to buy their coffee and phin (Vietnamese coffee filter).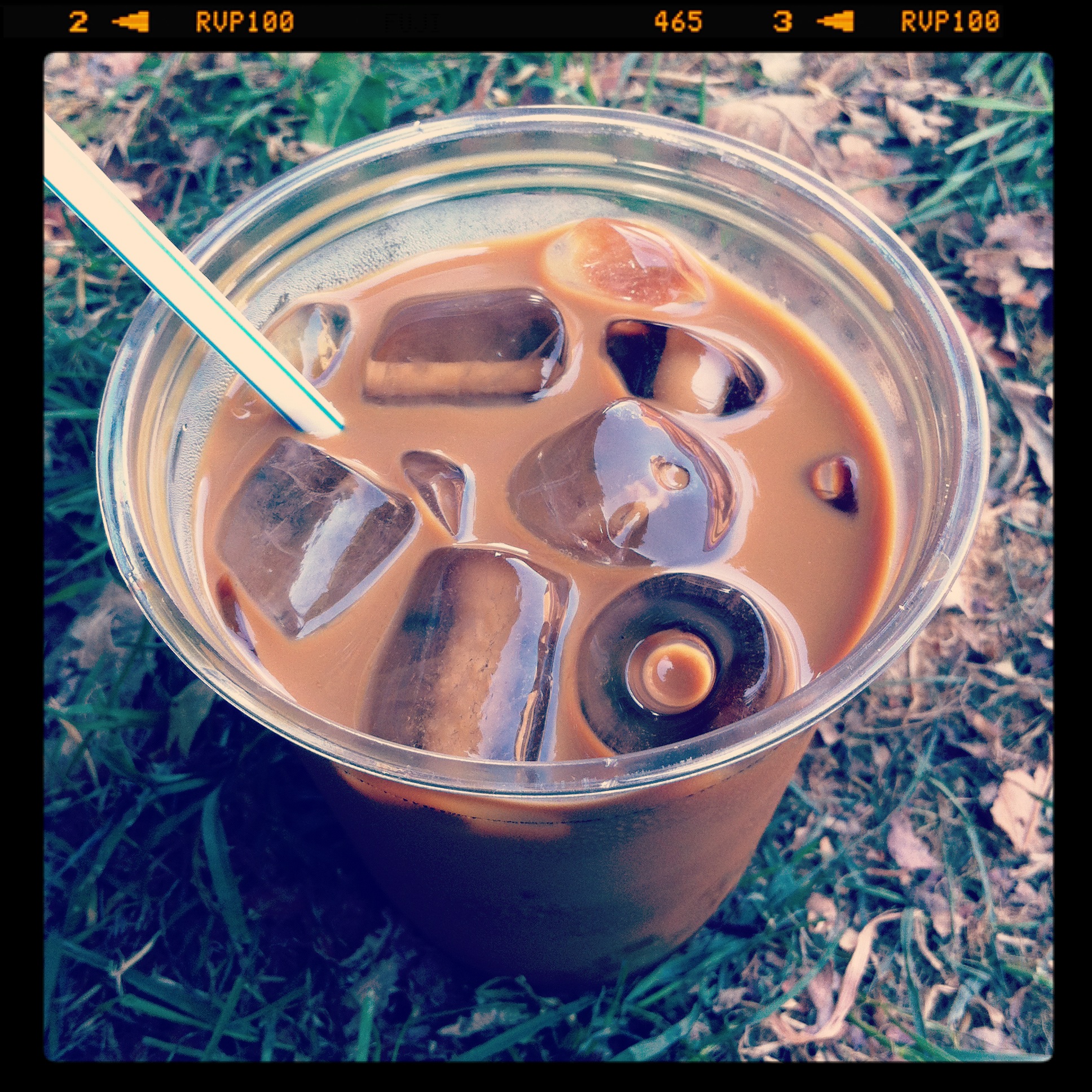 If you find yourself in London, I suggest you get yourself to Broadway Market in Hackney. And if you're tempted to eat more than you can take in at Broadway Market, I won't blame you. It's supposed to be that way.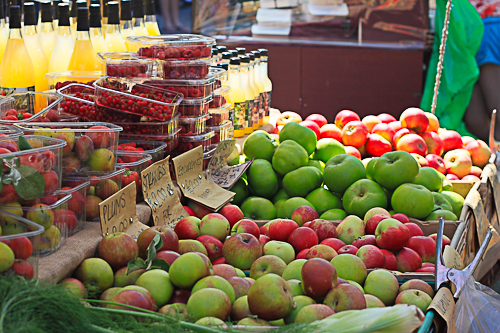 Broadway Market, Hackney
Every Saturday
PS: If you're heading to the School Yard, it's a bit off the main street, so ask around if you can't find it. If you're backing London Fields and facing Broadway Market, you need to turn left and you'll see London Fields Primary School. Go right in.