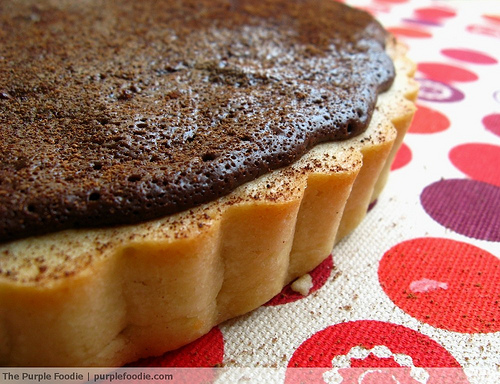 I had been craving a chocolate tart for the longest time before I actually made one for myself. I didn't want something that was simply filled with a soft ganache, but something a little more wicked: something with lots of cream and butter and eggs.
To fulfill this long standing hankering, I found the perfect tart filling recipe on Traveler's Lunchbox and used the tart base recipe from the Ottolenghi cookbook (a cookbook so colourful, and so refreshing, I wish I used it more often.). The filling turned out to be soft, silky, and intensely chocolate-y; I don't think I'm going to need another recipe for a chocolate tart. The key to is blind bake the tart, cool it, and then add the filling and bake until the sides look puffed up and the centre is still mushy. I refrigerated mine because I wanted the centre to set, but if you'd like a soft centre, you can eat it while it's still warm.
This basic recipe can be spruced up depending on what you feel like on a particular day, or what's in season on your side of the world. I can imagine them tasting so good with fresh raspberries or strawberries and a dollop of softly whipped cream. Another option would be to use your favourite liqueur in the chocolate batter. I used some hazelnut extract I made which was fantastic.
But you know the best part about making this chocolate tart? Watching my petite grandmum (who has an apetite of a bird) polish off two slices of the tart after her dinner! She loved it so much that when I shared it with a few friends the next day, she made me bake some more.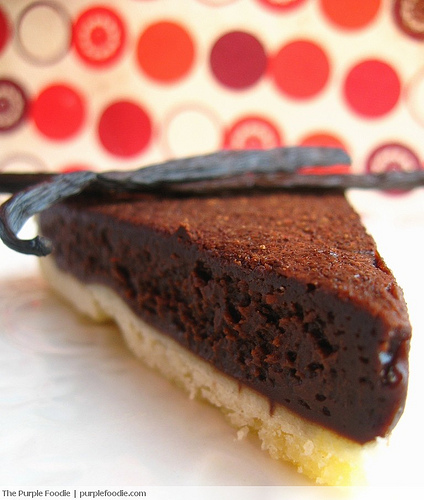 Rich Chocolate Tart
Yield: 1 8-9 inch tart
Tart shell
Adapted from: The Ottolenghi Cookbook (USA | UK | India)
In case you're looking for tips on making the perfect tart dough, head over to Pie Dough 101.
Ingredients:
12 0z (330g) plain flour
3.5oz (100g) icing sugar
6 oz (180g) butter
1 egg yolk
2 tbsp cold water
Chocolate Filling
Adapted from: The Traveler's Lunchbox
Ingredients:
8 oz (225g) dark chocolate
6 tablespoons (90g) butter, cut into 1/2-inch cubes
2 eggs, lightly beaten
1/3 cup (80ml) heavy cream
1/4 cup (50g) sugar
1 teaspoon hazelnut extract
cocoa powder for dusting
Equipment:
a 9 inch (20-cm) tart pan
Pastry blender (optional)
Method:
Put the flour and icing sugar into a bowl and rub the butter either with your finger with gentle, quick movements or with a pastry cutter until you achieve breadcrumb like texture. Add the egg yolks and cold water until the mixture comes together.

Remove the dough from the bowl and knead gently. Flatten to form a thick disk and wrap it in cling film and chill it for at least an hour.

Roll out the dough to 3-4 mm (1/8th inch) thickness and line the tart pan, making sure you press it well into the pan. Prick the dough with a fork and fill it up with dried beans and bake in a preheated oven at 170C/340F for about 17-20 minutes until it looks slightly golden and firm. Let it cool.

For the filling: Melt the chocolate and butter in a saucepan over low heat, stirring until smooth, then remove from the heat and cool for 5 minutes. Whisk together the eggs, cream, sugar, and hazelnut extract in a bowl. Whisk the chocolate mixture into the egg mixture until combined.

Pour the filling into the cooled crust. Bake until the filling 1 inch from edges is set and slightly puffed but center wobbles when pan is gently shaken, 20 to 25 minutes. (The center will continue to set as it cools.)

Dust with cocoa powder when cool. Eat!