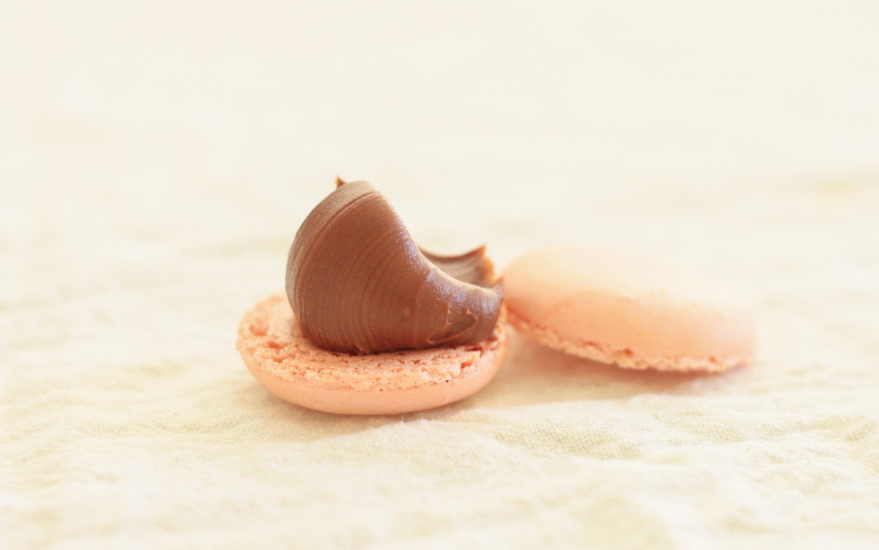 I met my culinary hero. Live, in the flesh. I took a photo with him and he signed my book!
I do look up to loads of chefs, and even stalk some of them (which may or may not have to do with their good looks), but when it comes to Pierre Hermé, it's undying reverence. And when I learned that he was going to be at Salon du Chocolat in Paris last November, I had to buy a ticket for the day he was demonstrating a recipe.
I sat through a few demonstrations before his, so by the time he was up, I had perched myself in the perfect spot. Just as he was about to come on, I kept turning to Arjun and telling him in a staccato-toned voice, "Oh my gosh, I'm going to be seeing Pierre Hermé. L-I-V-E. Pierre. Hermé!"
With his demonstration, everything was a class apart. No frantic scribbling of recipes – printed copies were handed out. And when it was time for tasting, perfectly plated baba au rhums were distributed to the entire audience, not itsy-bisy pieces of a big baba au rhum. Shortly after, everyone rushed to line up to get their books signed. Most were getting his new book, Ispahan, signed, but I'd lugged my copy of Macarons along for him to sign.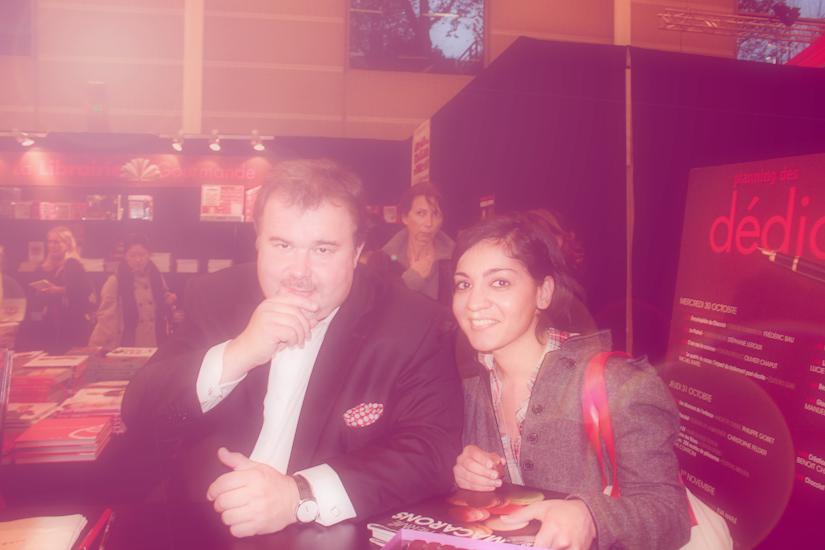 While I haven't made his baba au rhum today, I'm sharing another iconic Pierre Hermé creation – the macaron. 
I made dark chocolate macarons using Valrhona Manjari (64%) that resulted in the silkiest ganache. I'd imagine it's because of the incredible quality of the chocolate as well as the ration of chocolate to cream that I landed up on – for no other reason but because the tub of double cream weighed 170g. So, I decide to use 90g of chocolate, 170g of cream and a dot of salted butter. It worked a treat.
The ganache will seem a bit too soft at first. Refrigerate it for at least 3-4 hours. Then pipe them on to the shells and when the macarons are sandwiched, let them rest for at least 24 hours. The shells will absorb the moisture from the ganache, get chewy in the process and the ganache will feel just right.
A standard macaron recipe by Pierre Hermé makes a lot of macarons. To keep sugar levels of a household of two in check, I halved the recipe (the version below is halved),  and still got lots of small macarons – 50 to 60 maybe. It might also be helpful to use a stencil or to draw circles with shot glasses on the back side of the parchment paper to be able to pipe even circles. I came upon a free copy of Timeout that happened to have a 2 page advert that looked like nothing but a macaron stencil (probably only to pastry chefs), so I used that and now it's sitting in my pastry cupboard for when I want to whip up my next batch. I'm thinking olive oil and vanilla.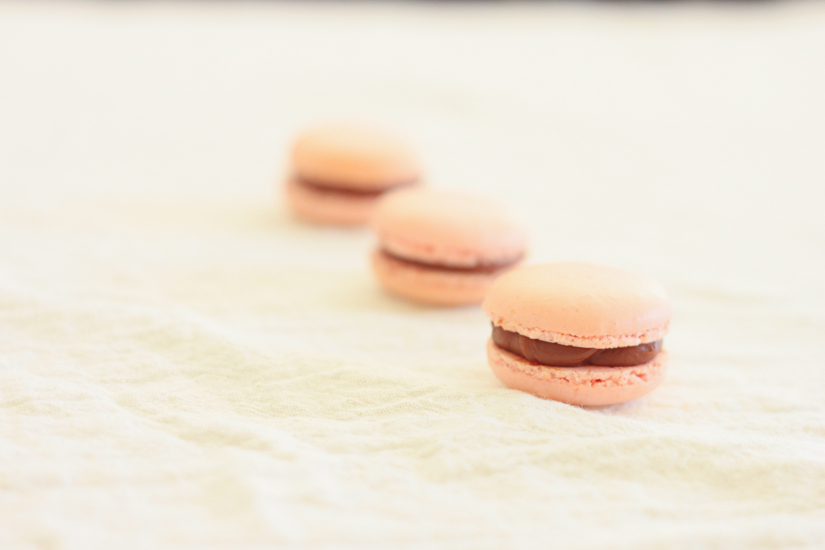 Dark Chocolate Macarons
Adapted from: Macarons by Pierre Hermé (USA | UK | India)
Macaron Shells
150g ground almonds
150g icing sugar
55g "liquefied" egg whites*
2-3g red food colouring
150g caster sugar
38g mineral water
55g "liquefied" egg whites*
Dark Chocolate Ganache
90g dark chocolate (Valrhona Manjari 64%)
170g double cream
15g butter
*"Liquefied" egg whites: Egg whites will liquefy if you let them sit in the fridge or on the counter (in cooler conditions) for several days, preferably a week.  In some recipes they are also known s ""aged" egg whites. This is done so that the egg whites lose their elasticity. You can also mimic this by microwaving fresh egg white at 50% powder in spurts of 10 seconds.
For the shells: Sift together the icing sugar and ground almonds. Stir the food colouring into the first portion of liquefied egg whites and pour them over the mixture of icing sugar and ground almonds but do not stir.
Bring the water and sugar to boil at 118 ºC. When the syrup reaches 100ºC, simultaneously start whisking the second portion of liquefied egg whites to soft peaks. When the sugar reaches 118ºC, pour it over the egg whites. Whisk and allow the meringue to cool down to 50 ºC – the meringue should be very stiff and shiny. Then fold it into the almond-icing sugar mixture. You don't have to be very delicate – in fact, you should need a little vigour because that's an indication of a good, stiff meringue. Mix thoroughly, then spoon the batter into a piping bag fitted with a plain nozzle.
Pipe rounds of batter about 2-3cm in diameter, depending on how large you'd like your macarons, spacing them 2 cm apart on baking trays lined with baking parchment. Rap the baking trays on the work surface covered with a kitchen cloth. Leave the shells to stand for at least 30 minutes until they form a skin. When touched, the macaron batter shouldn't stick to the finger.
Preheat the oven to 170 ºC then put the trays in the oven. Bake for 10-12 minutes quickly opening and shutting the oven door twice during cooking time – this is done to let out the humidity. Once baked, slide the sheet off the baking pan.
Pair up the rounds, and pipe with ganache. Be generous. Sandwich them by placing the plain shell over the one with ganache, then twist it slightly to spread the ganache evenly. Now the important part – let the macarons sit in the fridge overnight for the moisture to be absorbed into the shells and for the texture to get slightly chewy. And now they are ready to eat!
For the ganache, place the chocolate in a bowl. Bring the cream to a boil and then pour it over the chocolate. Let it sit for a few minutes, then whisk gently starting from the centre and moving outwards until a silky emulsion is formed. Stir in the butter, then transfer to a piping bag fitted with a plain nozzle. Or for the lack of a piping bag, you could simply dollop the chilled ganache on the macarons with a spatula and then go on to sandwiching them.
Enjoy!