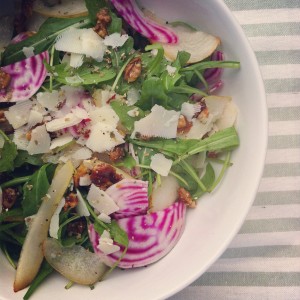 Every time I go to the market, I try and buy something entirely new to me, or a different variety of a known fruit or vegetable. This time, I bought candy beets (they don't taste very different from regular beets, just prettier) and pears from a farm stand at my quartier market where patient Parisians were queing up. The salad is really simple to put together, and the key is to get thin slices of the beets and pears. I've been using my nifty mandoline for everything – salads, candied ginger, tarts or even to simply snack on shaved fennel. You could use toasted walnuts but I candied them because I love how candied walnuts taste in salads.
Pear and Beetroot Salad
Yield: 2 servings
2 pears, thinly sliced
1 beetroot, thinly slices
100g rocket lettuce
50g walnuts
50g Pecorino Romano
Pepper
1 tsp salt
1 teaspoon Grainy mustard
1 tbsp cider vinegar
1 tbsp honey
3 tbsp extra virgin olive oil
In a small bowl, whisk together the salt, mustard, cider vinegar, honey and olive oil. Set aside.
In a large bowl, toss the pears, beetroot and rocket, half the cheese and walnuts together. Drizzle the dressing over it evenly. Toss again.
Top with the remaining pecorino, walnuts and freshly ground pepper.
PS: Here's a link to my interview that was recently published on the Dutch food site Culy.