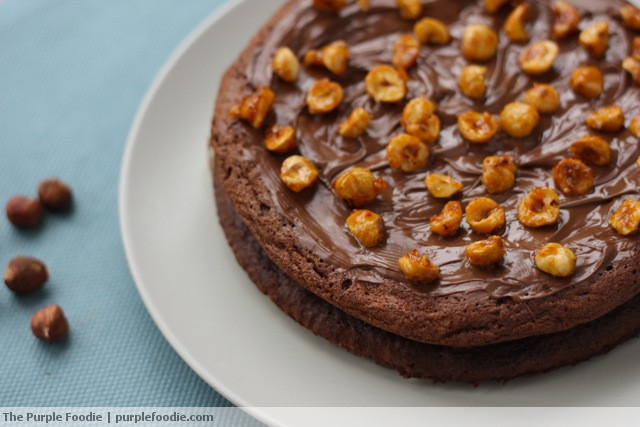 I have three huge bottles of Nutella sitting on my shelf. My mom would be furious if she knew; but then, that's my excuse for not making unnecessary trips to the supermarket.
After having my fill of Nutella slathered on toast and straight from the jar, I decided I'd bake some of it into a cake. A dense, moist cake that is speckled with tiny bits of roasted hazelnuts. Nutella cake. I used the recipe from How to Be a Domestic Goddess except that I didn't add any Frangelico – I wish I had some of my hazelnut extract to add to the silky cake batter. Also, what I also did was top the cake with Nutella instead of ganache and sprinkled it with caramelised hazelnuts instead of plain toasted ones. On second thought, I should have added some finely crushed caramelized hazelnuts into the cake batter too.
This is probably the third cake I've baked in my new oven, and I'm still getting used to it. Luckily I have an oven thermometer sitting inside all the time so I can calibrate it based on the readings, because for some reason this oven runs way hotter than the indicated temperature. The nifty equipment's such a saviour. I'm also becoming pretty good at whipping up egg whites to stiff peaks with a giant whisk. Earlier, I never bothered adding salt, but I noticed that the whites get whipped up quicker with a pinch added in. The salt, apparently, acts as a fantastic stabiliser.
All in all, this recipe's a keeper. (And it's gluten free!) Do you have any favourite Nutella recipes for me to put my jars to use?
Nutella Cake Recipe
Serves: 8
Adapted from: How to be a Domestic Goddess (USA | UK | India)
Ingredients:
6 large eggs, separated
Pinch of salt
125g soft unsalted butter
400g Nutella (1 large jar)
1 tablespoon Frangelico, rum or water
100g toasted hazelnuts, ground
100g dark chocolate, melted
For the icing:
4 tbsp Nutella
caramelised hazelnuts [100g toasted hazelnuts +100g caster sugar]

Equipment: 23cm/9 inch Springform tin, greased and lined with parchment
Preheat the oven to 180ºC/350ºF. In a large bowl, whisk the egg whites and salt until stiff. In a separate bowl, beat the butter and Nutella together, egg yolks and ground toasted hazelnuts.
Stir in the cooled, melted chocolate, then fold in the egg whites gently, a third at a time.
Pour into the prepared tin and cook for 40 minutes or until the cake's beginning to come away at the sides, then let cool on a rack.
For the caramelized hazelnut nuts: Chop the hazelnuts coarsely. In a pan, melt the sugar until it turns amber. Toss the hazelnuts in, making sure they are evenly coasted and then transfer to a silicone baking mat or a lightly oiled baking sheet. Cool. Chop to separate the nuts.
Spread the top of the cake with Nutella. Scatter the caramelized hazelnuts on top of it.