When I was in Paris just for a day to pick up my Carte Sejour (residence permit, wohoo!), I made sure I stopped at my three favourite shops. Because no cook's pantry is ever full, and because you just need that Eiffel tower cookie cutter as a souvenir to remember the trip by, you ought to stop by as well.
Mora
Mora, the baking equipment store, because of which I almost missed a flight back home once. This is where you need to be to buy French tart rings (utterly French, must-have), pastry brushes, silicone spatulas ("It's not a spatula! It's a maryse!", say the chefs at school) Eiffel tower cookie cutter, Wilton supplies, the widest selection of chocolate moulds, and tools for anything that you need to bake, from a madeleine to a tart tatin.
Address: 3 Rue Montmartre, 75001 Paris. Tel: 01 45 08 19 24 . Métro: Les Halles.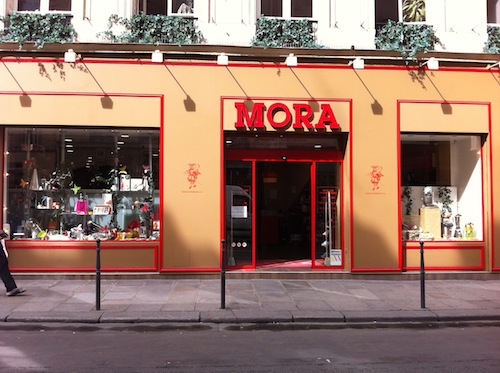 G. Detou
At G. Detou you will find Valrhona chocolate, Iranian pistachios, Indonesian Cubebe peppers, goji berries, cacao nibs, silver dragées and pearls, Tahitian vanilla, tonka beans, feuilleté, sackful of spices, mustards and whatnot. And why wouldn't you, for G. Detou, pronounced in French, sounds like "J'ai de tout" means, "I have everything". Right next door, they have a smaller shop that stocks ingredients for savory bakes and cooking. In an interview for BBC Good Food, Dorie Greenspan once told me that she buys the pretty tins of sardines from G. Detou and ties them together with a ribbon as gifts for folks back home.
Address: 58 rue Tiquetonne, 75002 Paris. Tel: 01 42 36 54 67. Métro: Les Halles or Etienne Marcel.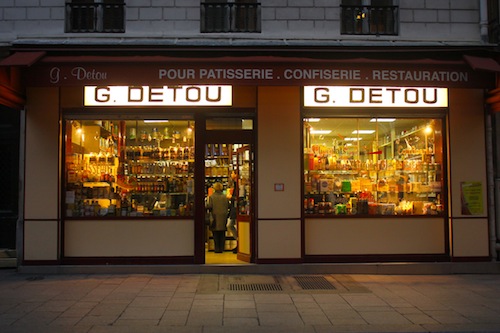 E. Dehillerin
I thought Mora was my dreamland, and then I discovered E. Dehillerin. The shop, covered from floor to ceiling with every single type of French cooking equipment you will ever need. Copper pots and moulds, cast iron, bread baking bannetons, several little tools to make a pretty plate. Their wood handled palate knives and equipment have the name of the store printed, making them excellent souvenirs to take back home. At E. Dehillerin, they've got a slightly complicated system going on. Living up to the name of being the oldest cookware shop in Paris, they don't seem to care about graduating to using barcode; ever item is marked with a numerical code. To know the price of the equipment you've to take that piece of labelled equipment along to the end of the aisles where they've pinned up a folder with the item codes and corresponding prices. There are two prices, before and after tax. Those working in the industry and (or tourists running up a bill of €175) are exempt from the tax. It might tip the weighing scale over when you're cramming your suitcase, but you must get yourself the French rolling pin from here. Oh, and Julia Child shopped here too.
Address: 18 Rue Coquillière, 75001 Paris. Tel: 01 42 36 53 13. Métro: Les Halles or Louvre Rivoli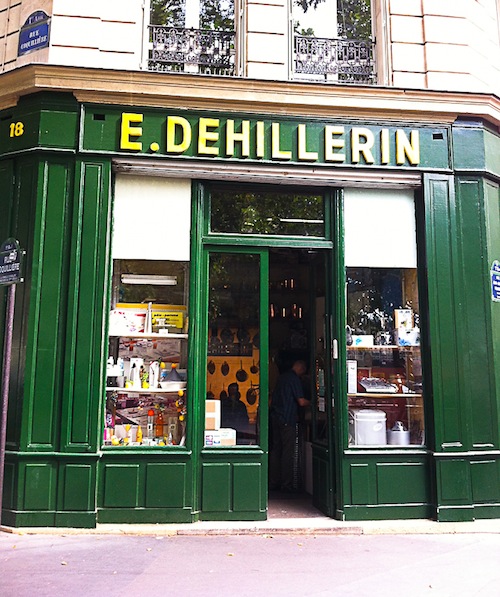 There are more stores in the neighbourhood, but I find myself going back to these three places. In case you have some time to potter around or want to figure out your favoruites for yourself, there is A. Simon and La Bovida, both equipment stores. And then there is Librarie Gourmande on Rue Montmartre that's stocked with cookbooks, both French and in English. There's also a shop that's got specialsed cake decorating equipment, Déco Relief. All of them, marked on a map.