Ever since Day 1 at Le Cordon Bleu, Paris, I've finished 6 lessons. Each lesson includes a lengthy demo by the chef followed by practicals, where we have to make what we see in the demo. The school is pretty strict about being in class on time. For a 8:30AM class I make sure to be ready in my uniform by 8AM and then wait in line to get into the demo room. (Yeah, I'm quite the front row dork.)
Talking about the uniform, the attire is nothing short of elaborate – checkered pants, chef jacket, neckerchief, hair net and cap, apron and a dish towel. Oh, and add ugly kitchen shoes to that. I have to wear it everyday; and on some days when I look at myself in the mirror in the school corridor, all dressed up, I go "Wooooah!" in my head and can't help smiling to myself. It feels pretty darn amazing.
We're learning the fundamentals of French cuisine, beginning with stocks and sauces. The amount of butter and cream that goes into the recipes makes my head spin. And it's probably the reason I almost never eat what I've made. With the exception of the sole fish in Bercy sauce that we made in our second lesson. That dish had simple flavours, an artery worth of butter and a whole lot of parsley. I felt so proud of cutting, gutting, scaling, skinning and filleting my own fish. I want to say that again: I cleaned two slippery soles, all on my own! Of course, my hands were stinking for the next few days.
Another favourite of mine was vol-au-vents. And that was mostly because I finally got to play with pastry! Making puff pastry from scratch and then watching it rise through the oven window is so gratifying. We filled the buttery puff pastries with creamy leeks, perfectly poached eggs and Albufera sauce. We also had to make a veal demi-glaze by reducing veal stock to a thick syrup. As my American classmate at school put it, 'Can't believe they go through all this for just a dot of it (as garnish)!
Last week, I also attended an optional class that was delivered by a chef from the Radisson. He made a pretty elaborate dish of chicken with morels, but what I particularly loved was the pea and mint soup. Such fresh flavors, those two.
I like that we get different chefs taking care of us for different classes. We've had some fun, some stern, "Stop manging (Franglais for eating)! Clean up!" and a lovely Korean chef, the only woman chef at school, who even makes us iced chocolate to drink when it gets really hot in the kitchen.
One other good thing about going to cooking school is that I can bring back home whatever I make (and sometimes, when I am lucky, great pastries made by the patisserie students!) so I don't really have to cook Arjun any dinner. Needless to say, he's one happy tester.
Because of all the rich food I'm invariably eating, when I've to fix myself something to eat, it's almost always salad these days.
Here's a green bean and fennel salad recipe that I tried in an attempt to give green beans a second chance (maybe they'd taste better with fennel?). Did I like it? Totally. But I think I'm going to be loyal to my favourite apple and fennel salad.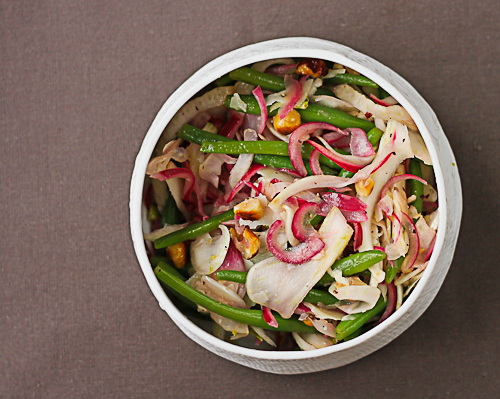 Green bean and fennel salad recipe
Adapted from Smitten Kitchen
Serves: 2
1/4 cup red wine vinegar
1/4 cup water
1 tablespoon salt
1 1/2 teaspoons sugar
1/2 medium red onion, sliced thinly
200g / 8 oz. green beans, trimmed
1 medium sized fennel bulb, sliced thinly
1 tablespoon lemon juice
1/3 cup (about 2 ounces or 50-60g) hazelnuts
1/3rd cup Parmesan cheese, shaved
1 teaspoons olive oil, plus more for drizzling over salad.
Method:
In a small bowl, whisk together the vinegar, water, salt and sugar together. Add the onions and set them aside for about an hour.
Bring a large pot of salted water to boil. Cook beans until crisp-tender, about 4 to 5 minutes. Plunge in an ice water bath to refresh.
Heat a small heavy skillet to medium heat and add one teaspoon olive oil. Add hazelnuts and toss until lightly browned, 2 to 3 minutes. Coarsely chop the nuts. Then, season lightly with salt and pepper to taste.
To assemble the salad, toss together all the ingredients. Then, sprinkle two tablespoons of the red onion pickling liquid, two tablespoons of olive oil and the shaved Parmesan over the mixture. Season generously with salt and freshly ground pepper.
Tip: Don't make this much ahead of time – the acid in the dressing will bleach the green beans, giving it a very unappetizing color.