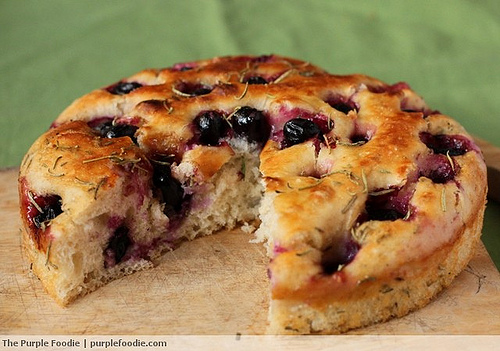 I recently rediscovering the joys of truly amazing extra virgin olive oil. Over the past week, there has been nothing I'd rather snack on late at night than slightly toasted bread, sprinkled with crunchy sea salt and doused in extra virgin olive oil.  After trying out the multi grain bread from Yazdani for a few days, I decided I'd make something fragrant, something slightly experimental.
I leafed through my current favourite bread book and stopped at focaccia (perfect, considering the Italy theme – Italian Bread, Italian Olive Oil, cooking in Italy). I thought I'd play a bit with the topping and decided on using grape and rosemary because the flavour pairing has been on my mind for a couple of weeks now. This is surprising, because I'm not usually the type to experiment with fresh fruits in bread. I'd happily use dried berries and nuts, but fresh fruits? Not really. I suppose it was the thought of having bread mottled with purple juices from the grape that got me excited. I felt utterly proud of myself for having thought this up. But my moment lasted all of 30 seconds – for I found the grape-rosemary pair already mentioned in my beloved Flavour Thesaurus. (I hope to discover a flavour pairing not mentioned in the book, and then proudly email the author. One day.)
I call this a wannabe focaccia because although I had every intention of making a focaccia, I underestimated the dough's rising capacity. I filled my pan with more dough than required,  thus resulting in a not-so-very-flat flatbread.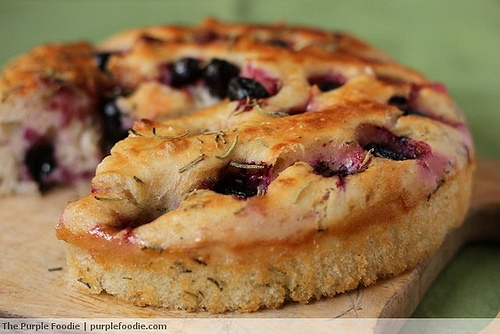 I used the recipe from Artisan Breads Every Day (US | UK | India), and I suggest you get yourself a copy if you'd like to make your own bread – it's a book with stunning recipes that don't end up intimidating you. I've used this book several times (remember the chocolate and cinnamon babka, or the pesto bread rolls?) and I keep going back to it. I stuck to the focaccia recipe, except that I added a load of fresh black grapes, a sprinkling of dried rosemary, and a dusting of brown sugar (for a little browning) on top of the dough a few minutes before I popped the dish into the oven for baking. The instructions for the focaccia are a little more detailed to be replicated on the blog, but if you'd like, here is another recipe for focaccia.