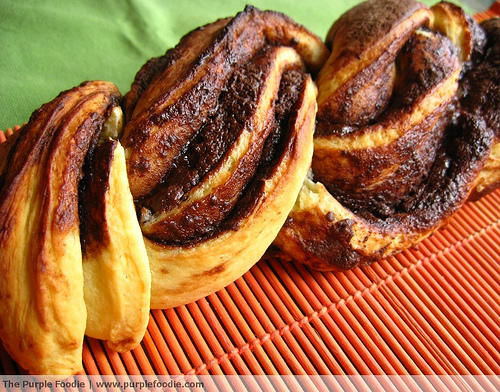 Rejoice yeast-o-phobes! I have found the perfect recipe to convert you.
I am one anxious person when I've to make bread. I'm never sure if a new recipe I try will work out. Will it rise? Will it get a nice brown crust? Will it smell too yeasty (answer to this: I used to think mixing instant yeast with warm water to start the fermenting would be a good idea, turns out, it does the same job when added to the flour, just a lot less stinky dough).
Babkas originated in Eastern Europe and in several Jewish settlements, though in my mind they were popularised on Seinfeld (The Dinner Party). Jerry and Elaine miss out on the last wonderful chocolate babka, and have to settle for a cinnamon babka. Chocolate vs cinnamon – that's a tough spot to be in, isn't it? To eliminate this predicament once and for all, and in honour of this wonderful Seinfeld episode, I decided to make "Jerry and Elaine's Chocolate Cinnamon Babka".
The chocolate cinnamon babka recipe from Peter Reinhart's Artisan Breads Everyday looked too good to be true, so just as a precaution, I halved the recipe. In hindsight, I wish I hadn't because this was so soft and chocolatey and delicious. (I've given the full recipe here).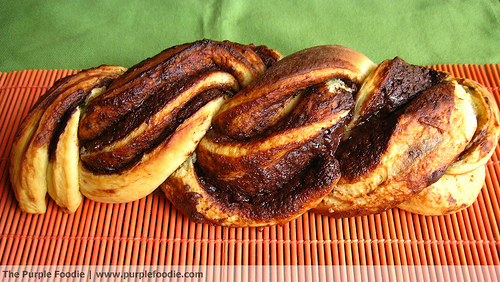 So why is this recipe so good?  Glad you asked. This chocolate cinnamon babka starts with all the familiar things of making a cake that puts you at ease instantly… cream the butter and the sugar together, add the egg yolks one at a time and then the flour… See? And before you know it, you've added the yeast mixed into milk and the dough has beautifully come together! A golden yellow dough (read rich dough full of butter, eggs and sugar!) results and you're half way through making your bread.
Now you just have to let it rest for about 2 hours (or you can refrigerate it overnight, just make sure to pull it out 2 hours before you want to bake it).  Next, roll it out and spread it with dark chocolate and cinnamon. Roll it. Twist it. Bake it!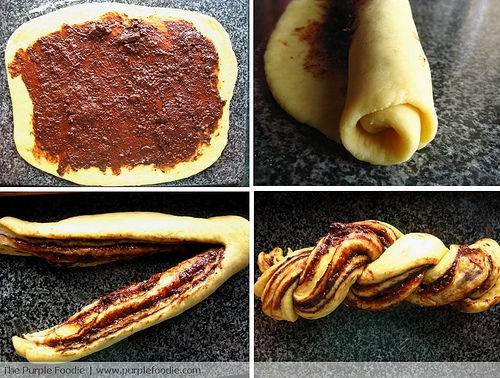 And of course, the flavour possibilities with this bread are endless: cinnamon sugar, white chocolate vanilla and (I'm thinking we might get some of the caramelised white chocolate goodness that David Lebovitz raves about), Nutella (!), chocolate with sliced almonds, pistachios, etc. and maybe even some fruits – fresh as well as dried?
Chocolate Cinnamon Babka Recipe
Adapted from: Peter Reinhart's Artisan Breads Everyday (OMG, I love this book!) (USA | UK | India)
Makes 1 really large loaf or two medium sized loaves.
Bread:
2 tbsp / 19g instant yeast
3/4th cup / 170g lukewarm milk
6 tbsp / 85 butter
6 tbsp / 85g sugar
1 tsp vanilla extract
4 egg yolks
3 ½ cup / 425g all-purpose flour
1 tsp salt
Filling:
1 ½ cups / 225g dark chocolate, coarsely grated
1 tsp cinnamon, ground
1/4th cup / 55g butter
Whisk the yeast into lukewarm milk and set aside for about 5 minutes.
In a large bowl, cream together the sugar and butter until smooth.
Add the yolks to the bowl, one at a time, mixing constantly for 30 seconds between each addition.  Add the vanilla and mix until light and fluffy.
Add the flour and salt and continue to mix until it all comes together.
Now mix in the milk + yeast mixture and let it mix until it forms a soft dough.
Knead by hand for another 2-3 minutes. You will have a soft, supple and golden dough.
Let this rise for about 2 hours, or refrigerate overnight, making sure to remove it from the fridge two hours before baking.
For the filling: mix the chocolate, butter and cinnamon together in a bowl.
Once the dough has risen, roll it out into a sheet with a thickness of 1/8th to 1/4th inch. Make sure to keep it dusted well with flour at all times, else it might stick.
Spread the chocolate mixture over it.
Roll the sheet of dough and then pinch the seams to seal it. Roll it to a length of about 24 inches. Either you can keep it this big if you'd like a big loaf, or cut it into half for two medium loaves.
For the gorgeous twisty shape, cut the log down the middle lengthwise, making sure to keep the top end attached. Twist over each other to get the braided look.
Now you need to let if prove for another 2 hours, but I skipped this step because I overlooked it. Turns out, you too can totally skip it, if you're short on time.
Preheat the oven to 350F/175C and bake for 15-20 minutes for medium sized and 20-25 minutes for the large loaf.
The babka tends to brown quickly because of the high(er) sugar content, but you shouldn't worry. It tastes fab!
Cool for an hour (painful) or eat it right away (delightful!)
The bread stays good for 2-3 days in an airtight box.