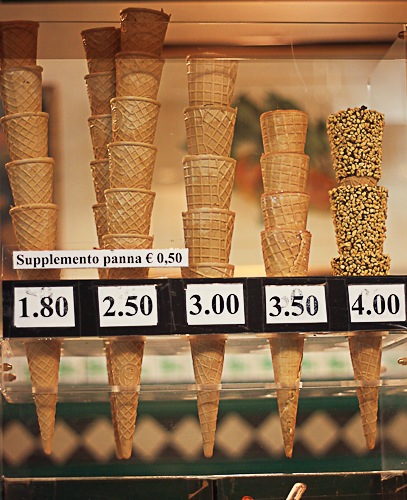 We clearly hadn't had enough gelato in Rome, so we did it all over again in Florence.
Here's a list of all the gelateria we went to in one afternoon that was made up of walking, eating gelato and then some more gelato. I've listed the gelateria such that you end the grand gelato eating tour at Perché No! because that's the perfect last memory to have of eating gelato in Florence (we didn't, but went back there to mark the end of the tour and eat more pistachio gelato). We popped into another one or two gelateria on our way, but that just fortified our faith in the map we'd charted out for ourselves. Don't get tempted by tourist crowds and overflowing tubs of gelato on display – they're obviously meant to cloud your judgement.
Can't make up his mind!
Santa Trinita
Piazza Frescobaldi, 11-12/r (Ponte Santa Trinita)
Mascarpone gelato cookies and cream gelato. I also tried their popular black sesame gelato, but didn't care too much for it.
Cantina Del Gelato
Via De Bardi 31, Florence
We tried the goat cheese and walnut gelato here that proved to be memorable just because.
Gelateria dei Neri
Via dei Neri, 20, Florence
We tried their caramel, chocolate with chili, chocolate amaro (bitter chocolate) and croccantino (nut brittle). I walked out happy with another cup of gelato and a souvenir Geleteria dei Neri postcard for my travel diary.
Carapina
Via Lambertesca 118r, Florence
This is the place to go for fresh, seasonal flavoured gelato. I absolutely loved their chocolate with ginger. Their mint and cherry flavours are popular as well.
Vivoli
Via dell'Isola delle Stinche 7r, Florence
I came to Florence with a bunch of recommendations from my friend (hi Jennie!) who had lived here for 6 months. She told me she loved the rice gelato here. We tried that along with chocolate, pear, orange-chocolate and yoghurt-strawberry – all rich and creamy. Their riso gelato reminded me of kheer, of course.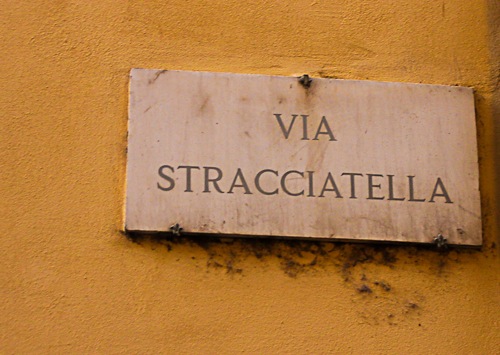 Vestri 
Borgo degli Albizi 11r, Florence
Vestri is a chocolate shop but that doesn't mean you don't go there for gelato. You go there for gelato drowned in chocolate. Ask for Affogato.
Carabé 
Via Ricasoli 60r, Florence
Carabé makes Sicilian style gelato – which means there are no eggs involved (great for vegans!). Fresh fruit sorbets is what you should try here. It's a bit of a walk, so if you're short on time, you can skip this one.
Grom
Via delle Oche, 24-r, Florence
We tried the torroncino, chocolate and Bachio gelato here. And my favourite, the gianduja hot chocolate.
Perché No!
Via dei Tavolini, 19-r, Florence
The best gelateria in Florence by far, their pistachio is to die for and the milk gelato is a close second. Everything here was perfect in flavour and texture. Other flavours we ate and enjoyed: apple pie, chocolate, raspberry and hazelnut. They make a lovely hot chocolate, but Grom wins hands down for their Gianduja hot chocolate.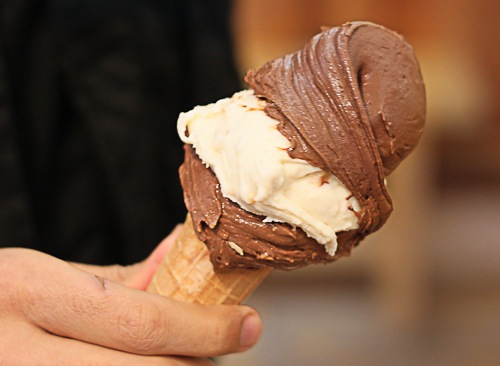 I've mapped out all these places to help to have your fill of gelato in Florence and decide your favourite gelato for yourself. But if I had to pick favourites, it'd have to be Perché No! for all the gelato and Grom for the Gianduja hot chooclate. And if I had to pick one city for eating gelato, then Rome would be the unequivocal winner.