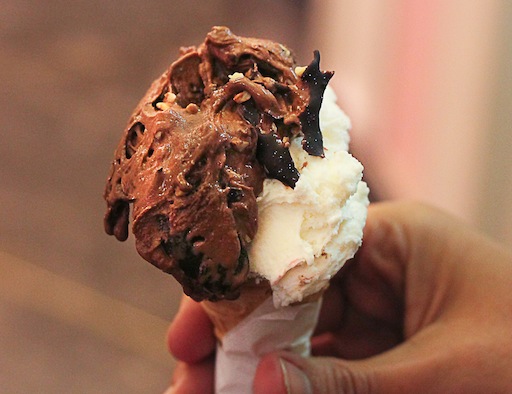 We decided that we must end our last evening in Rome on a rather memorable note. So, instead of going to a restaurant for dinner, we dedicated two hours to a little gelato trail of our own.
There are two things that you need to know before buying gelato in Rome (or for that matter, Italy). One: Learning up your favourite ice cream flavours in Italian is useful because most places will tag the gelato in Italian (cannella=cinnamon, pere=pear, etc.) If you're lucky, the gelateria might even have a little picture of the ingredient on the tag. And two, you need to decide if you want to eat in a cup or cone: the different cup sizes are pasted on the wall with a price written on it, so you can simply ask for "€2! or "€3!" cups. Cups are better, because the cones in most places is pretty bad. Even if you chance upon a good cone, you really don't want the flavour of the cone to linger in your mouth instead of the luscious gelato. Generally, the small cup priced at €1.5-€2 accommodates two flavours, and then bigger the cup you buy, the more flavours you can add in.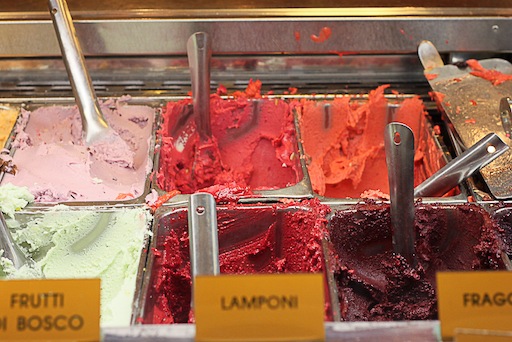 Rome Gelato Trail
Della Palma
Via della Maddalena, 19/23, Rome
Probably one of the most crowded gelateria I've been to, Della Palma boasts of serving over 100 flavours of gelato (touristy-place alert!). Picking what to eat was the hardest, so we just ended up trying 9 flavours here alone, plus a milkshake. Their black passion (chocolate and raspberry) was my favourite. You'll eat better gelato in Rome, but Della Palma wins the prize for providing the best visual treat.
Giolatti
Via Uffici del Vicario, 40, Rome
Giolitti is the most famous gelato shop in Rome and the best part: it is open till 1am! Not having read great things about their fruity flavours, we stuck to chocolate. Chocolate truffle gelato + gianduja gelato topped with a billow of whipped cream hit the spot.
Cremeria Monteforte
Via della Rotonda, 22, Rome
Exceptionally fresh tasting gelato here. Whatever you pick at Cremeria Monteforte, you have got to try their pistachio gelato.
Fior di Luna
Via della Lungaretta, 96, Rome
Fior di Luna boasts of using all natural ingredients in their gelato. Buy a gelato and walk down to Piazza Santa Maria to enjoy it by the fountain. Of course, I got myself a cup of hazelnut (nocciola) + pinenut (pinoli).
San Crispino
Via della Panetteria, 42, Rome
We ended our gelato walk at San Crispino, with the intention of saving the best for the last. We walked into the small shop near the Trevi fountain to be greeted by lidded stell buckets of gelato amidst vanilla cream interiors. I got their famous hazelnut meringue gelato. Crunchy bits of sweet meringue in hazelnut gelato is just genius. Beyond delicious.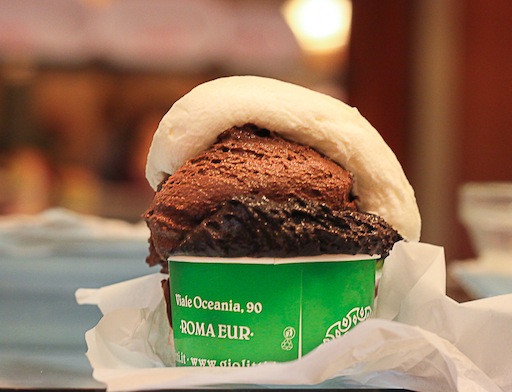 Note: If you're visiting Rome in summer, be sure to make a stop at Tazza D'Oro for their espresso granita topped with whipped cream.
Here is a nifty map to plan the gelato walk. The first three places on the list (four if you include Tazza D'Oro) are right by the Pantheon, so you can club those up together.
Some favourite flavours I discovered on this trip: pear and ricotta, cinnamon and rice, gianduja, Bachio (a popular hazelnut chocolate in Italy, means kiss, aptly gifted on Valentine's Day).