Seems like whenever I make anything with chestnuts, a post on updates is in order. Here's an update about a few recent and somewhat unrelated things.
**
When I was back home in Bombay in January, I conducted a bunch of baking workshops. Readers from all over the country came over (yes, country! Delhi, Pune, Ahmedabad and Hyderabad) for my classes in a quaint little villa in Bandra. I was beyond amazed…I still am. It was a fun two weeks of getting things together, meeting folks whom I've known just from their email IDs and Twitter handles and talking non-stop about butter, flour and sugar.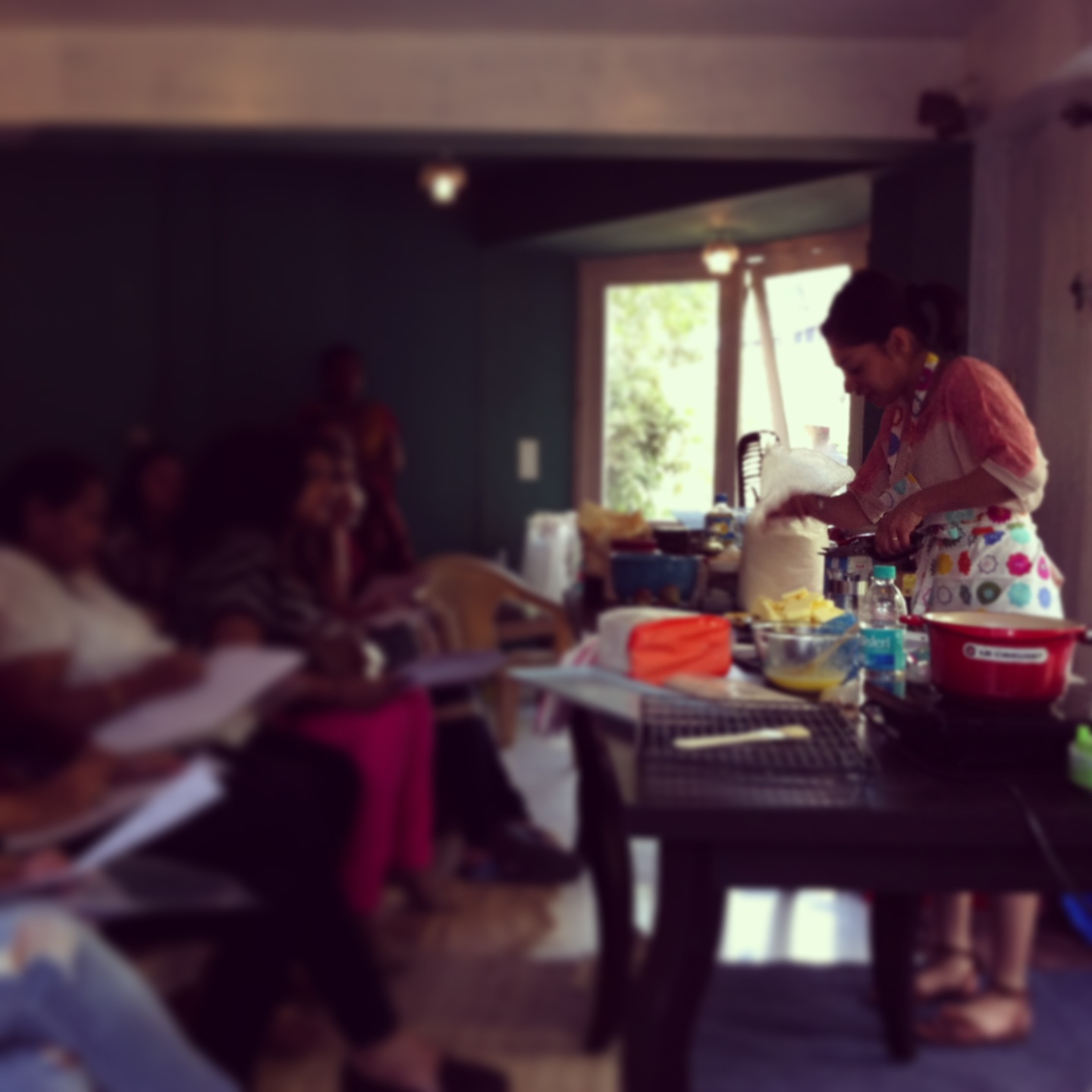 **
Aneesha Baig from NDTV's Will Travel For Food popped by during one of the classes and then we went on to explore some of my favourite baking supply stores in Bombay. The show first aired over the weekend and I managed to get my hands on my segment. Here's my 9 minutes of fame.
For those viewing this on email, cruise over to watch the "Purplefoodie on NDTV" Video here.
**
Arjun and I have moved into our new apartment in the 19th arrondissement of Paris. It's cute, it's cosy and I've been trying to make it our own over the past few weeks. What I like most is the fact that I have a huge kitchen (yes, this is considered huge by Paris standards), and an orange one at that with a proper oven! So of course, this means that all the kilos we've lost during the months that my oven was broken will now be regained. Here's a peek into my kitchen. Landlord willing, I will have a magnet strip  on the wall for my Wüsthofs.
**
It's been a while since I baked for myself, just myself. Not something meant for a dinner party, or something that a friend requested, or for a baking class. Something I baked at leisure, at my own pace: my alone time in my new kitchen, getting friendly with my new gas oven.
And it finally happened this last week – I felt the need to tinker with a pound cake recipe to the point it had no resemblance to one : a loaf cake made with chocolate and my favourite chestnut jam. This little experiment ended up being a success with a crispy crust and a tight, moist crumb. And the next day, I had a slice slathered in raspberry jam.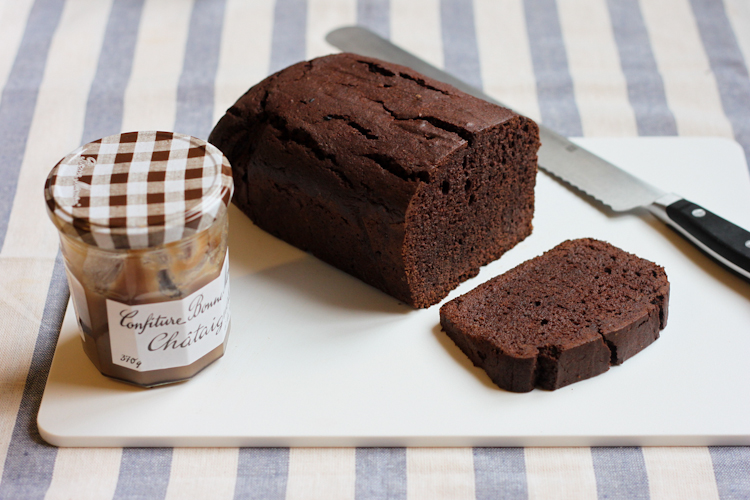 Chocolate Chestnut Loaf Cake Recipe
160g butter
200g caster sugar
1/2 vanilla bean, split and scraped
3 eggs
100g chestnut jam/ chestnut paste
180g flour (I used 120g flour and 60g chestnut flour)
60g cocoa powder, sifted
1tsp baking powder
Preheat the oven to 170C.
Line a loaf pan (9″x5″)
Beat the butter and sugar together until lighter in colour. Next, add the vanilla innards.
Add the eggs, one at a time, mixing for 1-2 minutes between additions. Finally, add the chestnut jam and beat until thoroughly blended, making sure to scrape down the sides.
In a bowl, whisk flour, chestnut flour (if using), cocoa powder and baking powder.
Fold the dry mixture into the wet mixture.
Transfer to the prepared load pan and bake for 35-40 minutes or until a skewer comes out clean.
Eat warm.