A few days ago, when we were checking-out at the super market, I noticed that my husband (it still feels a bit weird calling him that) slipped in a bottle of caramel sauce, which actually was nothing more than an overdose of corn syrup with artificial vanilla and half a dozen chemicals. If that weren't bad enough, he paid €6.50 for it!
That bottle of fake caramel struck a nerve. I couldn't stand watching him drizzle that god-awful sauce over a gorgeous triple chocolate mousse cake he and a good friend made for my birthday (l'm one lucky girl). Sacrilege.  So I made caramel sauce with farm fresh butter and Maldon sea salt.
I quickly read up on tips laid down by David Lebovitz  on making the perfect caramel and within minutes I had my caramel sauce. Deep amber, thick, unctuous salted caramel sauce. The best. Ever.
Here's a tip: When adding salt, you can add a part of it while the sauce is warm so it flavors the entire sauce evenly as it melts in, and then some more once the sauce has cooled and thickened so as to enjoy a bit of the salty crunch. Also remember, making caramel is a very quick process – you can't step away from the pan of sugar even for a bit!
After I was done eating the sauce as if it were soup, I made myself an apple tart with puff pastry and Canada apples I bought from the farm.  Nothing too elaborate;  just puff pastry topped with thin slices of apples sprinkled with a bit of cinnamon sugar (just a bit – we want the sweetness from the salted caramel sauce later) and baked at 200ºC/400ºF until the pastry was golden brown.
Salted caramel sauce drizzled on the apple tart: heaven at home.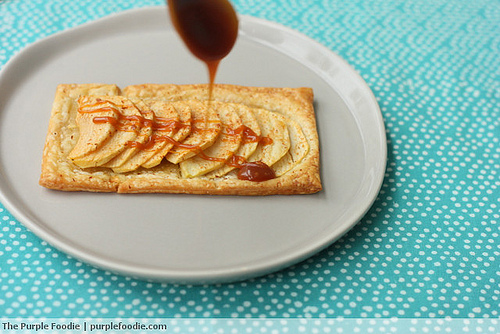 Salted Caramel Sauce Recipe
Ingredients
200g white sugar
90g  unsalted butter (the best you can get your hands on)
120g cup cream (double cream, preferably)
1 tsp (or more) Maldon Sea Salt or Fleur de Sel
Method
Add the sugar in a thick bottomed pan and cook it till it melts. Keep swirling the pan so that the sugar can cook evenly.
Once the sugar has reached a deep brown colour, pull it off the heat and add all the butter. It will foam up, so make sure you're using a pan with high sides. Stir until it's completely melted into the sugar.
Next, pour in the cream (more foaming) and whisk in until you have a consistent sauce.
Stir in half the salt. Let it cool completely. Stir in the remaining salt. Bottle it.
Serve it on a cake, in a cake, over ice-cream, tarts, crumbles, pancakes, brownies, waffles, toast, granola. Everything.
Store in refrigerator for upto two weeks.
UPDATE!
11th January: I made the caramel sauce again for a cake. This time, using salted Bordier butter. Turns out that this batch had a slight bitter taste that a bunch of you have written about in the comments. That's our answer! For making this caramel sauce we must stick to using unsalted butter in case we want to avoid that bitter taste. Just for this recipe, Bombay folks, bite the bullet and spend a little extra on unsalted President butter available in most supermarkets. You will be hooked. I promise.