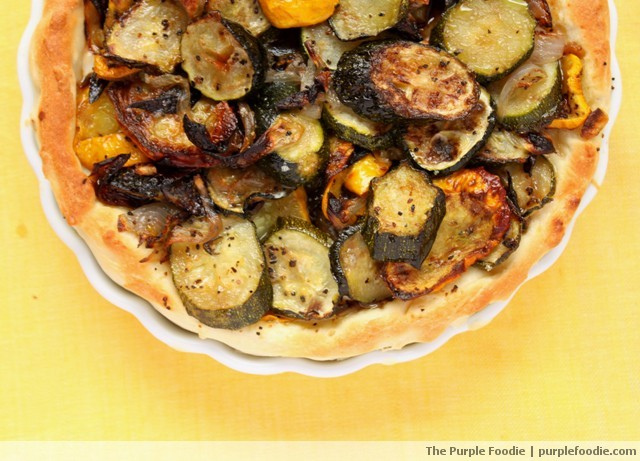 This is not your average tart. For starters, it doesn't use tart dough for a base, but pizza dough, and secondly, it calls for a layer of thick yoghurt and cheese beneath the vegetables. Both the deviations from the norm seemed rather interesting, and the picture in the book looked too good to pass up to make for lunch today. Where did I get this unconventional recipe from, you might wonder? It's from the Popina Book of Baking.
I first heard of Popina Bakery on Rachel Allen Bake and really liked what I saw. The unusual name is hard to forget, so when I saw a book titled Popina at my local bookstore, I quickly pulled it out. Gorgeous, gorgeous photos and refreshing recipes pushed me into buying the book. It took me a while to decide which recipe I'd try first, and when I got my hands on some fresh zucchini, it was decided: I'd make the zucchini and onion tart (leaving out the fennel, which isn't easy to find here).
Using pizza dough as a tart base is just genius – it makes life so much simpler! For once you won't have to worry about attaining the perfectly flaky tart crust (although, it's perfectly normal to be persistent about it) or letting the dough rest in the fridge for a few hours before rolling it out.
I especially love vegetables that are roasted until the point they look charred, and the innate sweetness is showcased. In fact, while the zucchini and onions were roasting, I might have opened the oven door a few times to sneak some for a quick snack, topped on cream crackers.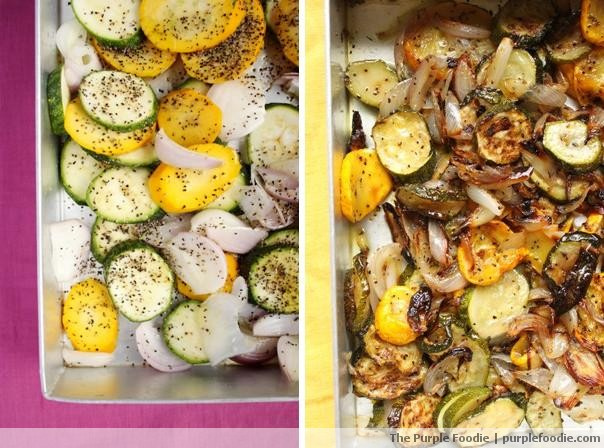 Zucchini and Onion Tart Recipe
Adapted from: Popina Book of Baking (USA | UK | India)
Pizza Dough Base:
220g flour
1 tsp instant yeast
1/4th tsp salt
½ tsp sugar
2 tbsp extra virgin olive oil
1 egg
80ml warm water
Filling:
400g zucchini, sliced
2 medium onions, sliced
40 ml olive oil
1 tsp salt
½ tsp pepper
100g mature cheddar
150g thick yoghurt (hung in muslin cloth or you could use Greek yoghurt)
1 tsp chilli flakes (or more depending on how hot you like it)
Equipment:
10x33cm tart pan (I SO want this!) or an 8 inch round pie dish (this is what I used)
Method:
For making the dough

: Mix the dry ingredients together in a bowl. Create a well in the centre of the ingredients and add the egg, olive oil and water. Draw everything together with your hands and knead until you get a soft, pliable dough. If you're using a KithenAid, knead until the dough comes together and passes the window pane test. Transfer to a lightly floured surface and knead for two more minutes. Let it rest while you prepare the filling for the tart.

Filling

: Put the zucchini, onions, olive oil, salt and pepper in a roasting pan and roast in a preheated oven at 200°C/400°F for 30 minutes. If it looks like it's browning too soon, then cover with an aluminium foil (because it's going to be in the oven for another 30 minutes after it's been layered into the tart). Once done, let it cool for about 15 minutes. Add in half the grated cheese.
Mix the yoghurt, remaining half of the cheese and chilli flakes.
Line the tart tin with the pizza dough and spread the cheese mixture evenly. Scatter the roasted vegetables on top and bake it in a hot oven for 25-30 minutes at 170°C/325°F. Remove from the oven and let it cool before cutting it into slices for serving.