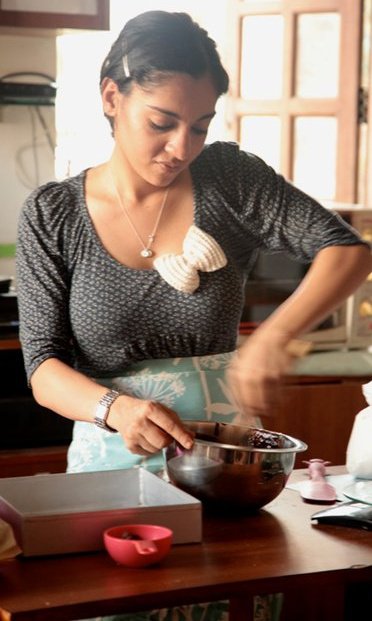 October 2012, Paris.
Hi! My name is Shaheen and I love to cook, bake, eat, read cookbooks, pick fruits at the farm, tinker with new recipes, teach people how to bake, cook at my weekly pop-up, and of course – talk about food. A lot.
I'm from Bombay, India, and currently living in Paris with the love of my life.
In September 2007, I created this blog to chronicle my escapades in the kitchen. Little did I know back then that this blog would go on to change my life.
I have worked in a commercial pastry kitchen in Bombay. I ran my own catering business for a brief period that got hugely popular in a short period (Bombay people, you rock!). And I was on the panel of food writers that were sponsored by the Italian Government and European Union for a week long food and wine program across Italy. Over the years, my tiny space on the internet has been recognised both locally and internationally.
Ever since I was 18 and learned of Le Cordon Bleu, I dreamed of studying there. "That's not a job!" everyone said. So I finished college, and took on a regular marketing job, just like the other kids at school. Fast forward to 2011, I was awarded not one, but two prestigious scholarships from The Culinary Trust and The James Beard Foundation that turned my teenage dream into reality. Both these scholarships are awarded to just one candidate each year.
As a part of my 5 year goal for my scholarship essays, I wrote that I see myself as an editor of the country's top food magazine. A few weeks later, I get an email from BBC Good Food India to be the food editor (!!!). Unreal. I couldn't take it up because of my move to Paris (bittersweet), but I did work on launching the magazine in India and  created two big features – one on ten stunning desserts and the other on no-fuss Mediterranean. Look! I continue to contribute to the magazine whenever time permits.
I now have a certificate for both Patisserie (London) and Cuisine (Paris) from Le Cordon Bleu under my belt and it feels terrific. I loved every minute of school, especially Paris, and I can't wait to go back there and learn from my favourite chefs. While at school, I discovered that I actually do enjoy cooking and not just baking. So that confused me a bit. In the summer I spent in London I did a stage at a bakery and a pizza van and I was even lucky enough to get into Fergus Henderson's kitchen at St John Bread and Wine where I learned a heck lot about butchery. I plan to continue to stage at some of my favourite restaurants and cafés in Europe while I can.
The technical genius and occasional co-author behind this blog is my husband, Arjun, also sometimes referred to as orangefoodie on the blog. He doesn't cook much, but loves to eat like nobody else I know. Back in college he made me a luscious Creamy Oreo Pie. Now, that's a sign of keeper.
Things I love: cotton candy, to-do lists and post-its, smell of old books, receiving picture post cards, Alphonso mangoes, thin crust pizzas, strawberries with yoghurt, doodling, plunging my hands through a sack of grains, Clinique Happy, fabric covered notebooks, apple pies, letterpress, chrysanthemum tea, happy people, cookbooks, butter garlic clams at Trishna, decoupage, mint tea, Nutella, water colours, elderflower presse, chestnuts, Speculoos spread, sticky notes, pistachio, Pierre Hermé, leather craft.
This blog is my life.  And you guys are a huge part of it. Thank you for reading, commenting and emailing me everyday. Every one of you. Writing this blog is one of the most fulfilling, most fun things I do and I'm so excited to be interacting with readers from all over the world with whom I share recipes, stories and care packages.