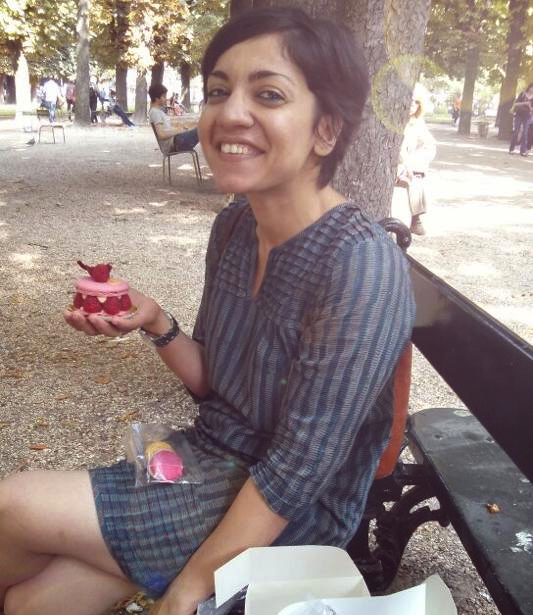 January 2014, Paris.
Hi! My name is Shaheen and I love having to do anything with food.
I'm from Bombay, India, currently based in Paris.
I created this blog in September 2007 as a place to document my escapades in the kitchen. Little did I know back then that this blog would go on to change my life.
I have worked in a commercial pastry kitchen in Bombay. I ran my own catering business for a brief period that got hugely popular in a short period. I was also on the panel of food writers that were sponsored by the EU for a week long food and wine program across Italy.  I've also taught a bunch workshops on baking. Over the years, my tiny space on the internet has been recognised both locally and internationally.
Ever since I was a teenager, I dreamed of studying at Le Cordon Bleu and becoming a pastry chef. "That's not a job!" everyone said. So I finished college, and took on a regular marketing job, just like the other kids at school. Fast forward to 2013, I now have three prestigious scholarships from The Culinary Trust (2011, 2013) and The James Beard Foundation (2011) under my belt, that turned my teenage dream into reality. These scholarships are awarded to just one candidate each year.
As a part of my 5 year goal for one of my scholarship essays, I wrote that I see myself as an editor of the country's top food magazine. A few weeks later, I get an email from BBC Good Food India to be the food editor (!!!). Unreal. I couldn't take it up because of my move to Paris (bittersweet), but I did work on launching the magazine in India and  created two big features – one on ten stunning desserts and the other on no-fuss Mediterranean. Look! I continue to contribute to the magazine whenever time permits.
I now have a certificate for both Patisserie (London) and Cuisine (Paris) from Le Cordon Bleu, and it feels terrific. I loved every minute of school, especially Paris, and I can't wait to go back there and learn from my favourite chefs. While at school, I discovered that I actually do enjoy cooking and not just baking. In the summer I spent in London I did a stage at a bakery and a pizza van and I was even lucky enough to get into Fergus Henderson's kitchen at St John Bread and Wine where I learned a heck lot about butchery.
Since early 2012-May 2013, I worked on my pet project called Friday Lunches with my partner, where we ran a little business feeding 80 B-school students at our weekly lunch pop-up. We also expanded to a handful of schools in Paris.
I'm currently working in kitchens, learning new things one cut at a time. I also conduct baking classes every once in a while.
The occasional co-author behind this blog is my husband, Arjun, also sometimes referred to as orangefoodie on the blog. He doesn't cook much, but loves to eat like nobody else I know. Back in college he made me a luscious Creamy Oreo Pie. Now, that's a sign of keeper.
Things I'm loving right now: blackberry and lime, basil, chou pastry, rosette de Lyon, black cherry jam and brioche.
Instagram • Facebook • Twitter • Tumblr • Pinterst • Email • RSS