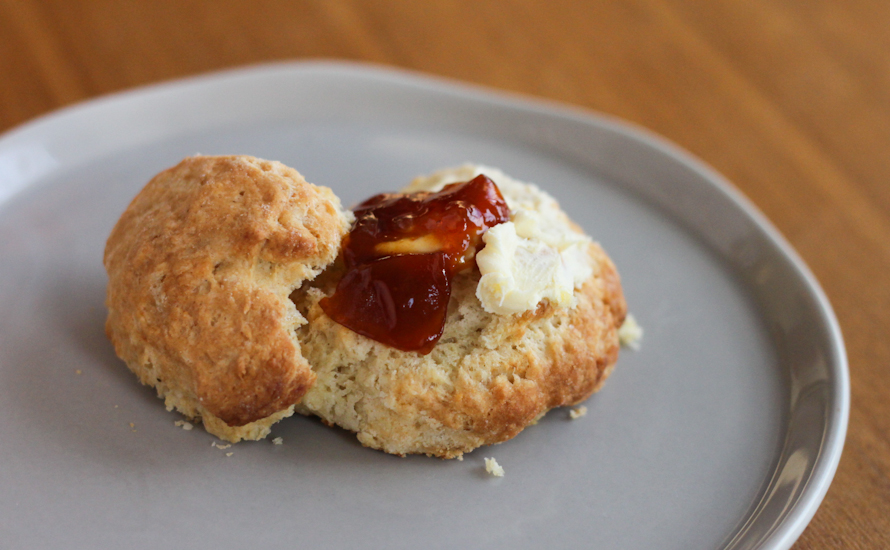 I like Thursday mornings because that's the day I get to have breakfast with Arjun after a week  of rushing out of the house at 7AM. I take the time to make a lovely little breakfast for us as we sit at the table and slather whatever we're eating with butter and watch the boats on the river go by.
This time, I made scones because they're just so easy to put together- rub the cold butter into the flour. Add a spoonful of sugar and baking powder and then bring it all together with an egg and some milk until it's a wee bit sticky, cut into pieces and bake. Fresh, hot scones from the oven ready in 20 minutes. We ate the scones  with clotted cream and a lovely apricot jam that our friend's aunt in Orléans, France makes over summer and shares with friends and family. It is delightful – jam that tastes like fruit, not a jar of sugar.
I like the scones plain, but you can play around with flavours – some vanilla, lavender or lemon zest. Maybe even some nuts (always toasted) and dried fruits chopped up and stirred into the flour.
Ingredients
220g plain flour
1 tsp salt
1 tbsp sugar
1 tbsp baking powder
80g cold butter
1 egg
50-60ml milk (I approximated this, until I got a dough that came together and was a wee bit sticky)
Method
Mix all the dry ingredients together in a bowl.
Rub in the butter until it resembles coarse breadcrumbs. Work quickly with your fingertips, you don't want the butter to melt.
Next, add the eggs and milk and work the dough until it comes together. It's okay if it isn't a very cohesive - just as long as it holds together.
Roll out to a thickness of 2.5-3 cms. Using a pastry cutter, cut into rounds. Or if you'd like you can even cut it as though you're cutting a pizza.
Brush with egg wash (1 egg beaten with a dash of milk)
Bake in a preheated oven at 175C until golden brown.
Serve with clotted cream and jam.
http://purplefoodie.com/scones-recipe/