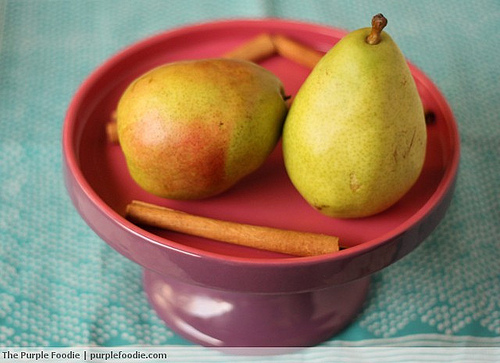 There are some things that are so easy to make, and yet look and sound incredibly fancy.  Poached pears fit right into that category.
With a bottle of Merlot and happy looking pears at hand, I set out to make some poached pears. Within minutes, the whole place was filled with the aroma of cinnamon simmering away in red wine. The intense fragrance tells me that other spices like star anise and cloves added to the red wine will be magical too.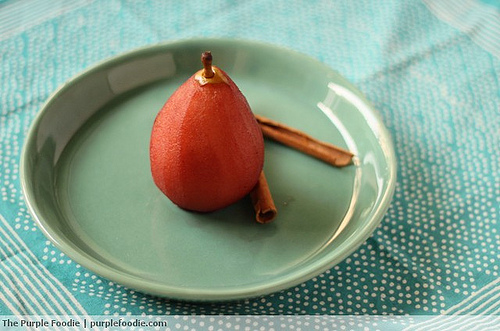 While I poached the pears for about ten minutes, the poaching time may vary depending on the type of pears you have. The hard Asian pears can take a lot more time, and in my experience, taste rather gritty. The pears when poached should be tender yet firm. By this, I mean that they should feel soft to the touch, but still be able to sit pretty on a plate and not fall off clumsily.
I especially adore this recipe because nothing's wasted. The remaining wine mixture can be reduced to a thick, unctuous sauce redolent with cinnamon. You can spoon this over the poached pears or even spread it on toast the next day (wine for breakfast!) If I weren't in the midst of my dentist visits (all the sugar finally made my teeth scream), I'd sprinkle some candied walnuts on them. The contrast of the crispy walnuts and the tender poached pears is sublime.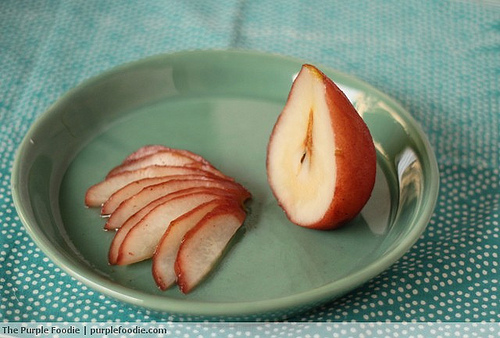 Poached Pears in Red Wine
Serves 4
4 pears (ripe but firm, peeled)
1 cup red wine
1 cup water
1/2 cup sugar
2 cinnamon sticks
Equipment: Saucepan
In a medium saucepan over high heat, bring the red wine, water, sugar and cinnamon stick to a boil.  Reduce the heat and simmer for about 5 minutes.
Add the pears to the saucepan. Cover and poach the pears for about 10 minutes, until tender but still firm. You might need to turn the pears over so that they cook evenly. For this, use a silicone spatula because a metal spoon will bruise the pear and it won't look as pretty when plated.
Transfer the pears to a large platter.
Now continue to simmer the poaching liquid from the saucepan until reduced by half and slightly thickened. This is your sauce.
Cut the pears into half and then slice them up to serve with the reduced wine sauce.