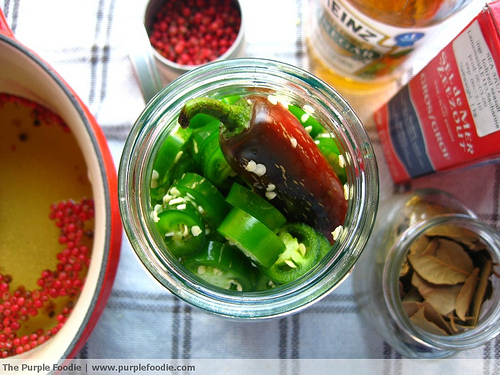 For weeks, nay months, almost a year (without any exaggeration), I've been looking for jalapeños in Bombay. On the rare occasion that I did find them, they looked as if they were sitting in the cling film wrapped box for weeks before they reached my hands. Yesterday while shopping at a supermarket, I was thrilled to find some jalapeños. And this time they were actually fresh!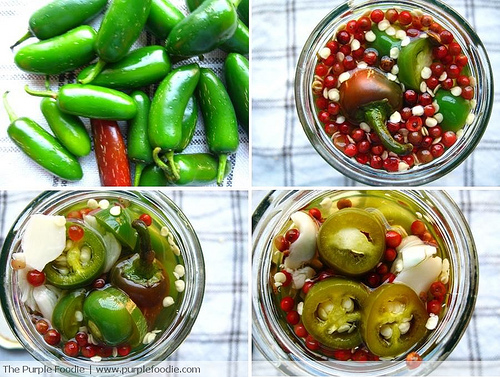 Ever since I was introduced to pickled jalapeños years ago, I'd religiously buy a bottle every few weeks and make sure that I'd never run out of them. I especially love eating them in sandwiches, so slicing the jalapeños before pickling is more convenient. If you'd like, you can pickle them whole (just like I left the red one in the jar). When leaving them whole, the outter membrane needs to be pierced for it to absorb the pickling liquid. A nifty tip from my grandma for handling chillies so that you don't end up with burning hands: Instead of using a knife that will result in squirts of the Capsaicin, use a needle to cut through the membrane, while you hold the chilli by its calyx.
This recipe fits perfectly in an 820g jar. If you're using anything else, I suggest you first pack it with all the jalapeños and then add water until it reaches the brim. Now strain this into a measuring jug and this will give you the exact quantity of pickling liquid you need. Throw out half of it and replace it with vinegar. I found this method on Michael Ruhlman's blog and I think this is just genius, and you will not need a recipe for pickling ever again if you remember theRatio (pun intended). All you need to do is add spice, flavour, and seasoning to this vinegar mixture.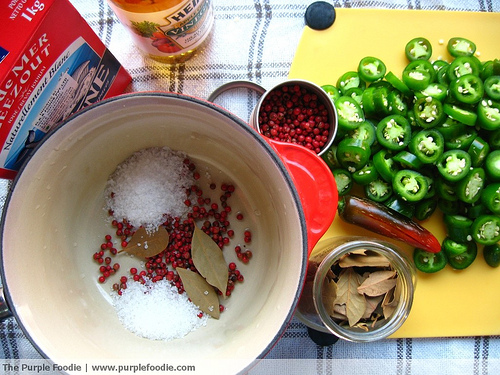 Pickled Jalapeños Recipe
330g, whole or sliced
1 cup apple cider vinegar
1 cup water
1 tbsp peppercorns (I used pink because I like colour)
2 bay leaves
3 cloves of garlic, lightly pounded
2 tbsp coarse sea salt
1 tbsp sugar
Pack the jalapeños in a glass jar.
In a saucepan, add the rest of the ingredients and simmer for about 5 minutes.
Pour the hot pickling liquid over the jalapeños and let it rest for a few hours. Shake it up a little so that the peppercorns are evenly distributed.
For a crunchy bite, you can start nibbling on them within a few hours. As for softer texture, let this sit for 4-5 days.
Keep refrigerated for upto two months or can it according to jar manufacturer's instructions.