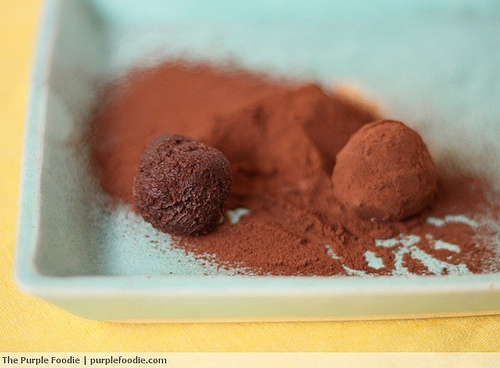 Passion fruit truffles.
Surely, when I talk about these you're going to forget about the fact that I have posted after what seems like eons.  Or, the fact that my replies to your emails have been slow and spotty. These passion fruit truffles have grown to become my latest obsession. And why not, it's based on a Pierre Hermé recipe, no less. Only difference being, I used dark chocolate instead of milk chocolate.
I've made these truffles in the past few weeks more times than I can count. In fact, when I know I'm the only one eating it, I don't even bother with shaping the truffles. I simply stick my spoon into the bowl of cold ganache and scrape it clean. They're pretty fantastic with sliced strawberries, too.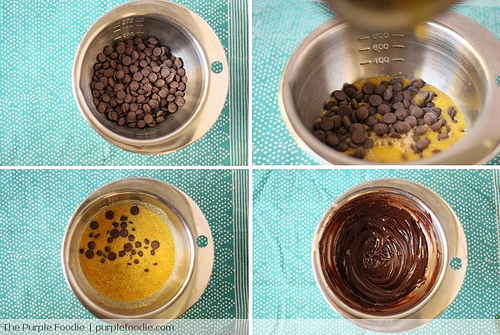 In other news, I'm headed out to Italy this weekend. Italy! Pizza. Pasta. Parma ham. Olive oil tasting. Provolone cheese production. Cooking classes. Cheese tasting. Visit to the cheese farms. Gelato. And the icing on the cake – a room overlooking the famous courtyard from Romeo and Juliet in Verona! (Wheeeeeeee!) It's a food and wine training program for a bunch of food writers organised by the European Union and the Italian Government, and I'm so thrilled to be a part of this contingent. If you have any recommendations, must-dos, must-eats in Italy, please let me know! Personal goal: Gain at least 5 kgs. pigging out.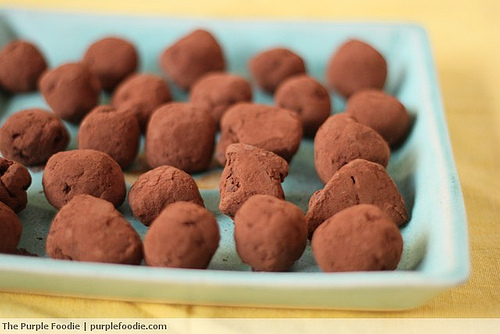 Passion Fruit Truffles
Based on Recipe from Chocolate Desserts by Pierre Hermé (US | UK | India)
Yield: 24 truffles
200g dark chocolate (you can use milk chocolate or a combination of milk and dark, whatever you prefer)
80g passion fruit pulp, deseeded
10g cream
10g honey
15g butter
Cocoa powder for coating.
Add the chocolate to a steel mixing bowl and set aside.
In a saucepan, add the passion fruit pulp, cream and honey and bring it to a gentle simmer.
Pour this over the chocolate and stir it, until it all comes together – there should be no pieces of chocolate and the ganache should look thick and shiny.
Add the butter while still warm, and stir it until it has melted into the ganache, making it even shinier.
Refrigerate the ganache for 20-30 minutes.
Line a tray with foil and then spoon a teaspoon of the chilled ganache on it. Now, roll the irregular mass of chocolate ganache into a ball. Not too much, just enough for it to have a smooth surface area. Refrigerate it again for 10 minutes.
Next, sift a tablespoon of cocoa powder in a plate and roll the truffle balls in the cocoa powder. Toss the truffles in a sieve and shake of the excess cocoa powder.
Pop them into your mouth.