It's been far too long since I made macarons. The last time I made them was more than a year ago at Le Cordon Bleu in London – we made macarons using two different methods. The first one involved use of a French meringue (egg whites+sugar), which is made by whipping egg whites while simultaneously adding castor sugar to it until it is firm. The second method for the macarons was a bit more involved, using the Italian meringue method. In this method, the egg whites are whisked gently in a KitchenAid while a sugar syrup boils up to 118ºC. Once the sugar hits this temperature, it is poured into the bowl of egg whites that are now being whisked on high speed. The whites are whisked until they are firm and the temperature of the meringue drops to 50ºC.
The difference in the macarons is most striking after they are baked. The macarons made with the French meringue method look grainy and more "rustic" (though some claim it offers a superior taste), compared to the shiny surface and perfectly smooth macaron shell made with the Italian meringue method. The latter is also the one that Pierre Hermé favours and has based his entire macaron empire on. No reason not to follow suit.
With all the talk about boiling sugar and working with a thermometer, making macarons might sound a bit daunting. I was anxious as well. Especially a few years ago when macarons were quite the fad across blogs and everyone had something to say about making macarons, with words such as tant pour tant, macaronage, humidity and even 'macaron Gods smiling upon you that day'! The information out there can get overwhelming, and in the end it's best to simply dive into making the macarons. As I realised over time by studying pastry and following Pierre Hermé's method, you're going to get better at making macarons and will learn something new each time you make them.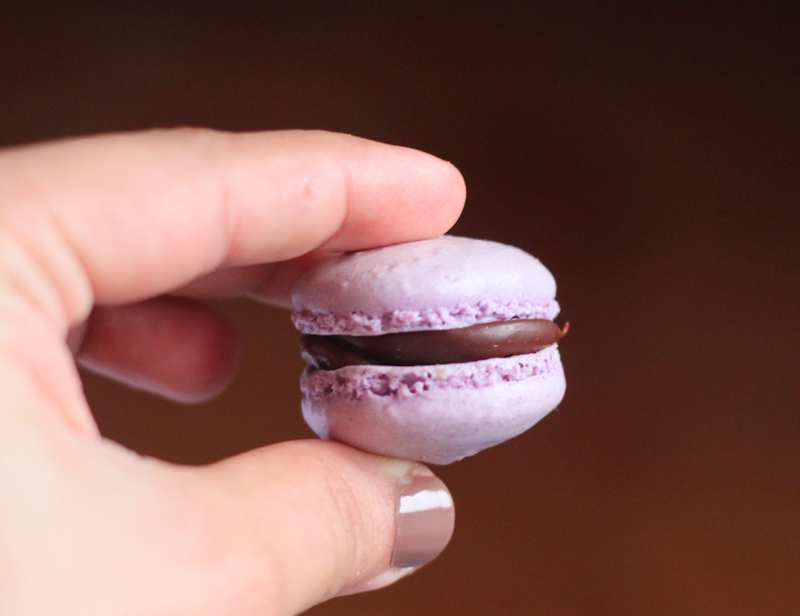 Macarons are not complicated and making them should not be viewed as an insurmountable task. Just think of them as baking any other cookie. Here are some tips on making your own macarons that I've picked up over time:
It's not to say that every batch of macarons you make will be perfect. It won't, but with every batch you will learn something. For example, I brought back home some leftover macaron batter that resulted in perfectly gorgeous macarons at Le Cordon Bleu. It just didn't work at home. The macaron had feet (the crinkly thing at the base) but the tops cracked. Everything was the same at school and home, except the oven itself. So that explained that the oven I was using at home wasn't suited for the job.
On another occasion, I added too much liquid colour to the mixture that made the macarons stick to the parchment paper and not form a bottom crust where the macaron shell is in contact with the parchment.
The same thing happened when I hadn't whisked the egg whites to soft peaks before pouring in the boiling sugar.
Egg whites must be at the soft peak stage by the time the boiling sugar is ready. One time, mine weren't and I went ahead and made the meringue anyway, which resulted in a much softer macaron batter that wouldn't hold shape when piped, thereby resulting in uneven macaron rounds.
It's imperative to wait 24 hours after filling the macarons before you can eat them. It's a long wait, but well worth it once the flavour and moisture from the ganache has soaked into the macaron shells. This is key. (Thus, there is no such thing as a freshly baked macaron, unless you want a less flavourful one :))
While Pierre Hermé's instructions stress on letting the macarons dry (feel dry to the touch) for 30 minutes before baking them, I popped a tray in to see what might happen if I didn't. Turns out, it didn't make a difference to the structure – it took 2-3 minutes longer than the 12 minutes stated in the recipe but was just a lot less cumbersome given my shoebox-sized oven and its low yield. (I also halved the shell recipe to feed a household of two).
Pierre Hermé also talks about aging egg whites up to a week so that the eggs lose their elasticity. I aged mine for two days for one batch and a week for another and both the batches turned out OK.
I'll keep adding more pointers to this list when I learn something new.
Pierre Hermé Mogador Macaron Recipe
This Pierre Hermé recipe for macaron shells makes about 150. I halved the recipe and it worked perfectly. I use and highly recommend Pierre Hermé's Macaron book (USA | UK | India) for making the macarons. It has the whole process beautifully illustrated and simplified for making macarons at home. You will also need a digital thermometer to be able to measure the temperate of the sugar.
Ingredients
Passionfruit macarons

Bowl 1

300g ground almonds
300g icing sugar
110g liquefied" egg whites
2g approx. blue food colouring
4g approx. red food coloring

Bowl 2

300g caster sugar
75g mineral water
110g liquefied" egg whites

Passionfruit ganache

500g milk chocolate (I used Valrhona Jivara)
250g passion fruit pulp (obtained from approximately 10 passion fruits)
50g butter
*"Liquefied" egg whites. Egg whites will lose their elasticity if you sit them in the fridge for several days, preferably a week. (refer to my notes above)
Method
Bowl 1: Sift together the icing sugar and ground almonds. Stir the food colouring into the first portion of liquefied egg whites and pour into a well in the bowl of icing sugar and ground almonds.
Bring the water and sugar to boil at 118ºC. When the syrup reaches 115ºC (this was too late for me while making half the recipe, I began to whisk the whites at 105C), simultaneously start whisking the second portion of liquefied egg whites to soft peaks. When the sugar reaches 118ºC, pour it over the egg whites. Whisk and allow the meringue to cool down to 50ºC, then fold it into the almond-icing sugar mixture. While folding, work from the centre outwards, making sure to incorporate all the colour evenly. By the time you are don't folding the macaron shell mixture should look shiny.
Spoon the batter into a piping bag fitted with a plain tip No. 8 nozzle.
Pipe rounds of batter about 3-3.5 cm in diameter on a baking tray lined with parchment paper. Bake in a preheated oven at 180ºC for 12-15 minutes. Once baked, slide the parchment off the baking sheet and once the macarons have cooled, peel them off the paper.
For the ganache, chop the chocolate and put it into a bowl and place it over a double boiler to soften. Pull it off the heat. Pour passionfruit pulp that has come to a boil over it and let it sit for a minute before beginning to whisk it gently. Next, whisk in pieces of butter at room temperature . Once everything is incorporated, transfer to a piping bag (do not cut the tip) and clip the end. Refrigerate until firm enough to pipe on to the macarons.
Finally, fill the macarons with the ganache, and refrigerate for 24 hours before serving. If the weather is too hot, the macarons might show signs of condensation when they're removed from the fridge. To combat this, let the macarons come to room temperature in an air-conditioned room.
http://purplefoodie.com/passion-fruit-macaron-pierre-herme-recipe/
Useful links:
Pierre Hermé Ispahan making video (French)
Macaron making myths