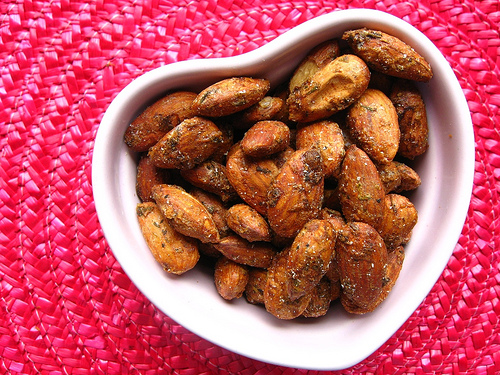 Of late, I've had this huge urge to snack on roasted nuts. To quench this desire, I have been making my favourite ginger and honey roasted almonds over and over again. I always tend to throw in a little extra ginger for added punch. I love these roasted, crunchy almonds, potent with the smell of ginger, and sweet and shiny with a touch of honey.
While I don't think I'm done making the ginger and honey almonds, I thought I could try something savory this time when I saw the recipe of savory roasted almonds on Eat Make Read.  And more than that I was really curious about making roasted almonds with egg whites! I've heard people use it, and have always shied away from it, but with the description of these roasted almonds, I kept my reservations aside. As soon as the almonds went into the oven, the mixture of almonds along with lime, thyme and parmesan (and a few other things) started coming together. This created a fabulous smorgasbord of all the flavours which filled my house with the most gorgeous smells. I could not wait for it to be done!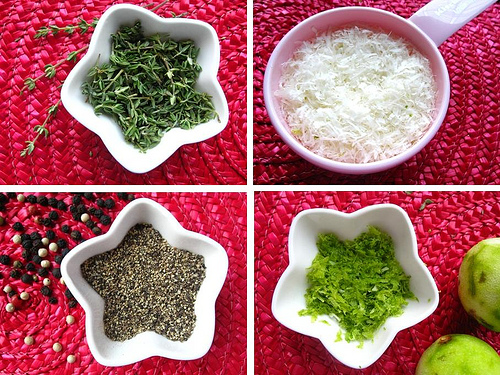 While I was making these almonds, I started to think of flavour combinations that never cease to fail. Flavours that are so reliable that they almost sound lyrical together: like ginger and honey, thyme and lemon, sugar and cinnamon, garlic and rosemary, garlic and chive.. Play along… add more such flavour combinations to the comments section and let's discover something new! That reminds me, I must replicate the kaffir lime leaves and lemongrass peanuts I had when dining at a teppanyaki restaurant.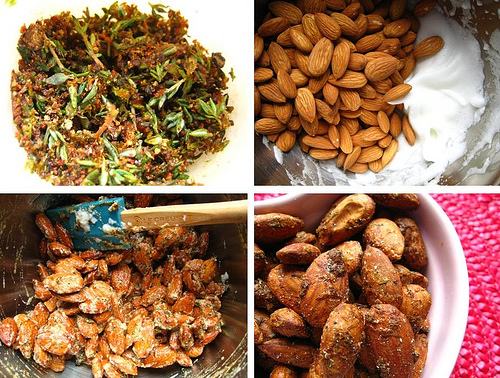 Parmesan and Thyme Roasted Almonds
Adapted from: Eat Make Read
3 Cups/16 oz. Raw Almonds
2 Small Egg Whites (OR 1 Extra Large Egg White)
1/3 Cup Fresh Thyme Leaves
1 Tbsp. Red Pepper Flakes
1 Tbsp. Dried Oregano
1 Tbsp. Garlic Powder
3 Tbsp. lime Zest
2 tsp. Black Pepper
1 1/2 Tbsp. brown sugar
1 tsp salt
1/2 Cup Finely Grated Parmesan Cheese
Preheat oven to 170C/340F
Line a baking sheet with parchment paper or foil.
In a pestle and mortar, add the thyme, red pepper, oregano, garlic powder, black pepper, lime zest, salt and sugar together. If you have a pestle and mortar, grind all of the spices together to break them up a bit. You won't get much of a paste, but the thyme should break down a bit and the red peppers will get smaller.
Whisk the egg whites until frothy (about 2 minutes). Add the almonds, and fold them over to coat.
Add the spices mixture and mix again until they look evenly distributed.
Sprinkle half of the parmesan evenly, and toss to coat. Make sure the nuts are spread in a single layer
Bake in the middle rack for 12-15 minutes. Remove from the oven and toss with the rest of the parmesan.
Cool completely before serving.