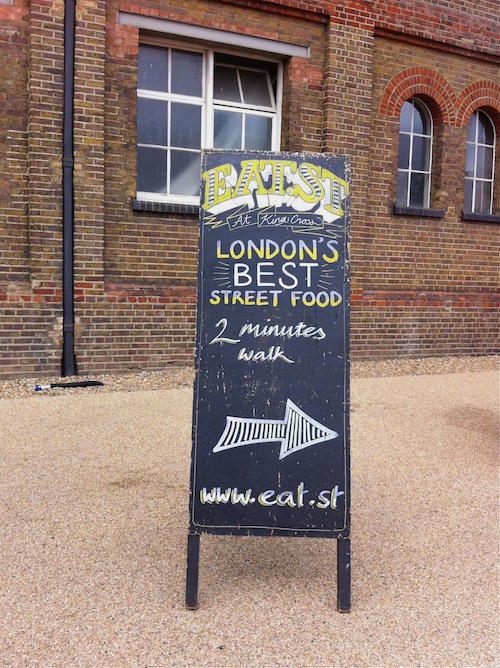 When I was in London over the summer, the street food scene took me by surprise. In Paris, I'm used to just two street food vans – one that sells burgers and another that sells Mexican fast food. On an average day, both these vans have people queuing up for at least 20 minutes before they get their hands on their order.
One of the first things I discovered when I was trying to figure out the London street food scene was Eat.St – a website dedicated to British street food vendors. They "represent the push for the transformation of the British foodscape through the normalisation of eating well. By placing good, real food at street level the experience can be accessed and participated in by all, leading to a more exuberant street life." Eat.St has a dedicated spot at King's Boulevard, right outside King's Cross – London St. Pancras Station where a handful of street vendors set shop on different days of the week. As a bonus, you can swing away in the birdie cage while you wait for your order.
In my search for more information about the London street food, I also stumbled upon a limited edition map from Boat Magazine that lists the A-Z of London street food. This pull-out was either in my school locker or in my hand bag pretty much all the time.
While, in general, I was very impressed by the London street food scene, not all the places are worth writing home about. Here's are the places that I enjoyed the most: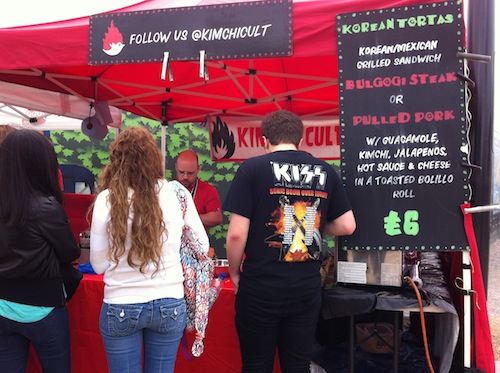 Kimchi Cult
Kimchi in a burger? Yes, please! Guacamole spread on burger buns (or bolillo buns, as they call it) with either bulgogi steak or pork and topped with cheese and kimichi. Pretty darn genius.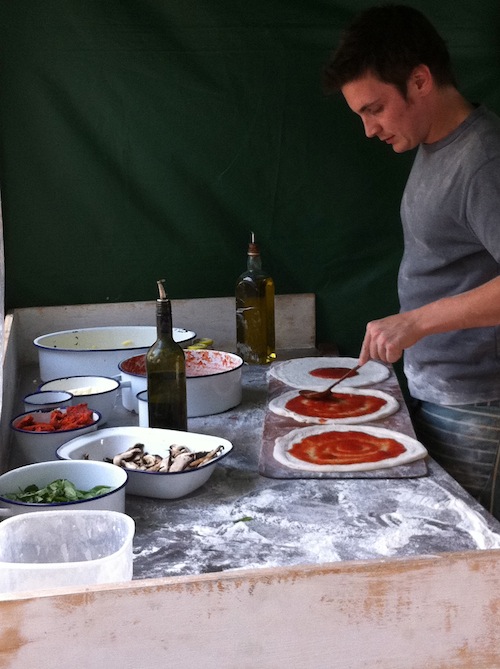 Pizza Pilgrims
The first time I walked past them I halted in my tracks and couldn't stop taking photos: I've never seen a pizza oven built into a tiny Piaggio Ape so this was just fascinating. There was peppy music in the background; one of 'pilgrims' was tossing the pizza dough in the air, while another pulled out a bubbling, almost charred pizza out of the oven and onto the paper plate encased in a brown paper bag, ready to be handed over to an eagerly awaiting customer. I was kicking myself for having eaten lunch at Chinatown that afternoon and I promised myself to come back the next day. And I did. For my all time favourite Margherita: tomato sauce, mozzarella and basil (£5). These guys know their pizza and this is one inspiring venture. They're usually parked at Berwick Street Market in Soho, but check before you go.
Buen Provecho 
I am a huge fan of Mexican street food. And anything with guacamole catches my eye very quickly. At Buen Provecho I love that they keep their salsa and guacamole for people to help themselves with (in the very British Falcon enamelware, too) instead of topping the burrito with a token amount. Their most popular item seemed to be a plate of tacos with three different fillings: mole, chicken and cactus, orange scented pulled pork ( 3 tacos for £5).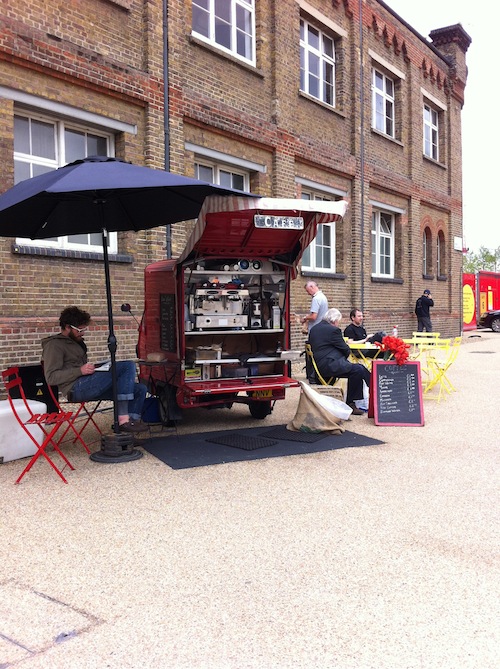 Bean & Gone
The cutest cafe in the world. Period. How could you not want to sit here and sip on some coffee while you watch Londoners out and about outside the busy King's Cross station.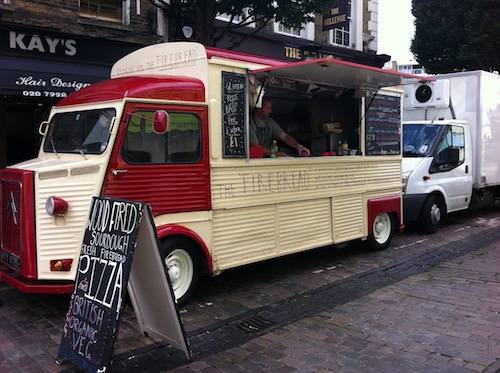 Well Kneaded Wagon
I spent some time here as a stage rolling pizza dough and learning the art of maneuvering the pizza peel in the wood fired oven built into the back of a van. Place your order and bite into the piping hot pizza in under 2 minutes. Watching the thin pizza bread rise in the oven did not cease to enchant me every time a pizza went in. My favourite? The courgette and goat cheese pizza. What I especially love is that these folks are generous with the Parmesan and rocket that they top on the pizza right before serving. If you ever go there, look out for Bridget or Bryony and tell them I said hi!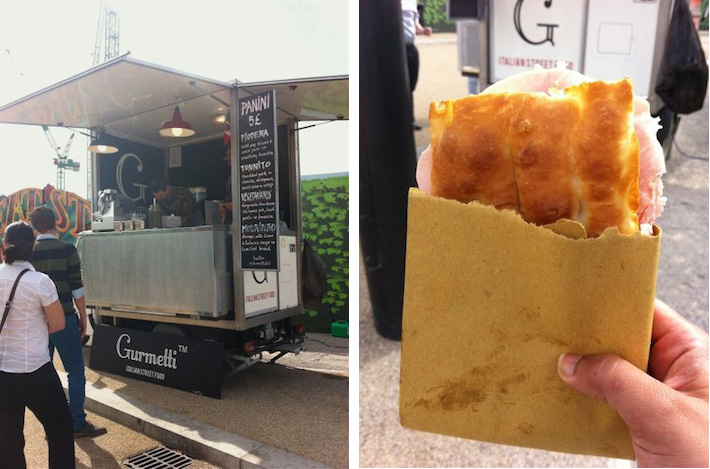 Gurmetti
You'd never think you could make a Piaggio look this big, but Gurmetti's Italian street food van manages to do just that. Fancy van aside, the folks at Gurmetti take pride in using quality ingredients and treasured family recipes for farinata and pesto. We tried their their simple sandwich packed with oodles of flavour. The Fiodena (£5), made with ham and onion jam in a crusty focaccia hit the spot.
These vans move from place to place (umm, of course) so it's best to check their website or follow them on Twitter for their locations with the exception of Bean & Gone Coffee. They're parked right outside King's Cross at the entrance of King's Boulevard from Monday to Friday.