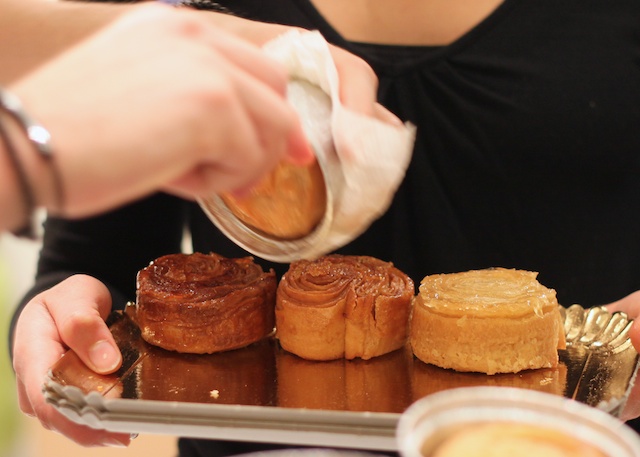 Last week, I was at Paris des Chefs – an event that had the best chefs and designers collaborate on creating food together. Watching them at work was awe inspiring. I was particularly influenced by Alain Passard's approach to food and his irreproachable knife skills. My favourite workshops were, of course, those that required oodles of butter, sugar, flour and eggs. I was especially keen on learning to make Kouign Amann. Why? The Amélie fan that I am (who isn't?), I wanted to make the same cake that she bakes in the movie.
Kouign Amann is a baked sweet specialty that hails from Brittany. In Brittany, 'Kouign' means cake and 'Amann' means butter. And mind you, there's a lot of butter. Lots and lots of it. Probably the most I've ever seen going into a cake. The layers of the cake are made with a firm dough that is folded with butter and a good sprinkling of sugar before every fold. On baking, the sugar seeps through the layers and caramelises the outside, while leaving the inside soft and tender. Imagine a caramelised croissant. It's even better than that.
At the workshop, I took my spot right in front of the chef to make sure I get step-by-step photos for the whole recipe since it can be a little complicated, especially if you're not familiar with viennoiserie. This recipe, with all its butter and sugar is a recipe worth keeping forever (or in my case, blogging). If you have a cast iron or copper pan, use that. I can only imagine how gorgeously caramelised it will be. Oh, also, topped with apples or plums.
Note: This recipe makes a lot of kouign amann. It's two of the baking trays that you see pictured below. Because it's so rich, you won't need more than 1 per person (I couldn't eat more than half!). So scaling down the recipe might be a good idea if you're not feeding a party of 12 people.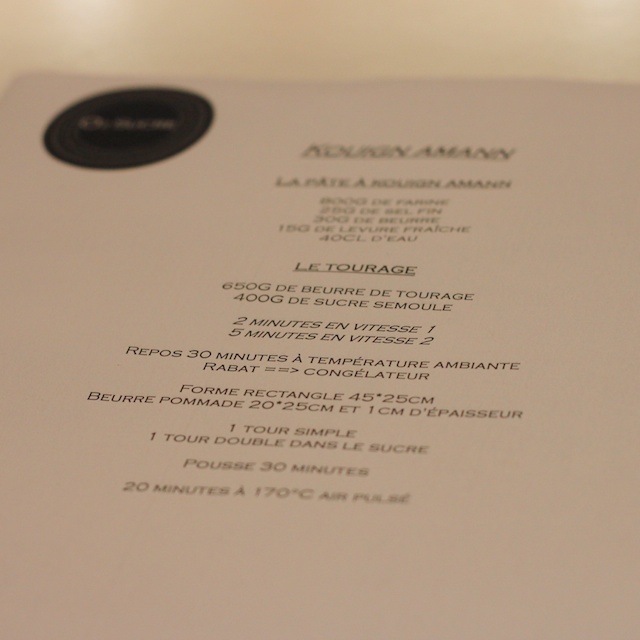 Koiugn Amann Recipe
For the dough:
800g /1.8lb flour
25g / 5tsp salt
30g / 1oz butter
15g / 0.5oz fresh yeast (or 5g instant yeast)
400ml /13.5 fl oz water
For the layering:
650g / 23 oz / 3 1/4th cup butter
400g / 14 oz/ 2 cups sugar
1. Make a firm dough will all the ingredients, making sure not to place the yeast and salt together. Mix together by hand or by using a stand mixer for about 10-12 minutes.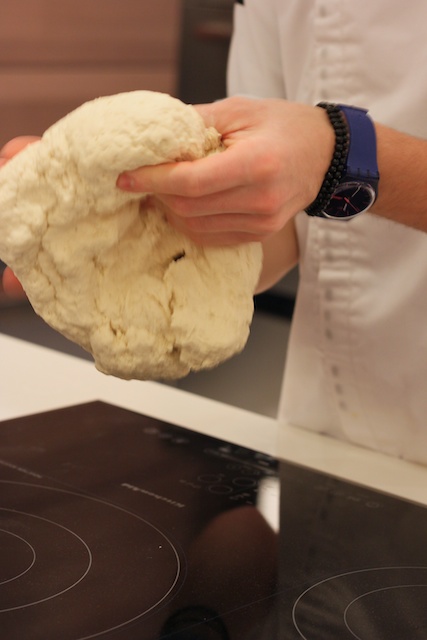 2 Form a ball, place it in a bowl and score the top of the dough with a cross. This increases the surface are for the dough to expand. Cover with a cling film and let the dough rest in a warm place for 30-60 minutes.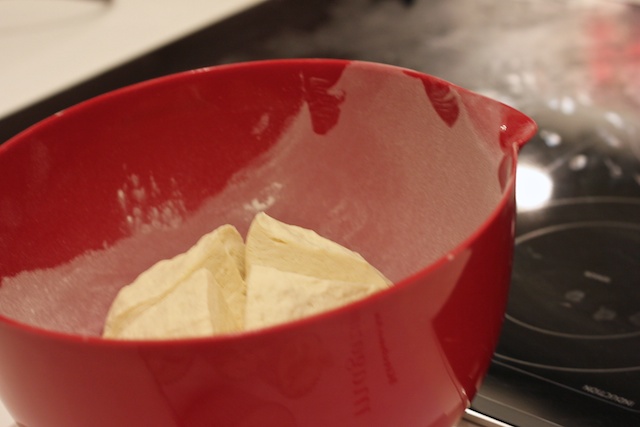 3 Next, use a slab of butter that's meant for using to make laminated dough. Of course, neither of us has that, so we'll cut up sticks of butter to a thickness of about 1 cm and place them next to each other for this.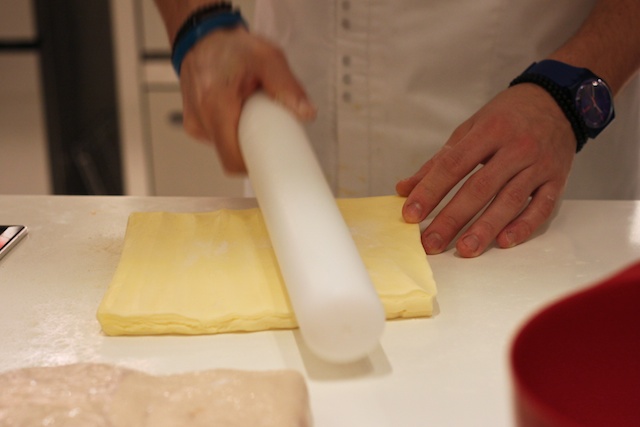 4 Roll out the dough to form a rectangle that's about 45x25cm in dimension. Place the butter (dimensions 20x25cm) in the centre.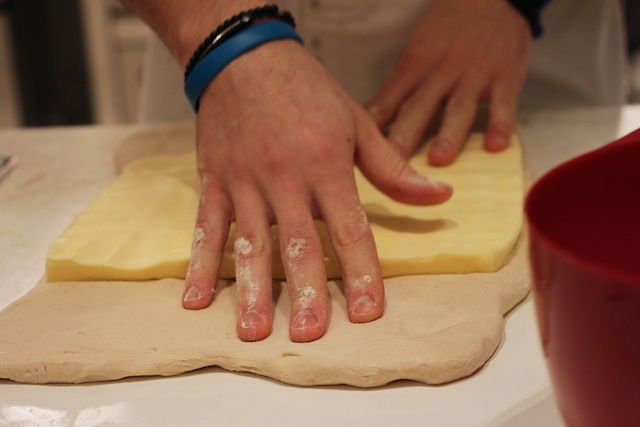 5 Fold the dough over the butter from both the sides. With each fold, dust the flour with sugar.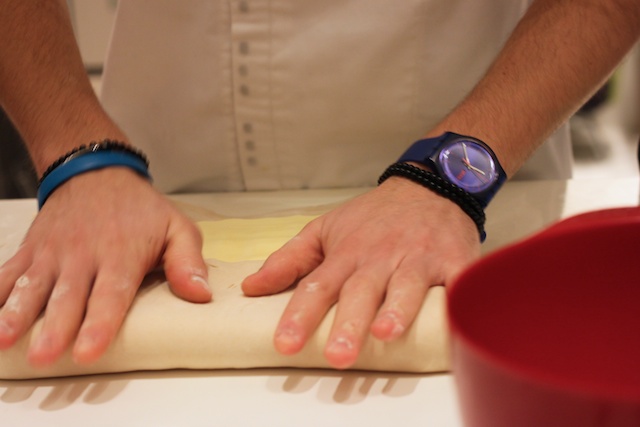 6 Rotate the dough by 90º, so that the fold is now perpendicular to you when you roll the dough.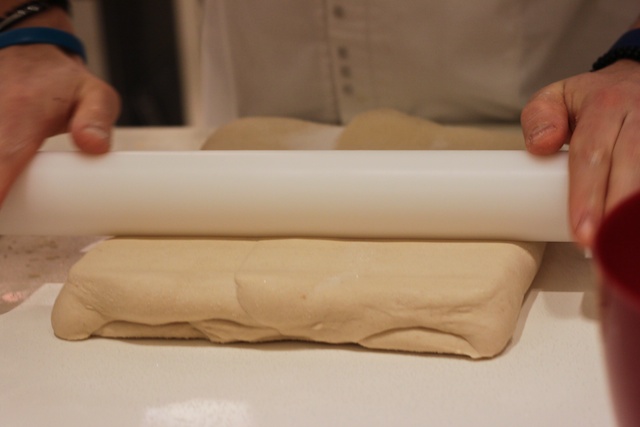 7 Roll to three times it's length. Dust with sugar.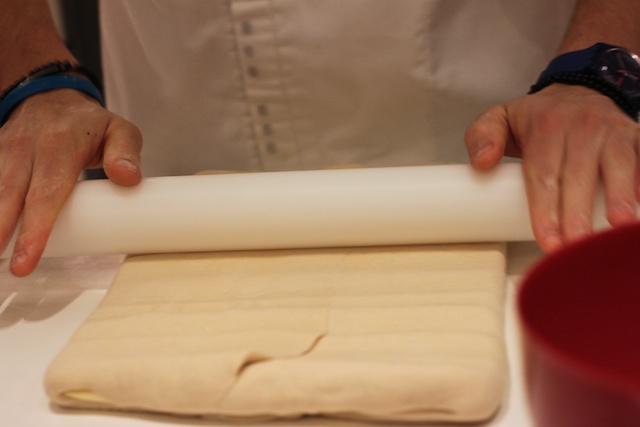 8 Fold the dough over the centre, just like it was done in step 5.
9 Roll the dough to thrice its length again. Dust with sugar.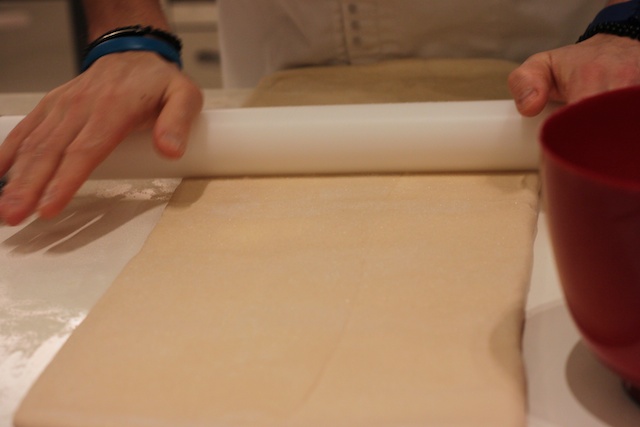 10 Fold it into thirds again.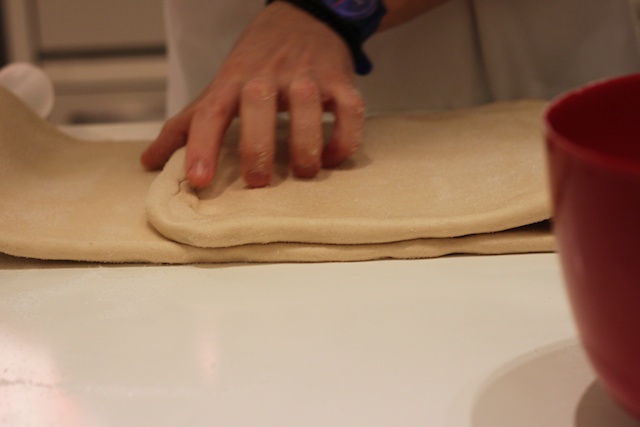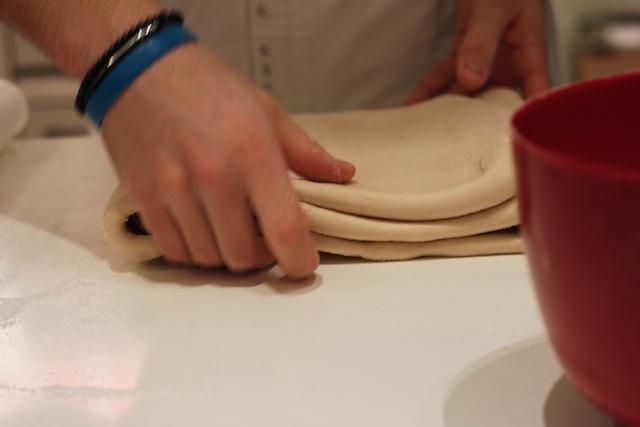 11 Roll out perpendicular to the fold to thrice its length. Dust with sugar.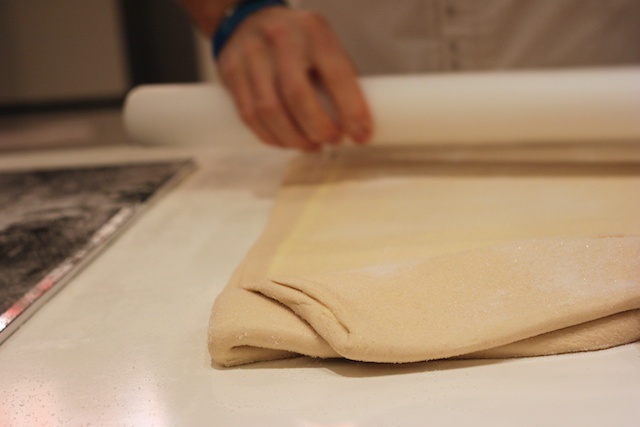 12 Finally, fold the dough into quarters, as shown in the photograph.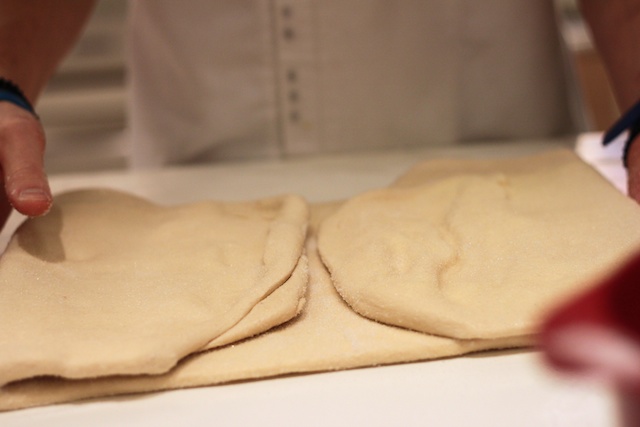 13 The kouign amann dough in now ready. Roll it out once more to thickness of slightly under 1 cm.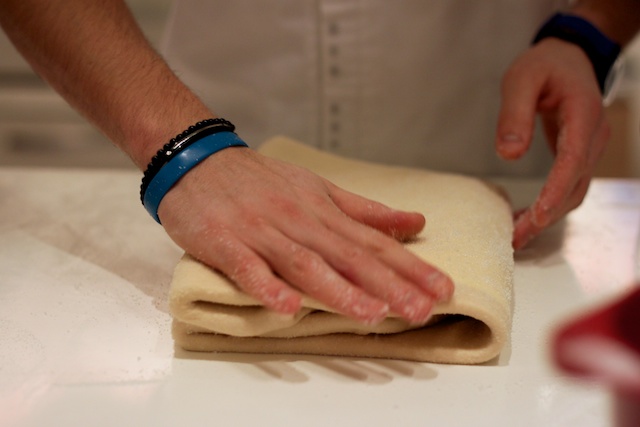 14 When you cut vertically into the dough, you can see distinct layers.
15 You can cut a square of 15 cms and then fold in the edges to form a circle, or you can cut vertical stips, roll them up and place in cups to make individual servings.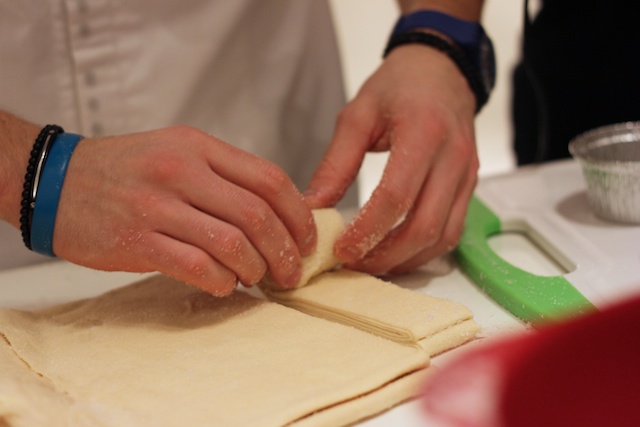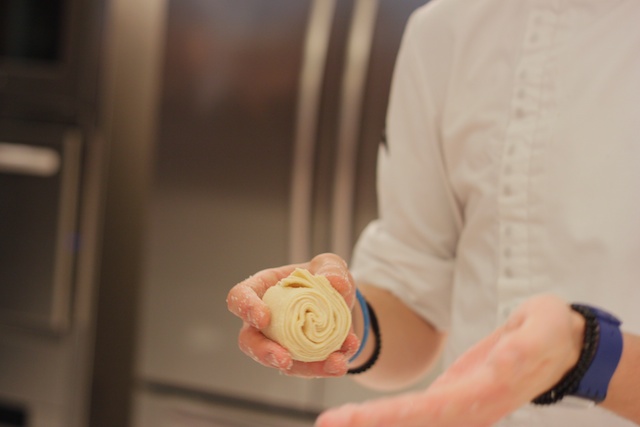 16 Let the dough rest for 20-30 minutes before baking in a preheated oven at 170ºC.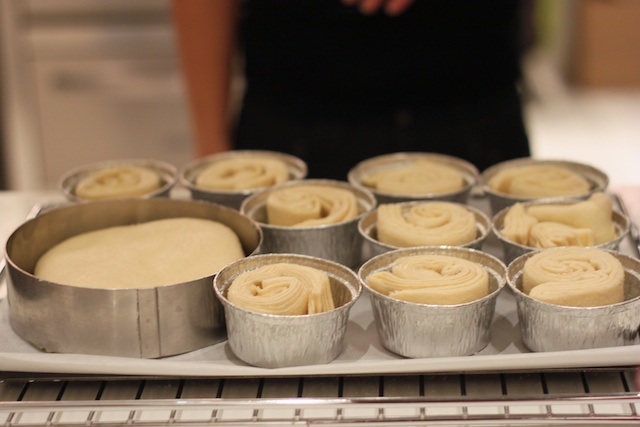 16 Based on the size of the cake dough, the baking time will vary. Bake until golden brown, and the sugar is caramelised.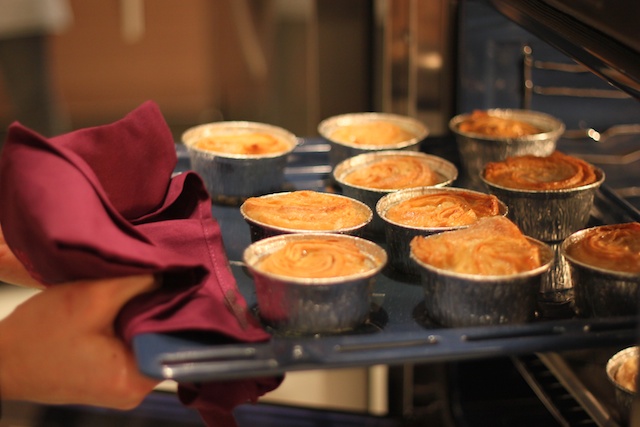 17 Remove from the oven, turn the cake over so that the underside can caramelise just as well.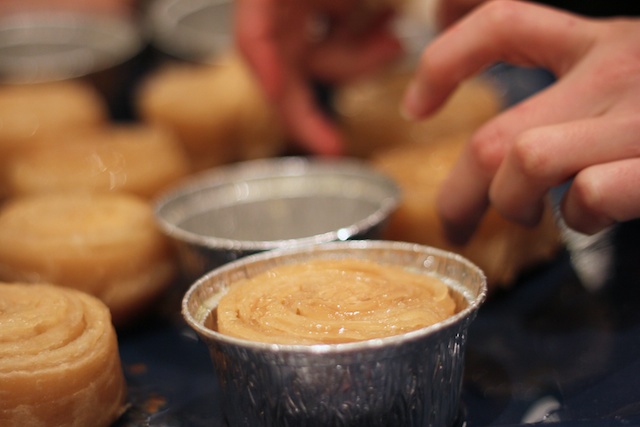 18 Kouignn Amann is ready – shimmering with butter.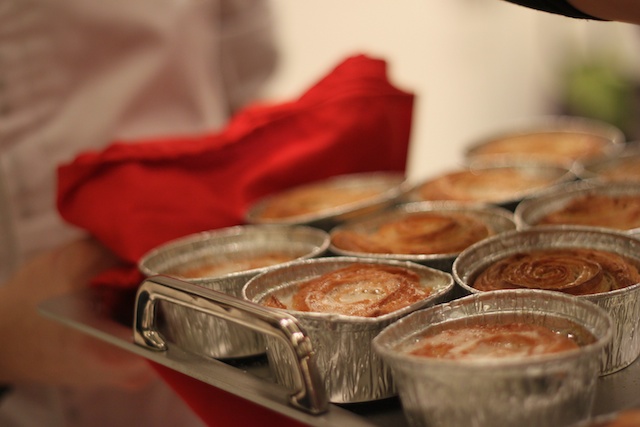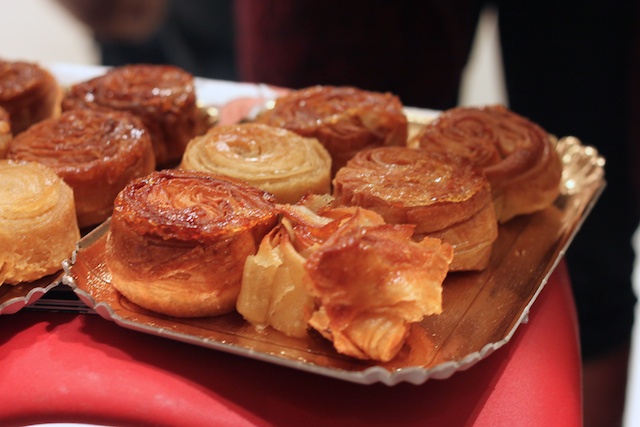 19 Eat up. Now.