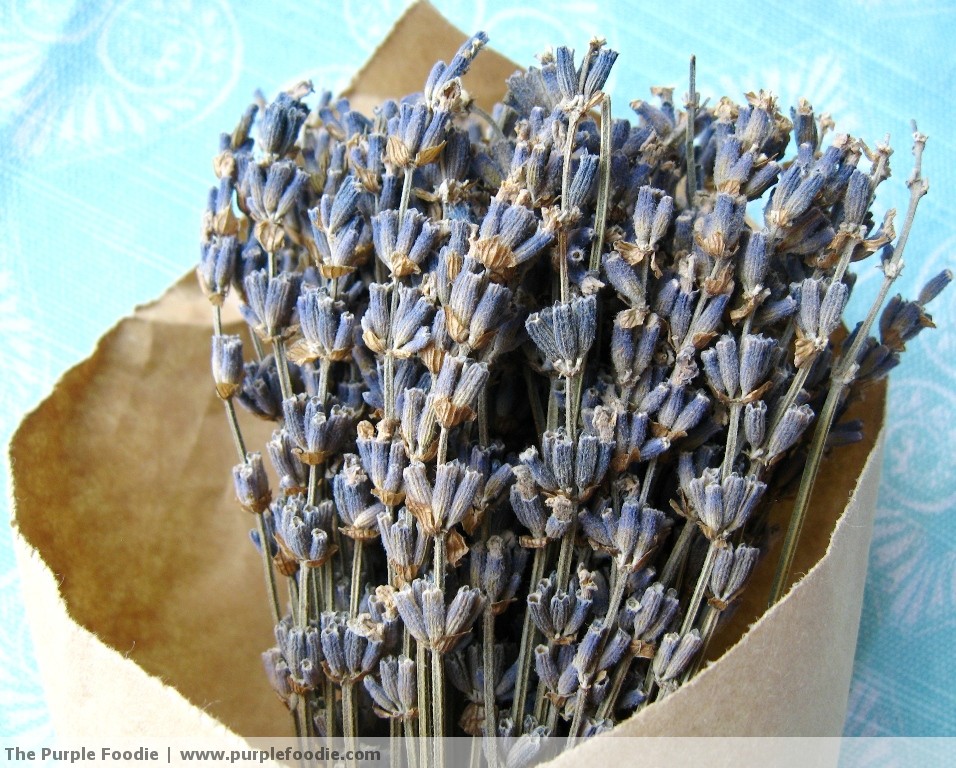 I am extremely frugal when it comes to using my last 10 grams of lavender; I even packed it up and put it away in the freezer to save until the time I was certain that my next batch is on its way. Just recently I found a huge stash of very fragrant lavender when I was rearranging my cabinet. It sat somewhere at the back, tucked away, with a bunch of other things I didn't remember I had like Hungarian paprika (suggestions to use this?), pearl sugar and some very adorable cupcake decorations.
I'm one happy, happy girl to have so much lavender at hand. As soon as I asked for things to do with it on
Facebook
, I got some really interesting suggestions like lavender ice cream, lavender vanilla cake, lavender granita, lavender iced tea, macarons and lavender lemon shortbread (which I hope to try out over the next few weeks1). But what I really had on my mind were honey lavender madeleines. Especially because I've had the mould for a few months now, and I've been itching to use it!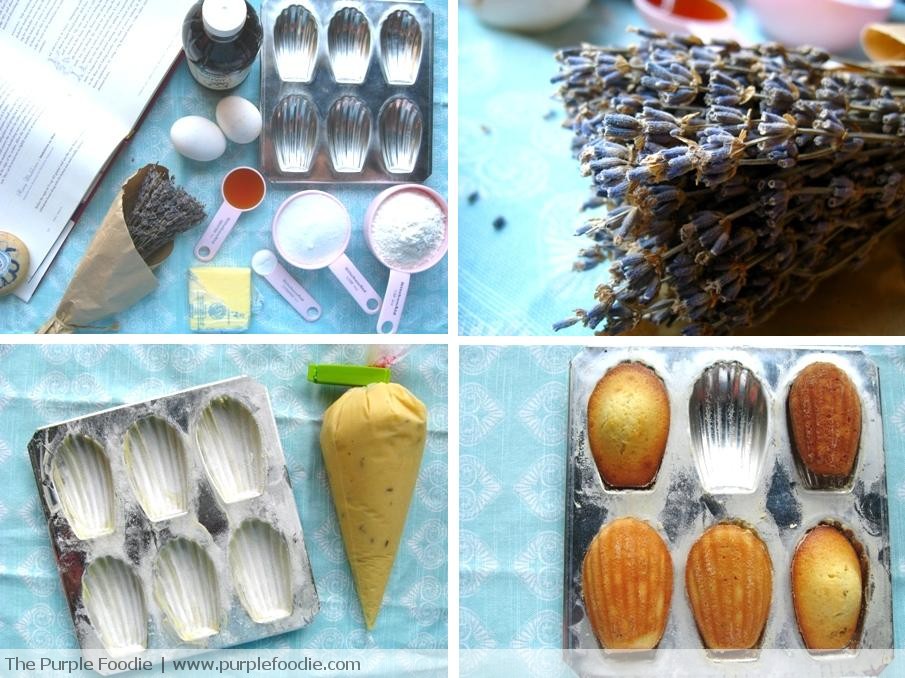 For the madeleines, I started off with a honey madeleine recipe from
Paris Sweets
. Instead of the lemon zest, I used the lavender. And I didn't just throw the lavender in the batter but came up with a pretty ingenious way to infuse all the lavender goodness into the batter: I first rubbed the lavender in my hands for it to get all nice and fragrant and then I put it in the pan with the butter that needs to be melted. This way the butter absorbs all the flavours beautifully and with the heat, the lavender releases more flavour! To sound more exotic, this recipe could actually be called honey madeleines with lavender infused butter.
I used a
tin pan
for large madeleines, but the smaller ones look adorable too. While buttering and flouring the tin might be an additional step, just please stay away from the
silicone moulds
– they make the madelines look so artificial with the shiny surface and uneven browning. The
dark non-stick variety
might solve the problem, but you will have darker madeleines.
How did they turn out? Little bites of goodness! My hands are still fragrant with the lavender I rubbed, and my fingers still buttery (and now the keyboard) with the half dozen madeleines I just snacked on. Will I be making them again? Yes, tomorrow!
Honey Lavender Madeleines
Yield: 12 large madeleines or 36 small ones.
3/4th cup / 105g flour
½ tsp double action baking powder
5 tbsp / 70g butter
1 tsp lavender, rubbed to release flavour
2 eggs
1/3rd cup / 65g sugar
1 tsp vanilla extract
1 tbsp honey
Sift together the flour and baking powder. Set aside.
In a saucepan, melt the butter with the lavender. Let it cool.
In a bowl, whisk together the eggs and sugar until pale and think, about 2-4 minutes.
Add in the vanilla extract.
With a silicone spatula, fold in the dry ingredients, followed by the melted butter and honey.
Mix until just combined.
Transfer to a disposable piping bag and clip the end. Let this rest in the refrigerator for at least 3 hours. (you can keep it upto two days – the longer the better – this gives the madeleine it's characteristic hump.)
Butter and flour a madeleine pan, covering every millimeter of it, else the madeleine won't come off easily.
Pipe the batter into the madeleine pan until almost full.
Bake in a preheated oven at 200C / 400F for 10-11 minutes or until your finger springs back when you touch the centre of the madeleine. The baking time for smaller madeleines will be shorter by 3-4 minutes.
Remove from the oven and eat the madeleines! If you're going to be storing it for later, then transfer to an airtight container as soon as they've cooled.