"A flavoured salt is one of the simplest and most basic ways of finishing a dish – it's so easy and tasty, yet hardly anyone does it"– Jamie Oliver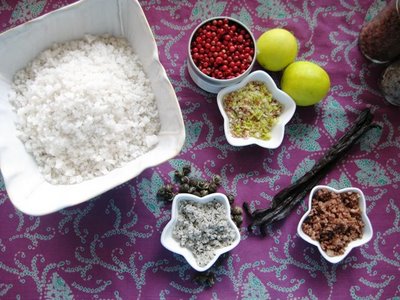 My fascination with flavoured salts began after reading about it in Jamie's Kitchen. And boy was I in awe of salt when I learned about the different varieties. Now I look at salt with a lot  more reverence.
Many of these expensive flavoured salts that are all the rage right now can easily be mixed up at home at a much lower cost and they are so much fun to play around with! And, if you want to get gourmet-ish you can make combinations like smoked paprika, tomato and squid-ink with the salt. Mixing these together in creative ways can make for great unique Christmas gifts. I recently bought some expensive salts and now I'm wondering why.
Onion, garlic and celery are the most common flavoured salts but you can make some very wonderfully fragrant, wicked salt flavours with a little experimentation. Flavoured salts enhance the flavour of a dish or complement it apart from sounding glamourous. They can spruce up just about anything – soups, sandwiches, vegetables, seafood, side dishes, grilled meats – anything! Simply sprinkle them on chips and you'll feel the difference.
I got myself some pretty bottles, flavoured some sea salt, and now I have a year's supply to sprinkle on every other thing!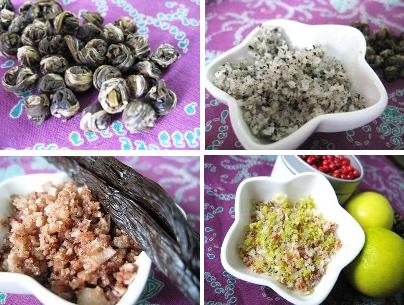 (clockwise from top left: jasmine tea pearls, jasmine tea salt, lemon pepper salt, chocolate vanilla salt)
Jamie Oliver's Flavoured Salts
From Jamie's Kitchen
Fennel seed, lemon, vanilla
Lavender, rosemary, thyme
Lime lemongrass, chilli, ginger
Sichuan peppercorn, chilli, ginger
Jasmine tea – I pounded some jasmine tea pearls with sea salt and filled them up in bottle with a jasmine tea bag placed at the bottom for extra fragrance.
Herb Salts

Finishing salts works well when wetter sea salt is mixed with dried herbs. The moisture in the salt rehydrates the dried herbs or spices and brings them to life, with a little time. Freshly dried and ground herbs like rosemary and sage are also a good choice. You'd have to use a higher concentration of mild herbs like dried basil, oregano, coriander and bay leaves, which can otherwise be overwhelmed by the salt.
Rosemary – Just strip the rosemary leaves, put into the blender with coarse salt or rock salt, and blend for a few minutes. Great on all things tomato.
Dried, powdered curry leaves
Dried mint
Spicy Salts

Spices like toasted ground cumin seeds, five spice powder and smoked paprika (love anything smoky!) are strong enough so the lightest sprinkle will lend flavour to a dish.
Five spice powder
Coriander seeds
Ground toasted cumin seeds
Roasted sichuan peppercorn
Ground dried chilli peppers (ancho, smoked Serrano, chiptole)
Chilli powder
Smoked paprika (I absolutely love smoked paprika!)
Wasabi (!)
Saffron
Citrus Salt
Grate the rind of either of the fruits or even a combination and mix with sea salt. You could even dry out the rind before grinding and mixing it with the salt. It's so good with fish, chicken and vegetables! But again, make these just when you need them since they lose flavour much faster.
Orange
Tangerine
Lemon
Lime or Keffir Lime
You can play around with the concentration of flavouring to your liking (more fun) but otherwise I like to use equal quantities of salt and flavouring. Try these. I'm sure you'll be thrilled by the results and then you'll wonder, what you did all this while without it, just like me.