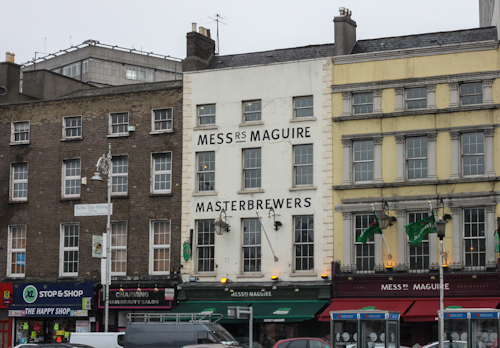 Last week I tagged along with Arjun for a short trip to Dublin. I did what I usually do: research the city for a few hours, pin all the prospective places I want to visit on a Google Maps, print out the notes I've made on Google Docs corresponding to these places, and then familiarise myself with the map of the place to get my general sense of direction right.
As much as I like exploring different routes and trying not to depend on GPS too much, I did keep an offline Dublin Map App handy. And although there are a few free ones out there, I bought an app for €0.89 where I could do a quick search for street names so I don't end up wasting time zooming in and out of the map and not spotting the street name in tiny print.
I quite liked Dublin. It's no Paris, but I like it for what it is. Dubliners are a bunch of young (and even if they're not, they still think they are), fun loving people with a good sense of humour, a penchant for sugary desserts (as I discovered with everything I tried from supermarket rhubarb yoghurt to a slice of chocolate cake), and love their music.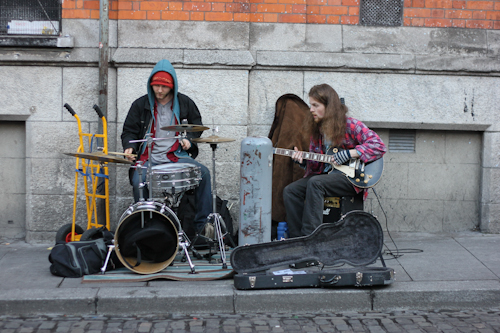 We all know that Dublin is know for its literature, Trinity college, Guinness, pubs and museums. But the Dublin I explored, turned out to be a a great place for gorgeous woolens, edgy design and (surprise!), even their food. They have enormous portion sizes – so be prepared!
Markets and Shops
Temple Bar Food Market Meeting House Square
Every Saturday, the Temple Bar food market in Meeting House Square is home to Dublin's best food stalls, cheese mongers, apple growers, organic producers and loads of delicious things. I was especially excited to find DIY apple cider here.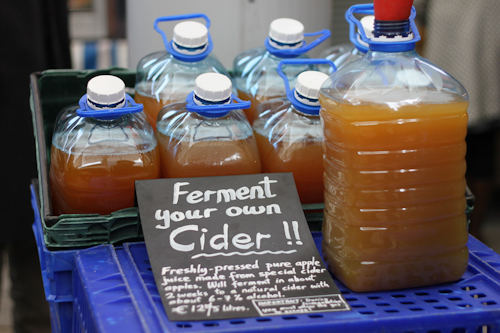 Dublin Food Co-op 12 Newmarket
All the while while walking to the food co-op, which is a bit into the residential area, I kept telling myself how this wasn't the best idea: I could have stayed in the city centre and enjoyed the street musicians and spiced hot apple juice. But once I was there I was thrilled with what I saw: a community of people eating, buying, selling and having a good Saturday morning. At the co-op you will find an organic store, organic green grocers, art and craft sellers, organic soap makers and a little café at the back where I'd most definitely get the eggs and avocado on toast if I weren't working up an appetite for Leo Burdock (below).
Sherindan's Cheesemongers 1 South Anne Street 
Dublin's best cheese monger. I had their Irish Mount Callan cheese in a sandwich at Pink Pepperpot. They also have a stall at the Temple Bar food market.
Fallon and Byrne 11-17 Exchequer Street
With a dedicated potato corners for the Irish appetite, fancy pantry staples, a wine cellar in the basement, a restaurant upstairs and a deli counter that's touted to sell some "serious sandwiches", this one is a must-stop. Here's where I bought food gifts to bring back home.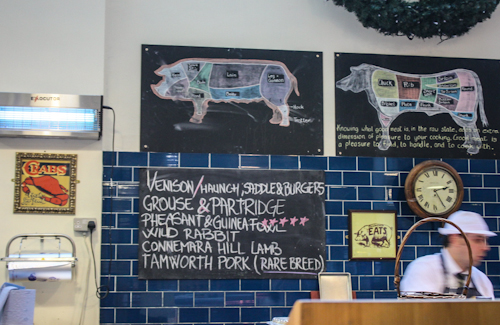 Craft and Design
Designer's Mart Cow's Lane, Saturday, 10AM-5PM
This outdoor market that stretches through the lenght of Cow's Lane is a the place to go for the very best of handmade craft & design produced by local artists.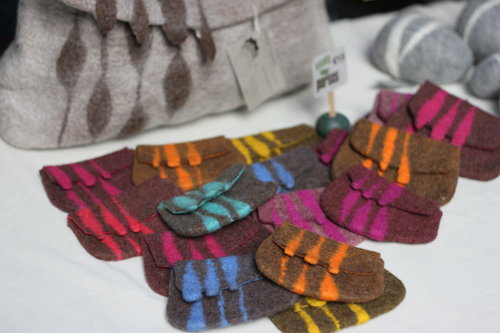 Avoca 13 Suffolk St
Avoca is known for their Irish wool blankets, scarves and throws made in their mill in Wicklow since 1723, and when you watch this video, you'll want one for yourself. The store is adorable: a food hall, a corner for books, Hunters, home ware  jewelry, souvenirs and other suck knick-knacks.
Article Powerscourt Centre, 59 South William Street
For an array of carefully curated gifts, home accessories and things you don't necessarily need but want.
A. Rubaneque Powerscourt Centre, 59 South William Street
Ribbons and buttons in ever colour!
This is Knit Powerscourt Centre, 59 South William Street
A wool shop that will make you want to learn to knit – and you can if you have the time – at one of their classes. I got myself a lovely little sheep brooch that's (aptly) covered in wool. 
The Loft Market Powerscourt Centre, 59 South William Street
This shop showcases a bunch of independedant local designers: clothes, shoes, bags and jewelry.  
Exchange Dublin Exchange Street Upper
Exchange Dublin is a co-operative run by young people that is home to discussions, gigs, visual arts and performance. On the Saturday I visited, many local arts and crafts people had set up shop.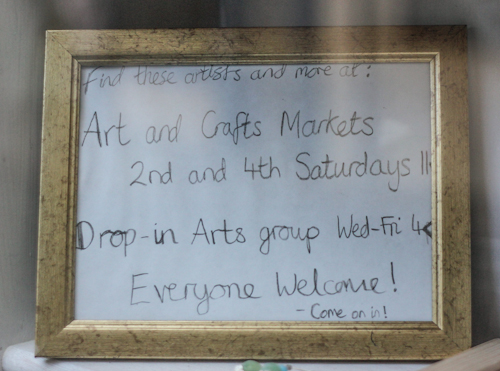 Dublin Flea Market Newmarket Square
Try and go there if you're going to be around on the last Sunday of the month.
Eat and Drink
The Pepper Pot Powerscourt Centre, 59 South William Street
Here's where we tried the most amazing sandwich: roasted pears, bacon and Irish Mount Callan cheese. The only let down was the cottony bread. – Arjun
Avoca Café 13 Suffolk St
Good, simple food served at the Café on the 3rd floor of the Avoca store. Quite easily goes down as the best meal we had in Dublin.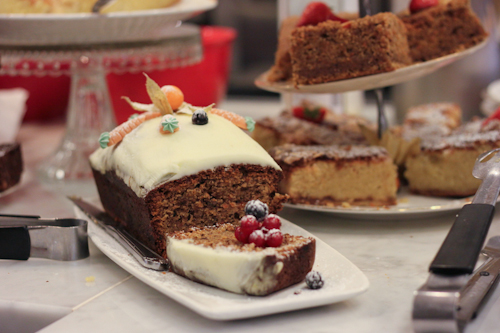 The Winding Stair 40 Lower Ormond Quay
The Winding stair is a restaurant and a bookshop where you have your meal with a gorgeous view of the River Liffey. Don't miss the traditional Irish beef and Guinness pie. – Arjun
Queen of Tarts Cork Hill, Dame Street and Cow's Lane
A cute little cake shop with good scones (the chocolate cake was too sweet for my liking).
Murphy's Ice Cream 27 Wicklow Street
Ice cream made with milk from Kerry cows.
Leo Burdock 4 Crown Alley and other location
Fish and Chips at Dublin's oldest chipper.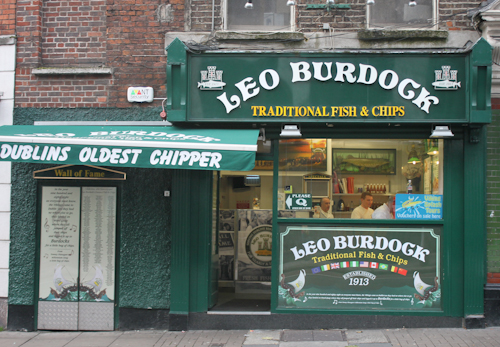 The Porterhouse Brewing & Co. 16-18 Parliament Street
Very touristy, but a goodie for live music.