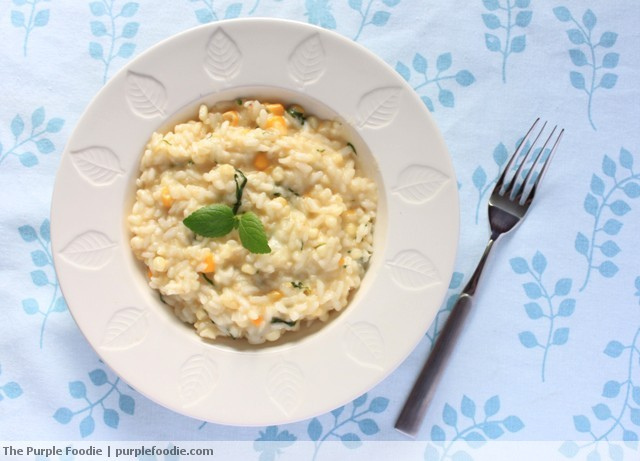 Of late I've been reading a lot about Italy. Everyone and their mothers are vacationing in Italy and then documenting their summer experience on their blog. This leaves the proletariat like me yearning for the unfulfilled experience. And it doesn't stop there – I also have Italy talk going on in my inbox with so many readers. So, what's the next best thing I can do to allay my emotions? Cook myself something Italian, of course! With a renewed sense of hope, I set out to make some risotto from a recipe I'd bookmarked eons ago.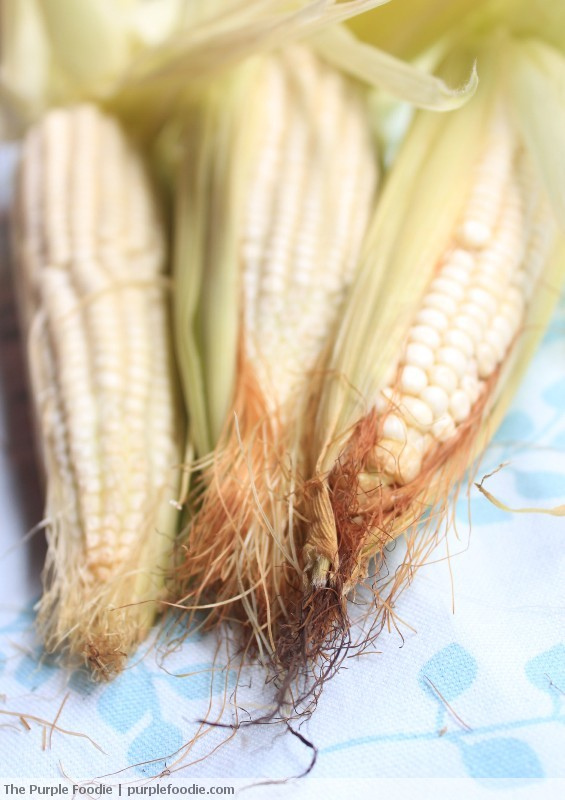 With corn in season, it was time I ticked this corn risotto recipe off my list.  I used white and yellow sweet corn in the risotto. I was toying with the idea of using either basil or mint because I wanted to maintain the delicate flavours of the corn risotto, instead of using a strong herb like thyme. So I tried both, and am happy to report that the mint flavour paired beautifully with the sweet corn (just like in the caramelised corn with mint). I'd pick that any day over basil, despite being a huge basil lover. Another thing worth noting is that adding sugar to the risotto while cooking brings out the innate sweetness of the corn.  While it's just so good to make it with homemade stock, I cheated and used cubes because I didn't have any chicken carcasses at hand.
My only grouse with risottos is that you need to serve it immediately after they're cooked – it' not something you can prepare ahead of time, unless you precook the rice, like in restaurants. Even so, you will still have to do all the other work in the kitchen. It's a pretty perfect meal that gets even better with some garlic bread. Two thumbs up.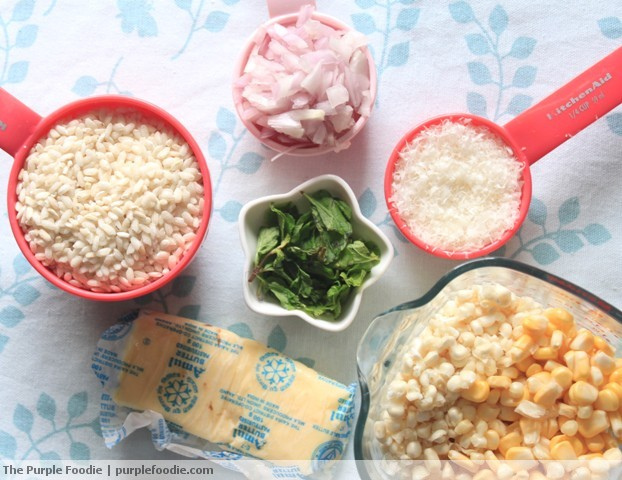 Double Corn Risotto Recipe
Adapted from: This Week's Menu
Yield: 4 servings
2 cups uncooked corn – white + sweet yellow
4 cups chicken broth
3 tbps butter
2-3 tbsp sugar (depending on how sweet your corn is)
1 onion, minced
1 cup Arborio rice
2 tbsp chopped mint
Salt and black pepper
1/4 cup Parmesan cheese
Equipment: Pans, chinoise, sauté spoon.
Method:
Puree 1 cup of the uncooked corn in a food processor until smooth. Strain it through a chinoise to get rid of all the tough corn skin.
In a saucepan, heat the chicken broth to a simmer.
In a large skillet over medium heat, melt 2 tbsp butter.  Add the onion and sauté  until soft and translucent, about 2 minutes.
Add the rice and sauté, stirring, 3 minutes.
Stir in 1 cup of the chicken broth and the pureed corn and cook, stirring frequently, until the liquid has been absorbed, 5-7 minutes.  Continue adding the remaining broth, 1 cup at a time, stirring frequently and waiting until the previous addition has been absorbed before adding more.
After adding 2 cups of the broth, add the remaining whole corn kernels. Add sugar, a tablespoon at a time, until it tastes right  (not overtly sweet). Add in the seasoning.
After the last cup of broth has been absorbed, let the risotto cook 3 minutes more (I prefer it to be slightly liquid I might add a few tablespoon of broth after turning off the heat as well).
In the end, stir in the mint, parmesan and butter and cover it with a lid for all the flavours to marry, about 2 minutes.
Serve immediately.