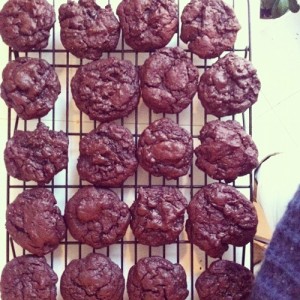 Rich, dark, a little soft and intensely chocolatey – you might as well call them cookie brownies.
I was to take a nicer photo, but you're stuck with the Instagram rendition because like every rushed Friday Lunches morning (where things start as early as 4AM), these cookies were baked, packed up and and on their way to feed 60 people. Hopefully, you'll still feel like making them, because they are really, and I mean really, good.
The recipe is pretty straightforward and come together really quickly. And the best part: you don't have to wait as long as you normally do for cakes – the baking time is only 8 minutes! Just remember two things: Don't over-mix the flour into the mixture; only until the point you don't see any flour spots in the bowl. And two, use good quality chocolate and cocoa powder for this recipe because it really makes a difference (I used a mix of Callebaut chocolate and Valrhona chocolate powder.)
Double Chocolate Cookies
Adapted from: Tartine (USA | UK | India)
Yield: 32-36 cookies
225g / 8 oz dark chocolate
155g / 1 cup + 1 tbsp flour
50g /1/2 cup + 2 tbsp cocoa powder
10g / 2 tsp baking powder
1/2 tsp salt
115g / 1/2 cup butter
225g / 1cup + 2 tbsp sugar
2 eggs
1 tsp vanilla extract
75g / 1/3rd cup milk
Melt the chocolate in a heatproof bowl set over a pot of simmering water. Set aside.
Sift together the flour, cocoa powder, baking powder and salt.
In a bowl beat the butter until softened and smooth. Add the sugar and whisk until lighter in colour.
Add the eggs and continue to beat until fully incorporated. Stir in the vanilla extract.
Beat in the chocolate until smooth. Then mix in the milk.
Switch to a spatula or a wooden spoon and fold in the flour mixture.
Spoon the mixture onto a baking sheet lined with a silicone mat or parchment paper, keeping a gap of 1 inch between cookies.
Bake in a preheated oven at 350C for 8 minutes.
The cookies will be soft to the touch and will look like they aren't done at all, but once they're out of the oven they will firm up quite a bit.