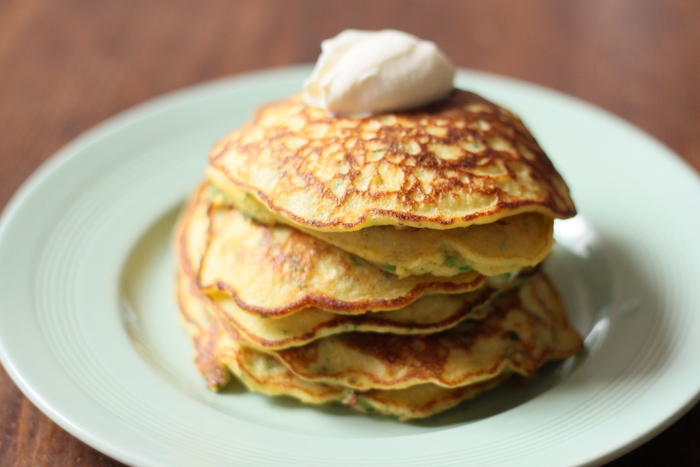 Last week, I was overjoyed at the sight of fresh corn on the cob at the markets in Paris. I promptly stocked up on both white and yellow corn and ate them in the way anyone from Bombay would – roasted over open flames, an improvisation over burning hot charcoals, and rubbed copiously with half a lemon dipped in a mix of salt and red chilli powder. When I got a bit weary of that, I switched to boiling the corn in the pressure cooker and slathering it with salted butter from Beillevaire. I was pretty content with these methods, until this morning when I read David Lebovitz's blog, and made corn pancakes for lunch.
I made several tweaks to the original recipe based on my taste (for instance, deep amber maple syrup that a reader got me from Canada instead of honey. Thanks, Laura!), things that I found in my refrigerator (fresh coriander and green chillies) and convenience (used up the egg yolk instead of throwing it down the sink). I also veered away from the egg ratio in the original recipe, and went with the increased egg, based on the recipes they taught us at culinary school. As for the corn, the one I had was really sweet and tender – the kind you could quite easily eat raw, so I used raw corn kernels in the pancake batter. If you've got the slightly tougher variety, precook them. All in all, an excellent lunch recipe that kept me satiated for hours. Next time though, I'm going to cut back on the coriander so I can enjoy the pure flavour of corn.
While we're taking about pancakes, I'll tell you a bit about the pancakes that we make at Le Cordon Bleu. Never called pancakes, but Crapiaux or Pannequet, we always make them with yeast and in cute little carbon steel blini pans with cast iron handles. Both of which, I never used in/for my pancakes prior to school, and something I'm always going to use hence forward. I love how yeast gives the pancakes a more even, fluffy texture and the carbon steel blini pans give the perfect little rounds and a gorgeous colour to the pancakes. These pans are great non-stick alternative and excellent for high heat cooking. Of course, I couldn't use yeast in this recipe because the pancakes are made with maize flour, which is gluten free and won't react with the yeast the same way that regular flour does.
I still have a little more corn flour left and an enormous appetite for anything made with fresh corn, so please share your favourite corn recipes with me!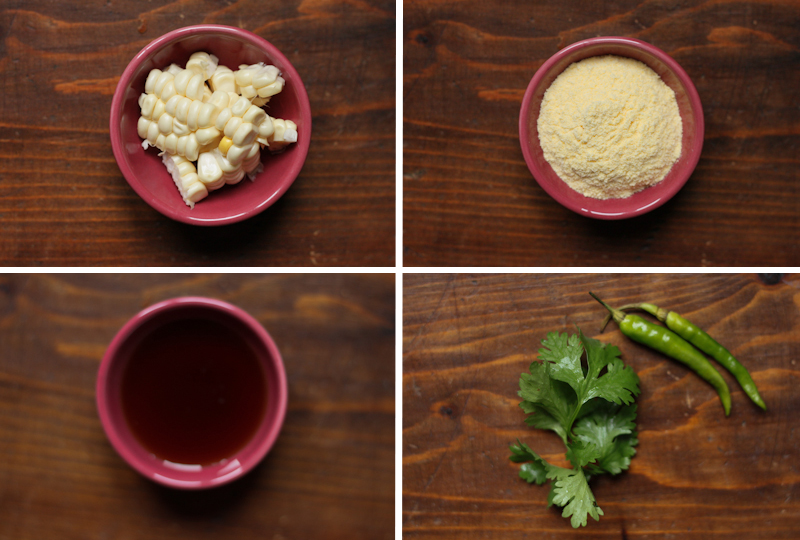 Ingredients
100ml milk
1 tbsp maple syrup (or honey)
25g butter, melted
100g corn flour*
3/4th tsp baking powder
1/2 tsp salt
3 eggs, separated
Kernels from 1 ear of fresh corn
Optional: 2 green chillies, chopped finely and a handful of coriander leaves, chopped
Method
In a small saucepan, heat the butter with the milk, until the butter is melted. Add the maple syrup.
In a bowl, whisk together the corn flour, baking powder and salt in a large bowl. Make a well in the centre, add the 3 egg yolks and the milk mixture. Whisk to combine.
In another large bowl, whisk the 3 egg whited until they form firm peaks. Fold them into the corn mixture a third at a time, until everything is incorporated.
Fold in the fresh corn, chopped coriander leaves and chillies, if using.
Heat a pan, add a little butter or oil and pour in a ladle of pancake batter (approximately 50-60ml). Cook on a low heat until the edges aren't liquidy and flip over to brown the other side. Serve hot.
*Corn flour or maize flour. NOT cornstarch, cornflour or Maizena - that is refined starch used for thickening sauces, pastry cream and other things. You can use either white or yellow corn flour.
http://purplefoodie.com/corn-pancake-recipe/