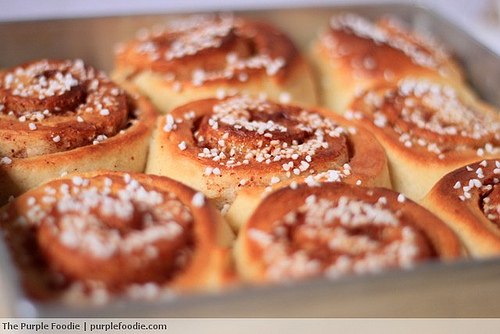 I've got to admit, I'm quite a hoarder when it comes to hard-to-find ingredients. The problem with food shopping for me is that I always buy more than I should because, you know, I am utterly positive that I will never find it anywhere else. I bring sneak it back home and then find a spot for it in my 'special' cabinet, never to see the light of day. What's worse is that many a time a lot of the stuff ends up in the trash can because it's crossed its prime. Oops!
Today I pulled out my pack of Swedish Pearl Sugar that I got from Ikea last year. Don't roll your eyes; the sell by date is Nov 2011. So, in fact, you should be patting me on my back for breaking into this well before time. So, what prompted me to reach into my special cabinet? The awesomeness from Spain, of course. Every time I get my hands on more 'exotic' ingredients, I feel like I deserve to use some of the precious ingredients from that cabinet.
I set out to make cinnamon sugar rolls, just like the pack of sugar suggests. I used my go-to book for bread these days, Artisan Bread Every Day for the sweet dough recipe. And as the name suggests, I packed it with a very generous spread of cinnamon, sugar and butter. Here's a tip: add vanilla extracts to make your sweet dough. It makes the dough smell unbelievably irresistible. You just might eat it raw.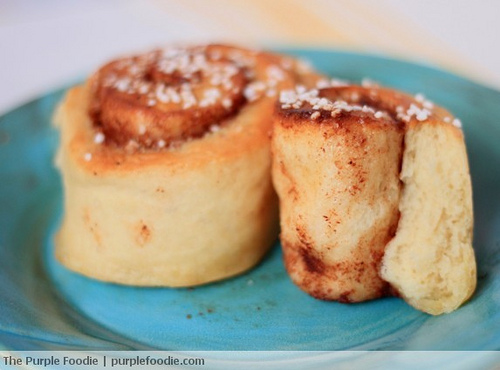 Cinnamon Sugar Rolls
Yeild: 10 big rolls
Adapted from: Peter Reinhart's Artisan Breads Every Day (US | UK | India)
Dough
2 ½ tsp instant yeast
8.5oz / 240g milk
14 oz / 400g flour
1 tsp salt
45g sugar
50g melted butter
1 tsp vanilla extract
Filling
50g butter, softened
100g sugar
2 tbsp ground cinnamon
Topping
Eggwash (beaten egg with a little milk)
Swedish Pearl Sugar
Whisk the yeast into the milk until dissolved.
Combine the flour, salt and sugar together. Pour the milk, melted butter and vanilla extract over the dry ingredients.
Knead the dough either by hand or using the dough hook attachment of the KitchenAid and knead until the dough is soft and slightly sticky. If using a KA, it should clean up the sides of the bowl and only stick a little to the bottom.
Place the dough in a lightly oiled bowl, cover it with a plate or some plastic wrap and let it rise for 1-2 hours (depending on how hot it is where you are), or until doubled in size. You can refrigerate this after this point for up to 4 days.
Punch the dough back down and roll it out in a 12×15 inch rectangle. Spread the butter evenly on the dough and sprinkle the cinnamon and sugar over it. Roll up the dough tightly and cut into 1½ inch slices.
Place it into a buttered 9 inch pan, making sure to keep it well spaced out. Let it rise for 1-2 hour.
Brush the dough with egg wash and sprinkle on the pearl sugar.*
Bake in a preheated oven at 175C/350F for 18-20 minutes, making sure to turn the pan halfway through baking.
Wait for it to cool a bit and then transfer the pillow-y goodness to your mouth!
* Of course, you don't need to use pearl sugar – you could make a caramel glaze or perhaps coat it with some Dulce de Leche.