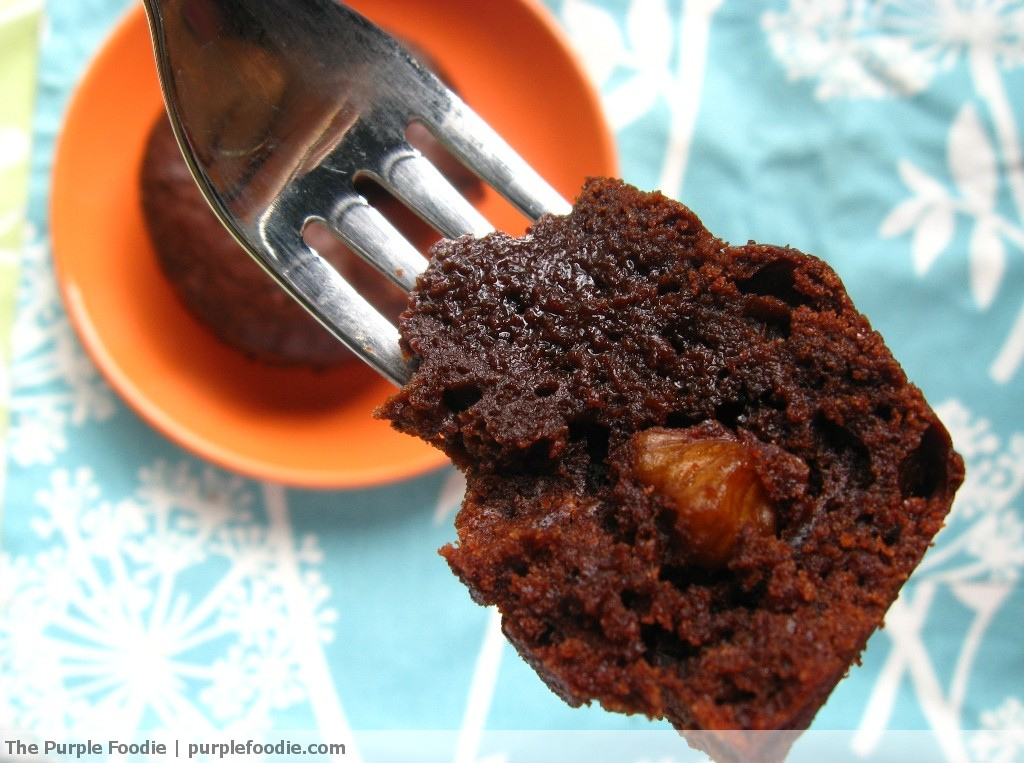 Over the past few days I've been looking for a good chocolate cake recipe. As I looked through my cookbooks and scoured the internet, nothing seemed to appeal to me. I was looking for a recipe that was cakey, and silky delicate, all at the same time. Something fudgy and gooey, but yet slightly airy. Something that would make me run to the refrigerator to sneak a bite every now and then. Maybe I was asking for too much?
And then in a sort of Eureka moment, I remembered the chocolate cake I had made for my birthday back in November. This mud cake is all of these things I described. And more than that, because words don't do justice to this rich, intensely chocolatey cake.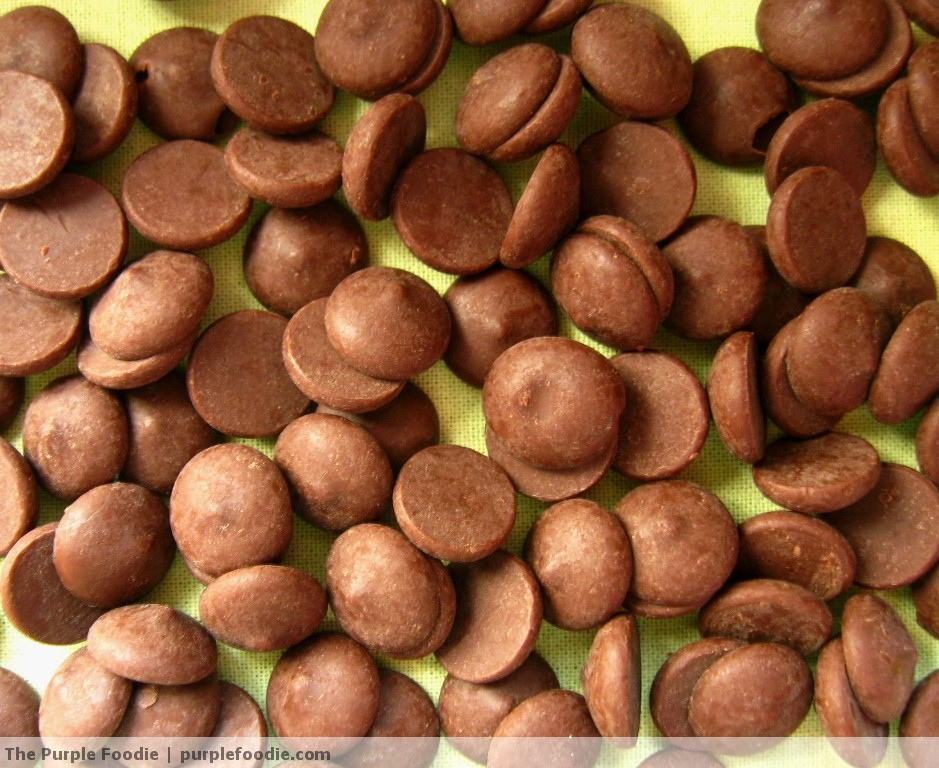 I used Callebaut dark chocolate, and this is what makes all the difference. I made only a fourth of the recipe this time, as I would be the only one eating it. I'm happy to report that the recipe worked like a charm. I loved the small chunks of walnut in every other bite. I can imagine cacao nibs giving the dessert some bite as well, much like the Chocolate Valentino cake.
This is the kind of cake where you'd be better off under-baking – for it continues to cook in its own heat even after you've pulled it out of the oven. A robust crumbly circumference that gets gooeyer (this should most definitely be a word) as you reach the centre. The cake rises while baking and then flops back as it cools. It tastes great when still warm. Perfect when accompanied by a scoop of vanilla ice cream drizzled with some dulce de leche.
Surely this cake isn't going to win a beauty contest. But it will most definitely win many hearts. Sounds cheesy, I know, but you have to taste it to believe it. If you'd like to dress it up a little, a dusting of cocoa powder or icing sugar would be good. But I like mine unadorned, straight out of the oven.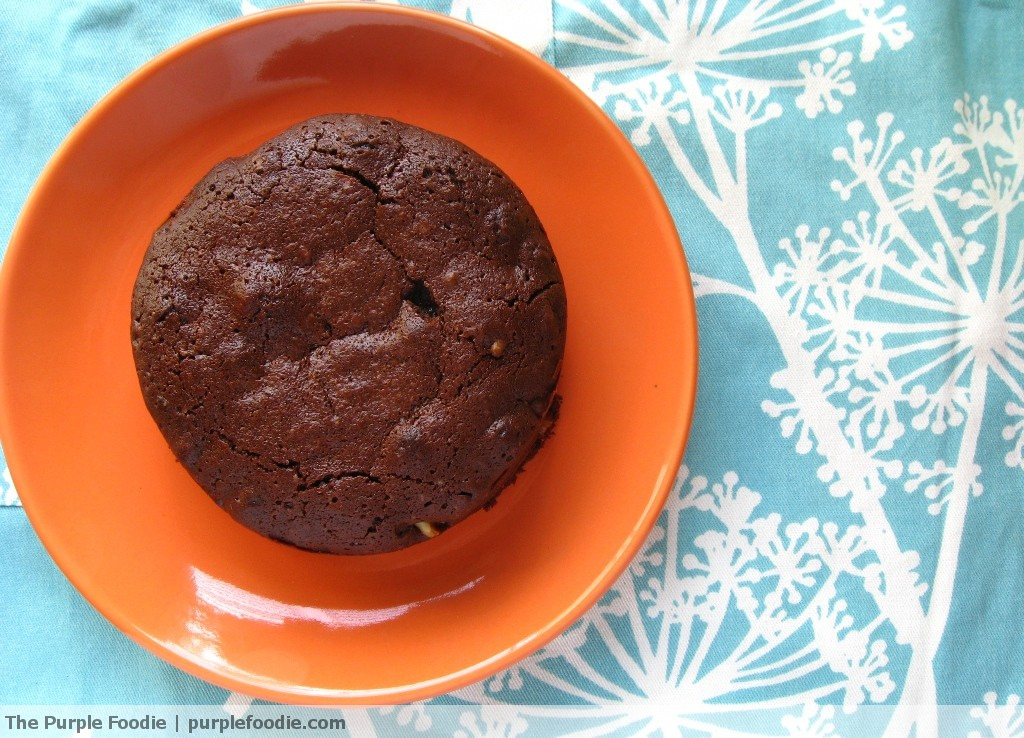 Chocolate Walnut Mud Cake Recipe
Adapted from: Seven Spoons
Yield: 16 servings (the recipe works beautifully when quartered as well)
Ingredients
8 oz (225g) unsalted butter plus more for greasing the pan
1 cup (120g) all-purpose flour
2 tsp baking powder
1/2 tsp salt (omit if using salted butter)
12 oz (340g) dark chocolate
4 eggs
1 cup (200g) dark brown sugar, packed
1 tsp vanilla extract
1 cup chopped walnuts, toasted (I may have eyeballed this)
Cocoa powder, to serve
Equipment:
9 inch springform pan for full recipe
or 1 4 inch springform pan for 1/4th recipe
Method:
Butter a 9-inch springform pan, then line the bottom with a disc of parchment paper. Use strips of parchment to line the sides as well.
Preheat an oven to 350°F (175°C).
Sift or whisk together the flour, baking powder and salt in a small bowl. Set aside.
In a saucepan over medium heat, melt the butter with the chocolate, stirring until smooth. Remove from the heat to cool slightly.
In a medium bowl, whisk together the eggs, sugar and vanilla so that the sugar is dissolved. The mixture should barely lighten in colour.
Pour the egg mixture into the chocolate, and stir to combine. Fold in the flour mixture, being careful not to overmix. Stir in the walnuts.
Pour the batter into the prepared pan and bake in a preheated oven for 35-40 minutes (15-17 minutes for 1/4th recipe) or until the centre is puffed and cracked. A cake tester inserted into one of these cracks should come out with wet, clumped crumbs; gooey but not liquid.
Let it cool in the pan for at least 15-20 minutes. The cake is very delicate.  To serve, release the sides of the springform carefully and remove the parchment paper.
If you'd like perfectly sharp slices, refrigerate it for a few hours before slicing. I've heard that the flavour intensifies over time, but hadn't had the opportunity to test that because the cake got over real fast.