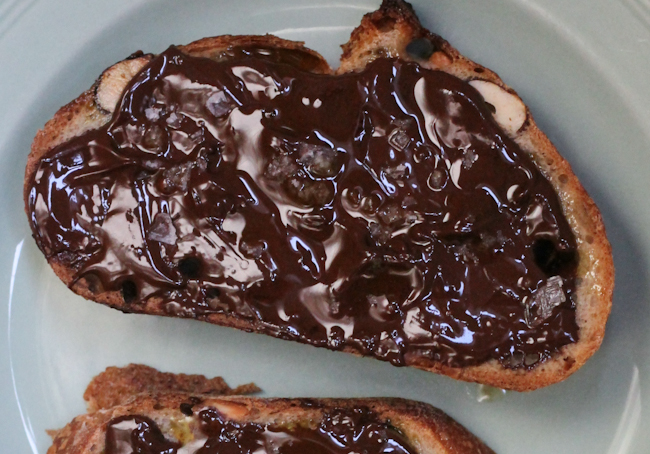 This morning while I was emailing Arjun some shops to go to in Barcelona to bring back olive oil and chorizo, I got distracted by blogs filled with photos of padrón peppers and patatas bravas. But what really stuck in my head was something I hadn't tried in Barcelona before: chocolate with salt and olive oil. A little more digging revealed a popular dessert at Tapas 24: Xcolat with olive oil and salt. That's a project for another day, but today, I needed something quick to get a taste of all those flavours together, and the perfect solution lay in Ferran Adrià Family Meal Cookbook.
This recipe isn't even really a recipe. It's four ingredients put together in a couple of minutes to give you something perfect for breakfast that most certainly qualifies as a dessert. Toast thickly cut slices of crusty bread, soak in bit of fruity extra virgin olive oil, topped with chocolate and popped into a warm oven until it's soft and shiny and finally sprinkled with large crystals of sea salt (Maldon). I used a honey, almond and hazelnut bread because that's the bread I waited all week to try.* Next time, I'm going to use a plain baguette because that won't leave any room for distraction from the star flavours coming together: olive oil, chocolate and sea salt. Also, in the recipe in the cookbook, they don't melt the chocolate, but instead top it with flakes of chocolate, which might be worth a shot as well if you don't want a gooey chocolate spread.
I made the toast two ways:
 For the first batch, I drizzled the olive oil on the toast after I spread with melted chocolate and salt.
 For the second batch, I soaked the bread with the olive oil before I topped it with the chocolate and salt.
My preferred toast? The second one because the olive oil percolates through the bread lending a bit of softness to the bread and making the flavour of olive oil come through that much more.
I had three slices of toast, washed down with a glass of Beillevaire cold raw milk. Couldn't get better.
* In my neighborhood, I frequent two boulangeries. One of them is Au 140 – which makes the most gorgeous strawberry financiers and kouign amanns, and has a bread menu for different days of the week. This is the one I go to for all my French bread needs. It's almost always packed, and notoriously so on Sunday where the queue trails three shop down. The other bouglangerie is the one around the corner where I mostly go to buy Kesra (a Middle-Eastern flat bread made with semolina), which I discovered, worked excellently with Indian food – almost as good as nan. Whenever I walk back up with my French breads from Au 140, I clumsily try to hide it from my corner boulangerie worrying that he might feel bad about me buying bread elsewhere (as if). He greets me with "Marhaba" and "Shukran" assuming I speak the language. And because he always says it with such a big smile (so rare in France), I don't want to tell him I don't.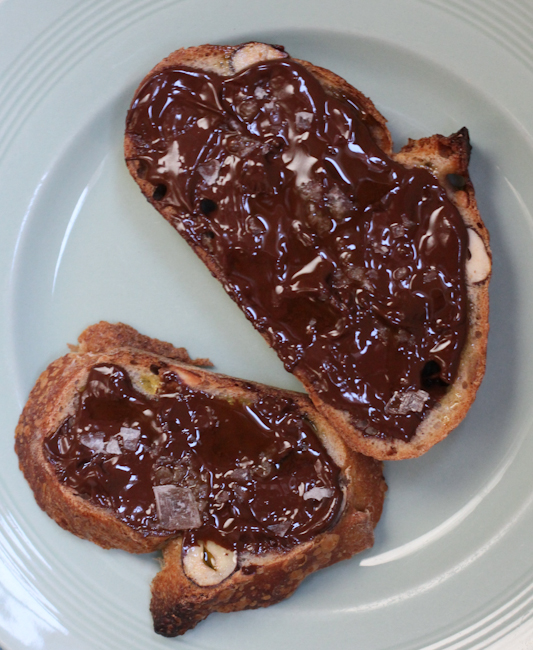 Chocolate, Olive Oil and Sea Salt Toast
Ingredients
3-4 slices crusty bread, thickly cut
Dark chocolate (I used 54%)
Extra virgin olive oil
Sea salt flakes (Maldon or Fleur de Sel)
Method
Preheat the oven to 200ºC.
Toast the bread lightly. Turn off the oven.
Drizzle the olive oil over the toast followed by the hot chocolate and pop it back into the oven (that is turned off now) until the chocolate softens.
Spread it with a spoon and sprinkle with sea salt.
http://purplefoodie.com/chocolate-olive-oil-and-sea-salt-toast/