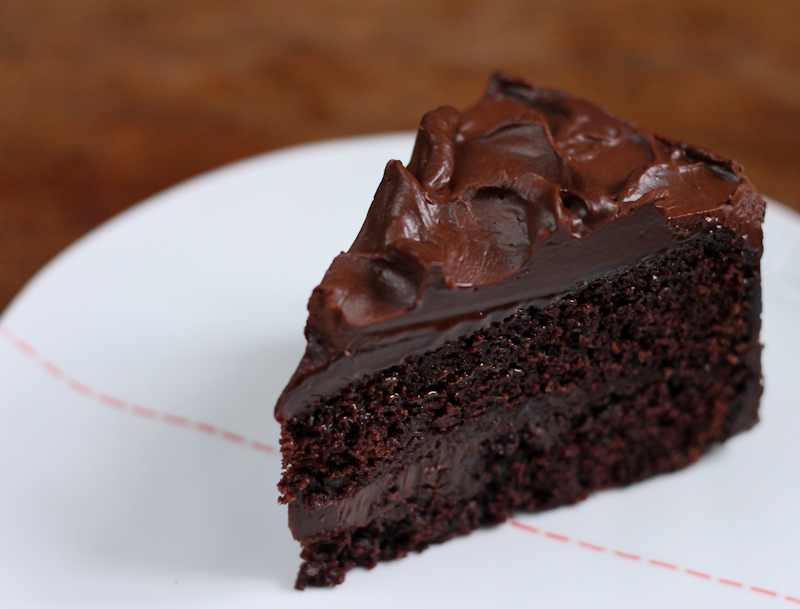 Everybody must have a good chocolate cake recipe. Everybody. The kind that you scribble down in your notebook, the kind you memorise, the kind your friends keep asking you to make over and over again. And I think, that with this recipe, I've found one I love and can see myself going back to, time after time.
It's not like I've not made good chocolate cakes before, but nothing made me save the recipe or go and scream from the rooftop about it (the internet being my rooftop). But this cake? I'll categorise this one as a great cake. It has a fantastic, moist crumb. And the ganache, silky with full fat cream. At first it might seem a bit runny, but let it rest a bit and you'll have a lovely spreadable consistency. If you want a thin shiny coat of ganache, simply make half of the ganache and pour it over the cake when it's still a bit still runny. And if you're planning on making a thick ganache icing – because that's clearly the way to go – pour over a third of the icing to lock the crumb in so that icing the cake will be a breeze.
The only thing I'd say is to be sure to eat this cake at room temperature. Refrigerating it firms up the cake because of all that butter in it, and makes you think that it has dried up. You don't want that. I made the cake three days ago, and it's been perfectly fine sitting on the table at room temperate (with the single digit temperatures here). Needless to say, I've been shaving off sliver after sliver of it and even eating it for breakfast at 7 AM (because I can).
I made this for Arjun, so it had to be without any fruits. Just an overload of chocolate. But next time I'm going to sneak in some fresh raspberry coulis between the layers before I spread the layer of ganache. I'm also hoping for a party of some sort soon so I'll have an excuse to make this again, doubled up and sky high.
Chocolate Chocolate Cake
Adapted from: Tartine (USA | UK | India)
Yield: 6-8 servings
Chocolate Cake
125g flour
30g cornflour
40g cocoa powder
1/2 tsp baking powder
1/4 tsp baking soda
1 tsp salt
125g yoghurt
30g water
115g butter
275g sugar
125g eggs (2.5 eggs)
Equipment:
9 inch round cake pan
,
cooling rack
,
offset spatula
.
Preheat oven to 170ºC. Line a 9 inch round cake pan with parchment paper.
Whisk and then sieve together all the following: flour, cornflour, cocoa, baking powder,baking soda and salt.
Whisk together the yoghurt and water in another small bowl.
In a large bowl, beat the butter and sugar together until the butter has lightened in colour. It won't dissolve into the butter because there is more than twice the sugar, but that's fine. Next, beat in one egg at a time, making sure it's fully incorporated before add the next one. Also, make sure to scrape down the sides of the bowl with a silicone spatula between additions.
Next, switch to a spatula and alternately mix the dry ingredients and the thinned yoghurt until fully incorporated into the batter. Start and end with the dry ingredients.
Bake for 40-45 minutes until a skewer inserted comes out clean.
Let it cool completely on a cooling rack before cutting.
Chocolate Ganache
300g dark chocolate
375g full fat cream
30g butter, cut into small cubes
Place the chocolate in a bowl.
Bring the cream to a full boil in a thick bottomed pan.
Pour it over the chocolate and let it rest for a few seconds before you being to whisk it gently to bring the emulsion together.
Finally, stir in the pieces of butter until fully incorporated. Cover with plastic wrap and let it sit at room temperature until you want to use it.
Assemble the Cake
With a serrated knife, slice off the domed portion of the cake.
Next, cut the cake into half horizontally. Place the bottom half on a plate or a cake board. Spread a thick layer of ganache on it making sure to leave a little gap around the circumference – otherwise when you place the top half of the cake, the ganache might ooze out.
Place the top half of the cake. Spread a thin layer of ganache on the cake – you could pour it while it's runny or spread it with an offset spatula when it has firmed up slightly. Refrigerate for 30 minutes, then finish icing the cake with the rest of the ganache.
You might need to refrigerate the cake between coats of ganache for ease of icing.
Always serve this at room temperature or slightly warm with a drizzle of caramel sauce and a little ice cream on the side.