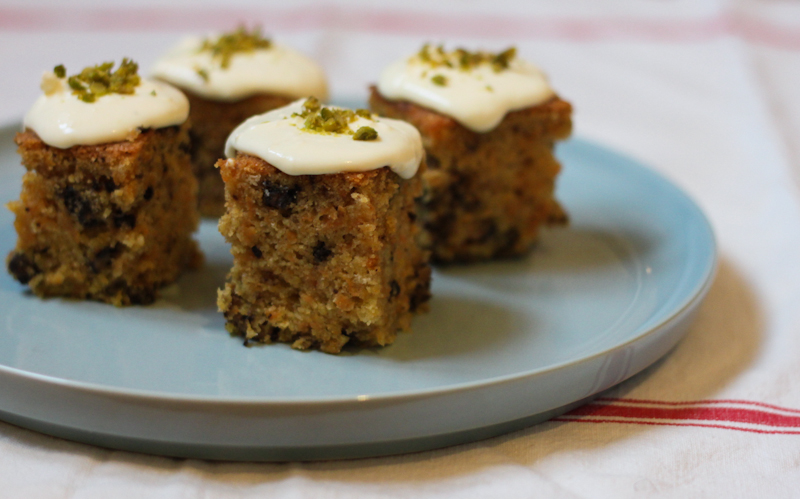 I like the idea of a carrot cake more than carrot cake itself. With the warmth of cinnamon, the healthfulness of walnuts and carrots, and the hue of rust-coloured leaves, it quite easily fits the bill for a comforting autumnal treat. It's perfectly good baked in a loaf pan and sliced as needed, and becomes a bit more indulgent with cream cheese frosting dolloped on.
This past weekend brought the chill with it, so on Saturday we decided to stay in, sip on spiced apple juice, watch Mad Men and bake a carrot cake. Arjun grated the carrots (my least favourite part of baking a carrot cake) and measured the butter while I finished putting together the rest of the things. We baked the cake in a 9 inch square pan to be able to cut them into squares, but you could use any pan – just keep an eye on it because the baking time will vary.
I turned to the Rose Bakery cookbook for their recipe, which worked a treat. What I like most about the recipe is that it's not overtly sweet. Neither the cake, nor the frosting. The cream cheese frosting has one-third the sugar as most other recipes I've seen, including the one for the famous Humming Bird Bakery red velvet cupcake. (And considering the number of visits to the dentists I've been making lately, this is some consolation.) Make sure you don't lick too much of the frosting while making it. It's going to be hard to stop.
Carrot Cake with Cream Cheese Frosting
Adapted from: Breakfast, Lunch and Tea (USA | UK | India) Makes: 1 9 inch square tin
Note: I use a scale and stick to the metric measures (and I implore you to do the same). The cup measures listed below are those that are given in the cookbook. I'm not a fan of recipes that read "1 rounded teaspoon" - I have interpreted that as something that's about 1 1/4th teaspoon, 6.125g. However, I wasn't certain if that wouldn't be enough given the 5 carrots weighing down the cake and making it dense, so I went ahead and used 1 Alsa sachet (11g) of baking powder and it worked beautifully. I also used peanut oil instead of sunflower oil because that's what I had at hand.
Ingredients
Carrot Cake

4 eggs
225g (1 cup) sugar
300g (1 1/4th cup) peanut oil
4-5 medium carrots, grated
300g (2 cups) plain flour
1 tsp ground cinnamon
11g baking powder
4g (1/2 tsp) baking soda
4g (1/2 tsp) salt
150g ( 1 1/2 cup) walnuts, toasted and chopped

Frosting

125g unsalted butter
250g cream cheese
Vanilla or lemon rind for flavouring
50-75g icing sugar (based on taste)
Method
Preheat the oven to 180C/350F. Butter and line a 9 inch square pan with parchment paper.
In a large bowl, whisk together the flour, baking powder, baking soda, salt and cinnamon. Then, sieve it at least once (I do it thrice - especially for cakes known to result in a dense texture).
Beat the eggs and sugar in a bowl until paler in colour and quite frothy.
Next, pour in the oil and continue to beat for a few minutes.
Mix in the grated carrots, then fold in the flour mixture followed by the walnuts.
Pour the cake batter into the cake tin and bake for 40-50 minutes until a skewer comes out clean.
For the frosting, it's best to have all the ingredients at room temperature first. Beat the butter until smooth (

beurre pommade

- as the French say to associate it with the texture of an ointment). Next, add the cream cheese and continue to beat until smooth. Add the flavouring, if using. And then whisk in the icing sugar.
When the cake has cooled completely, frost it with the cream cheese frosting and sprinkle with crushed pistachios if you like.
http://purplefoodie.com/carrot-cake-cream-cheese-recipe/