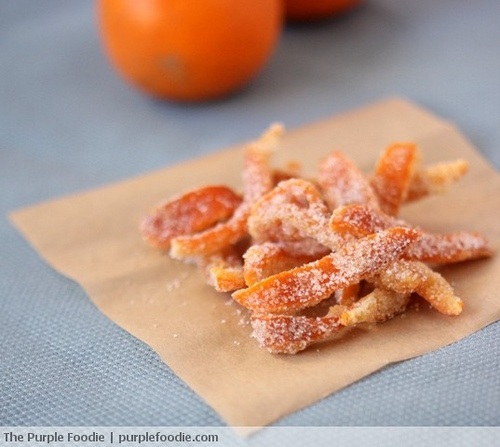 Ever since my friend sent me candied orange segments from one of Madrid's oldest sweet shops, I've been on a wild goose chase to find that flavour. I tried candying segments, but that didn't work as I imagined. I ended up with sticky yet delicious syrup that I could add to drinks, but had to toss the segments. Next, I bought candied orange segments from Dalloyau when I was in Paris. Hardly a match for the Madrid ones. While I didn't want to repeat my candied segment disaster, I thought I'd start with something relatively simple: candied orange peels.
Too petrified of messing things up, I followed the steps for candying orange I found on Smitten Kitchen made with simple syrup. At first, the candied oranges were a little firm and chewy, and I told them off on the first day. Surprisingly, the texture changed for the better after two days of sitting in a bowl of sugar, and I had myself some mighty fine candied oranges that I couldn't stop nibbling on.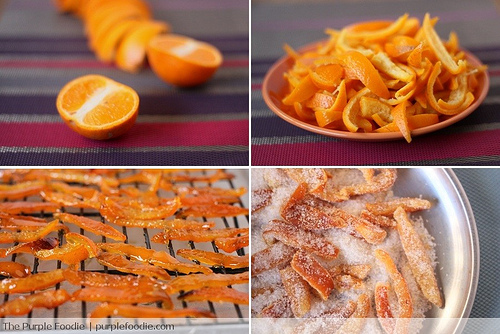 First, cut 6 oranges into 4 segments. Carefully, turn the pulp out.
Now cut each quarter orange peel into 6-8 strips, depending on how large your oranges are. This, I found was the way to get even strips.
Next, blanch the oranges in boiling water for a few minutes. Repeat this 2-3 times. This helps get the bitterness out of the pith, as well as makes the orange peel more receptive to absorb the sugar in the next step.
Finally, prepare the simply syrup 245g. (8oz.) caster sugar and 245g (8oz.) water and bring this to simmer. Add the blanched orange peels to this and let it cook for 30-40 minutes, util translucent. Make sure to stir it every now and then, or you might end up with some burnt strips (which I did).
Once cooked, lay the strips of candied orange on a cooling rack in a tray (that will hold the excess syrup dripping off) and let it dry for 2-3 hours. I left mine overnight. It'll still be pretty darn stick.
Now toss this some caster sugar until it's well coated.
Tip: You can add some additional orange zest into the leftover sugar from coating the candied orange to have flavoured sugar!