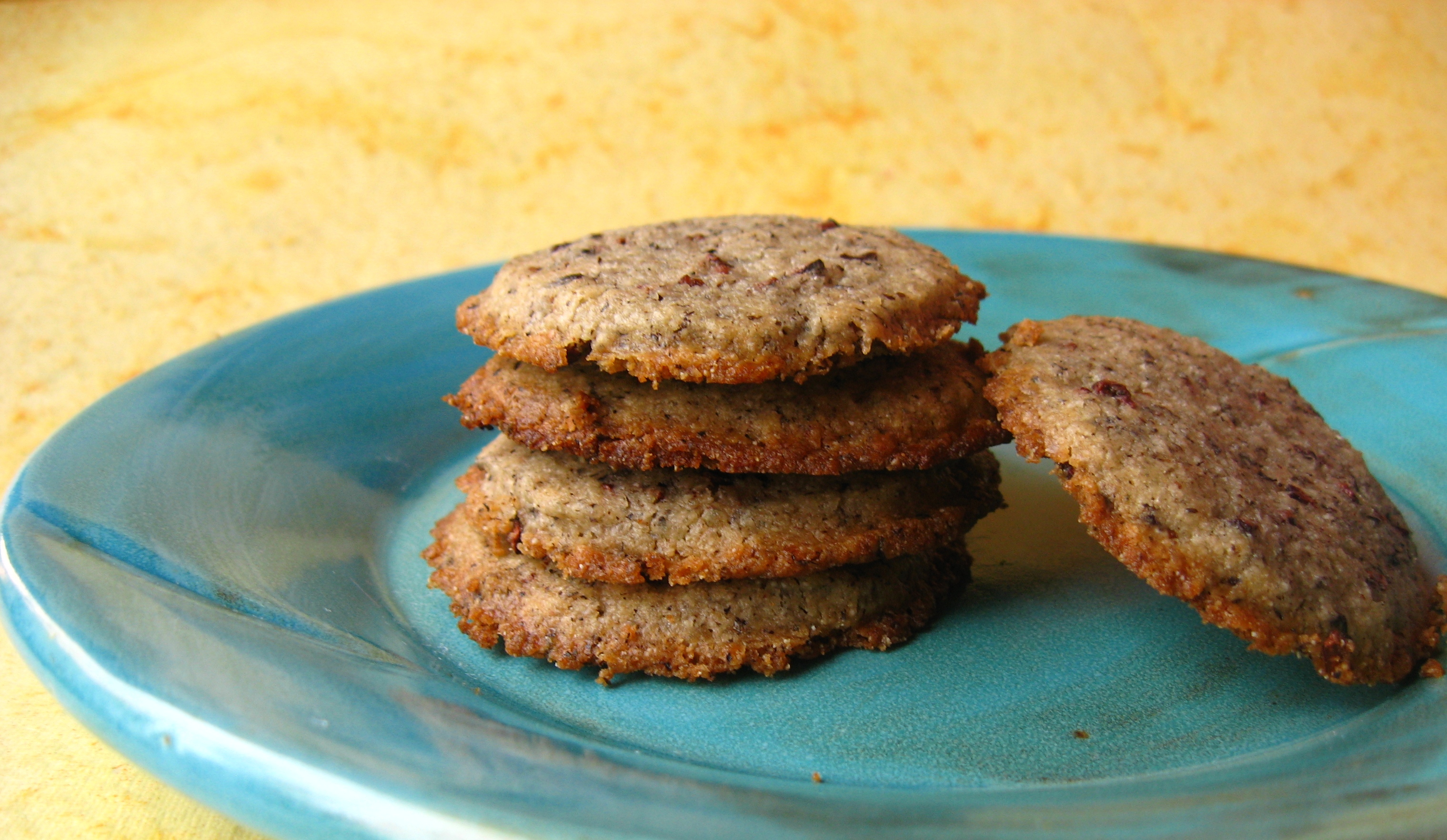 Or rather, these should be called dangerously buttery buckwheat nibby cookies. I've made this cookie recipe a few times ever since my friend Kishi sent me a bag of Valrhona cacao nibs and they've been a hit every single time. These buckwheat cookies definitely won't win a beauty pagent, but that's hardly going to be a point of contention when you bite into the crumbly cookie and your mouth is filled with buttery richness and nibby nuttiness.
So, what are cacao nibs? Cacao nibs are shelled and roasted cacao beans. They have a crunchy texture with a bitter chocolatey flavour. If you're a fan of dark chocolate, falling in love with cacao nibs is a no-brainer. Had on their own, nibs seem like a distant cousin of the coffee bean, but only nuttier and more flavourful (note: opinion may be biased because I don't care much about coffee). And if you really need another reason to buy these then beat this – cacao nibs is one of the top brain health foods.
Ever since I first had cacao nibs in a bar of Scharffen Berger dark chocolate nibby, I'm a fan. I even put some of it in amolten chocolate cake, and my, did the nuttiness of the nibs shine through the silky-smooth texture! You can use them in baked goods just like you use nuts, chocolate chips or poppy seeds! I even used them as a garnish for the lusciouscaramel chocolate tartlets!
But now, back to the cookie – go make it soon! And if you don't have cacao nibs, dried and ground whole vanilla beans might be fun and supremely flavourful too!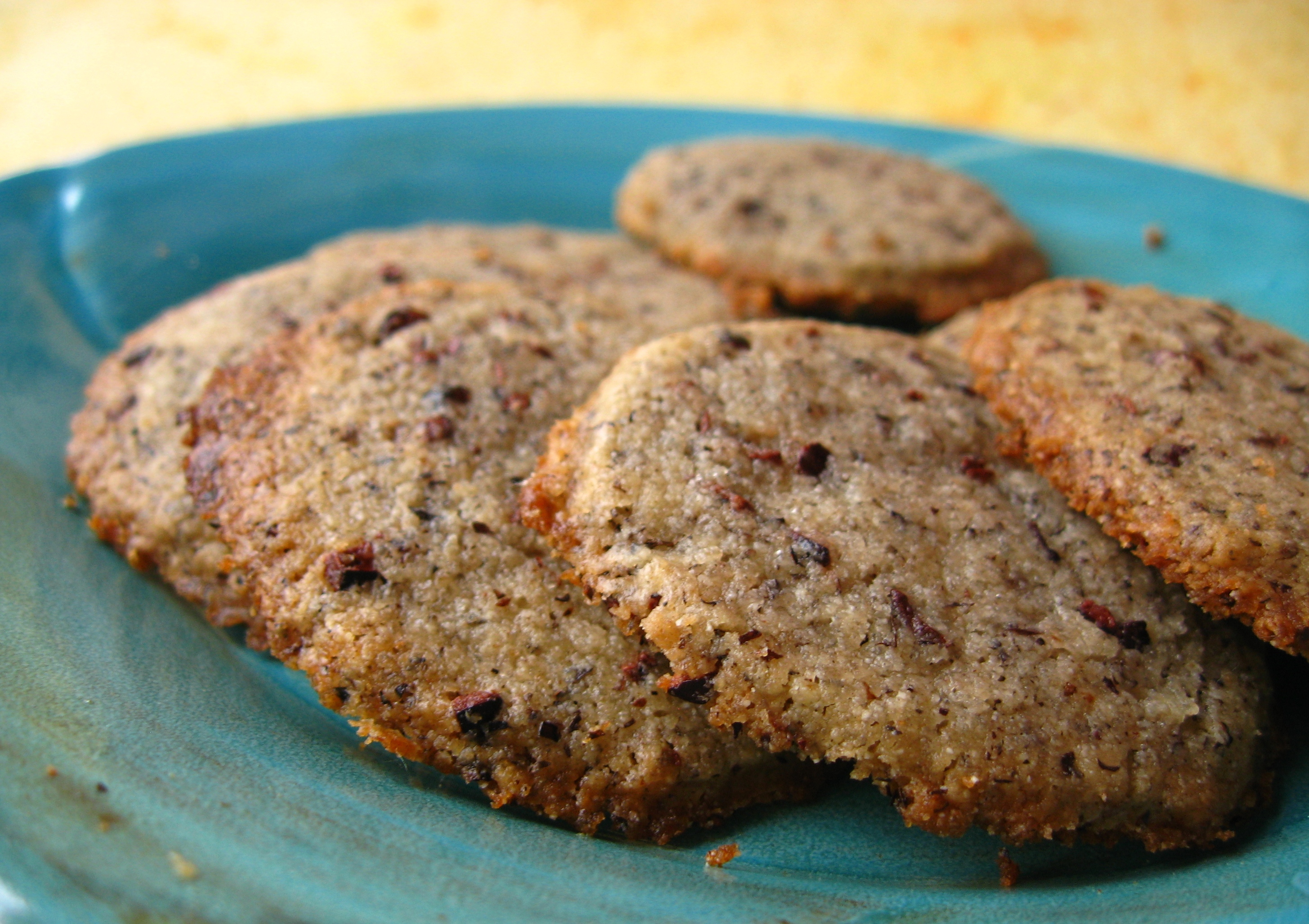 "
Buttery Buckwheat Nibby Cookies
Yield: 40 cookies
Adapted From: Pure Dessert, Alice Medrich
1 1/4th cup (5.6 oz) flour
3/4th cup (3oz) buckwheat flour
1 cup (8 oz/2 sticks) butter (unsalted is preferable)
2/3rd cup sugar
1/3rd cup caco nibs
1 1/2 tsp pure vanilla extract
Preheat the oven to 175C/350F and line a cookie sheet with parchment paper.
Sift together the all-purpose flour as well as buckwheat flour in a bowl. Set aside.
In the bowl of a stand mixer, or in a larger mixing bowl, beat the butter and sugar and salt (if using) until smooth and creamy, but not fluffy.
Mix in the beans and the vanilla.
Stir in the flour and gently knead until it forms a small dough.
Form a 12*2 inches log and then refrigerate it for a few hours or overnight.
Now cut pieces from a log, just like you would for refrigerator cookies.
Lay them out on the cookie sheet and bake them in the oven for 10-12 minutes, or until the edges are golden brown.
Note: The cookies are quite delicate and will be relatively soft when they've just emerged from the oven so make sure to let the cookies cool on the parchment before you pick them up! Yep, this is the hardest part!
—————————————
Still craving for more Cookie Recipes?!
Nutella Pinwheel Cookies
Black Forest Cookies
Valentine Linzer Cookies
Chocolate Chip Cookies
Milan Cookies
Cheddar Cheese Biscuits