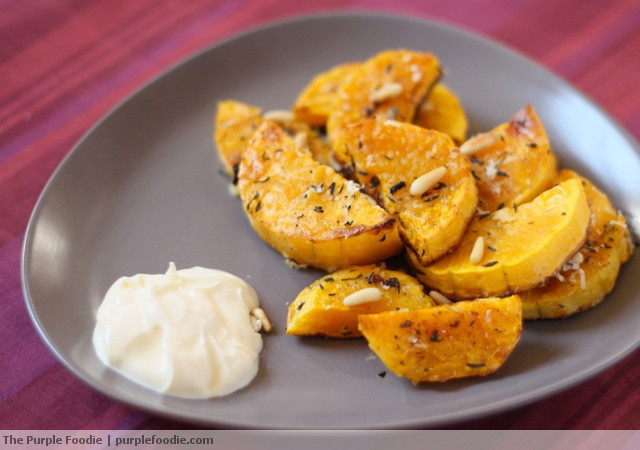 I love that living in France, I never run out of things to be fascinated with. My food fixations so far have been châtaignes à la vanille slathered on toast, Speculoos spread straight from the jar, roasted chestnuts, crème fraîche dolloped on or dipped into, crunchy(!) Speculoos spread (from the jar again. Move over Nutella), fresh hazelnuts, and now, butternut squash.
Butternut squash is the one vegetable (or fruit, technically) that was totally alien to me until just a few days ago. Sure, I'd seen recipes in books and blogs and didn't think of it much more than a version of pumpkin.  A while ago, I spotted them sitting pretty at the farm in their birch wood vegetable bins and I decided I'd take them back home and do a little experiment. I didn't. Instead, I let it sit in my fridge for a few days, uncertain about how I'd cook them and at the same time, slightly frightened at the thought of not cooking up something that blew my mind. (The good news is, they can sit in the fridge for quite a while and not go bad).
One evening, fearing that it might be past its prime, I pulled it out of the refrigerator. I began peeling the squash. "Is it supposed to be this hard?" I wondered. Or maybe the one I got is a bit raw because something with a name like butternut can't possibly be this hard. Looking at the squash dubiously, I googled 'is butternut squash hard to cut' and voila, I had Elise confirm that cutting a butternut squash is indeed a notoriously difficult task. Soon, the cutting turned into sawing with the €5 Ikea knives (that were obviously not made for wresting this little beast), and I finally had slices of squash ready to be roasted.
I kept it simple – butternut squash, drizzled with a little olive oil, a sprinkling of salt, pepper and thyme roasted and then tossed with freshly grated parmesan cheese.
It smelled great, but I still didn't know what to expect (especially since the raw texture threw me off). I bit into a cheese flecked slice and I realised I was in for a treat. Now I know the reason for the 'butter' in the name -  the texture of the squash transforms on cooking! Smooth, creamy, slightly sweet, perfectly balanced by the herbs and salty cheese, the roasted butternut squash was overwhelmingly impressive.
Of course, the slices of butternut squash got the mandatory dip into chilled crème fraîche.
Roasted Butternut Squash with Parmesan and Pine Nuts
Ingredients
1

butternut squash, peeled and sliced

2-3 tbsp

olive oil

Salt

Pepper

A few

sprigs of thyme

2 tbsp

pine nuts

2-3 tbsp

Parmesan cheese, grated

Crème fraîche (or hung yoghurt, Greek yoghurt)
Method
Grease a roasting pan with a little oil and then place the sliced squash on it.
Sprinkle the salt, pepper and thyme and roast in a preheated oven at 220°C/440°F for 15-20 minutes, making sure you turn the slices halfway.
Heat a skillet to toast the pine nuts, making sure you keep an eye on them. They burn really fast!
Transfer the roasted butternut squash into a bowl and toss with grated parmesan and pine nuts.
Serve hot with crème fraîche.