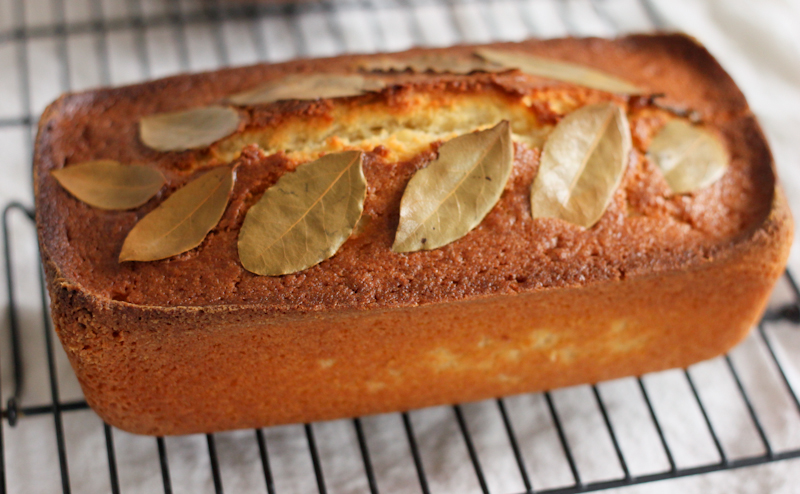 I'm pretty good at detecting flavours in recipe. I'm even proud of it. But when it comes to identifying bay leaf, I'm foxed.
I can't seem to distinguish the subtle aroma that everyone else can. Even at school, when we made a bouquet garni of thyme and bay leaf rolled up in leek leaves and tied up with a twine, I'd never be able to identify the fragrance other than that of thyme and leek wafting from the pan.
I wondered about its importance in food, and I wondered why having too much of this might be toxic. A friend of mine even told me that it was absolutely imperative for us to add bay leaves while cooking Feijoada (Brazilian black beans)  because that's what sets them apart from the way black beans are cooked in the rest of Latin America. I  smiled and I did as I was told, still wondering what difference they'd actually make.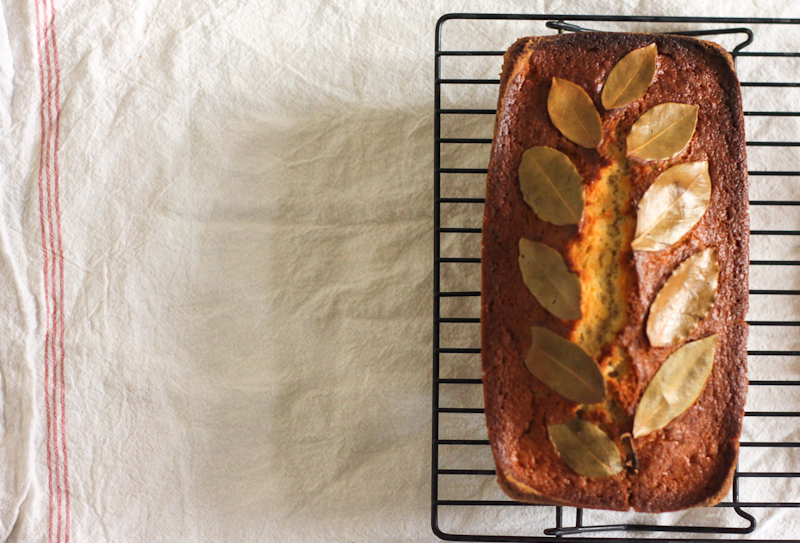 A little while ago I saw Heidi's gorgeous bay leaf pound cake – and that got me thinking – if I made my version of a plain milk cake without any trance of vanilla or distractions and add bay leaves, I'd probably be able to detect something. With that thought in my head, I set out to make this bay leaf milk cake. A few minutes in the oven, and the kitchen was filled with a distinct new fragrance, that of bay leaf that's finally finding a place in my taste memory.
This cake is so good when eaten warm. It has a moist, spongy crumb and a subtle aroma that lingers on in the background while you eat the cake for elevenses or tea. Plus the lovely bay leaf arrangement makes this cake look especially dainty.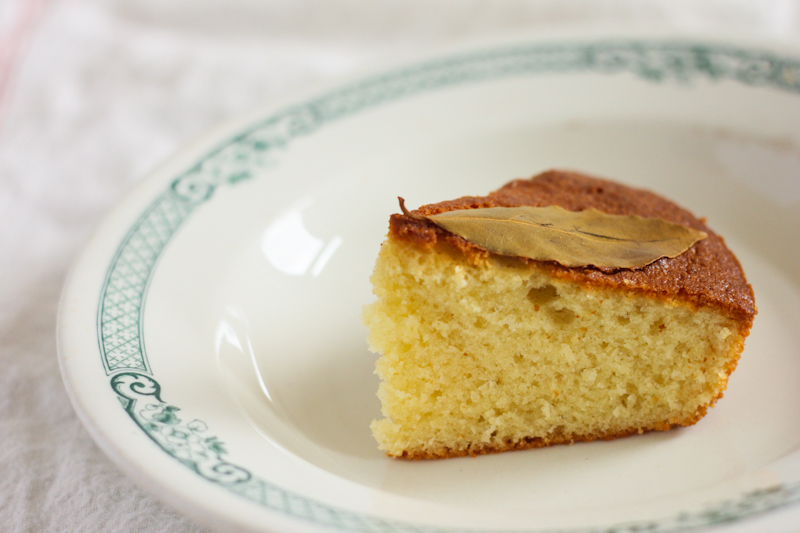 Ingredients
250g butter
250g sugar
1 tsp sea salt
5 eggs
320g flour
1.5 tsp baking powder
150g milk
8-10 bay leaves
Method
Preheat the oven to 175C. Butter and flour a loaf pan + a smaller loaf pan or cake mould.
Beat the butter and sugar together until light and creamy. Add the sea salt. Add one egg at a time and keep whisking until well incorporated and fluffy.
In another bowl, whisk the flour and baking powder together, then sift it.
Fold the flour into the wet ingredients, alternating with milk. Start and end with the flour.
Pour into the prepared moulds and arrange the bay leaves on top.
Bake for 35 minutes (lesser time for the smaller cake).
Cakes are ready when a skewer inserted in the centre comes out clean.
http://purplefoodie.com/bay-leaf-milk-cake/