Toasted coconut, cinnamon, bananas and chocolate – slightly warm, with pieces of melted dark chocolate playing hide and seek. Oh, yes. You are going to love it.
I've been eating a lot of this coconut-ty banana goodness lately. In the past two weeks I've consumed dozens of bananas (and I'm not a banana eater) and just this morning I was checking my stock of ground cinnamon to make sure I'll have my new favourite easy dessert for lunch.
Making this is really easy. It takes me all of ten minutes from the time I peel the bananas to the time I put a big spoonful of caramelised coconut-ty banana dotted with melted chocolate in my mouth.  It's the coconut that takes a little prep work.
My coconut story isn't a pleasant one: I tried breaking the coconut into half – I couldn't do so without getting the skin on my palm pinched between the cracks of the coconut shell. I tried scraping the coconut with a rotating coconut blade, and I wasn't half as efficient as my mom was with the dangerous coconut scraper she swears by. Dangerous, because whenever I've tried using it, I've ended up with some nasty scratches. My mom on the other hand is a pro at such things. She'll break a coconut into half with two taps of the pestle and scrape an entire mound of fluffy coconut in the time it takes me to upload 5 photos to the blog. So, conveniently, I ask her to grate a large coconut for me each week so I can freeze it and use it whenever I feel like eating this toasted coconut banana manna.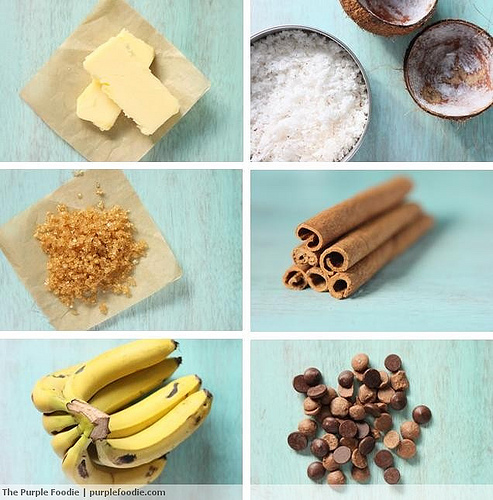 When I was a kid, I remember my grandma would use up over-ripe bananas this way. The smell of over ripe bananas is very strong, so I'm happier using bananas that are firm and just right. Cinnamon takes the bananas to the next level, and in this dish there is no such thing as too much cinnamon.
Whenever I make this, I usually eyeball the ingredients, just the way grandmas usually do. That's how I've learnt it. Just so you have exact measure, I made sure to weigh the ingredients on my scale before popping them into the pan. Sorry, no cup measures for this one. But that's  no deal breaker.
My next project: making a cake version of this. Can not wait.
Coconut Banana Recipe
Recipe Source: Grandma inspired bananas taken up a notch with cinnamon and chocolate.
Ingredients
15g butter
45g freshly grated coconut
30g brown sugar / demerara sugar
1 tsp ground cinnamon
4 bananas, cut into pieces
a handful of dark chocolate chips or a mix of dark and milk
Method
Heat a pan. Add the butter.
Add the coconut to the pan and keep stirring until golden brown, fragrant and toasted. About 3-4 minutes. Make sure you stir it constantly; else it will stick to the pan and burn.
Add the sugar followed by the cinnamon and keep stirring.
Once the sugar melts a little into the coconut mixture, add the bananas. Stir gently to coat the bananas with the coconut and turn off the heat immediately.
Transfer to a bowl and sprinkle with the chocolate chips.