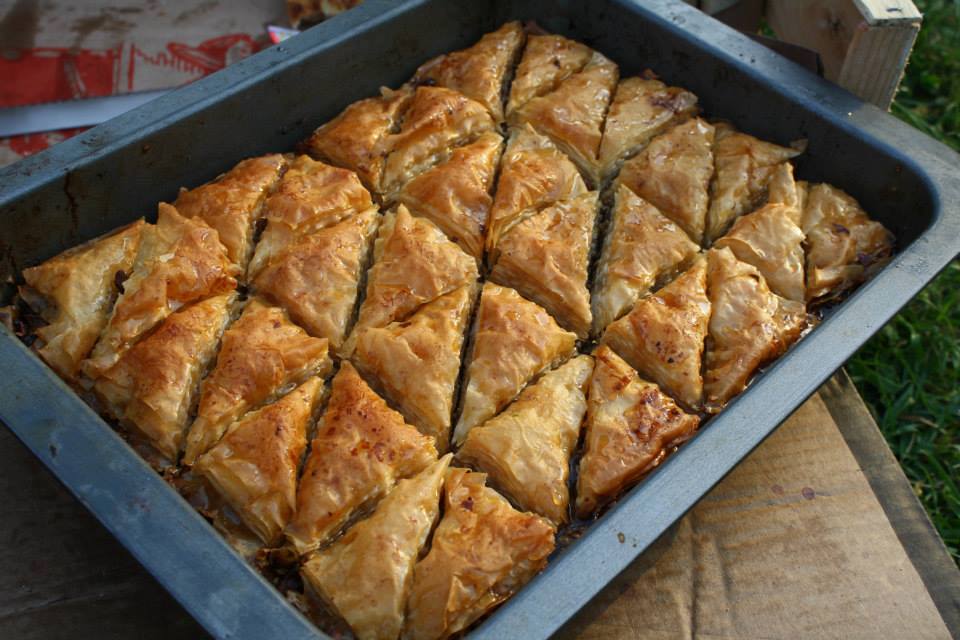 I have a Baklava recipe that I've been meaning to share for a while. It's a terrific recipe, this one. And my friend, Jennie, who taught me how to make it insists that I chop the nuts by hand only and not skimp on the spices that might seem like a bit too much when you first look at the recipe. When we scaled up the recipe to feed a crowd for a picnic, the almonds took the longest to chop and were flying all over the kitchen. While this recipe is perfect to serve more than two dozen people, it's also great to have around the house because it keeps so well – for a week to ten days. This way, you'll always have something to nibble on at the end of a meal.
Baklava is something I was secretly intimidated of until this point. I'd never worked with phyllo before and to take on something like a baklava that was made up with expensive nuts and spices wasn't something I wanted to experiment with – and besides whenever I ate baklava out, I couldn't eat more than a piece (although the pistachio cigars at the Mosquée de Paris are positively addictive!). So when we were planning a picnic menu, Baklava seemed like the perfect choice because one tray yields 32 pieces, and you can make it at least 8 hours in advance for the flavours to mingle, thus leaving us the rest of the day to get everything else together.
Here's a tip while making the baklava: be VERY generous with the butter while brushing the phyllo sheets.
Ingredients
Soaking Syrup:
400g sugar
160g water
1 lemon, halved
1 orange, halved
6 inch stick of cinnamon
225g honey

For the Baklava:
500g whole almonds, finely chopped
250g walnuts, finely chopped
250g pistachios, finely chopped
250g sugar
1 tablespoon cinnamon
1 teaspoons freshly grated nutmeg
1/4 teaspoon ground cloves
1/4 teaspoon salt
340g unsalted butter, melted and cooled slightly
1 (approx 400g) package phyllo pastry sheets, thawed if frozen
Method
Soaking Syrup: Combine sugar and water in a saucepan. Squeeze juice from lemon and orange into sugar mixture and then throw the halves in as well. . Add the cinnamon sticks. Bring the mixture to a boil over moderate heat until sugar is dissolved, then simmer 10 minutes. Skim as necessary. Stir in the honey and return to a boil. Remove from heat and cool to room temperature. Pour through a sieve into a large bowl and discard the fruit rind while leaving the cinnamon stick inside. Chill until completely cold. NOTE: One time, we left the fruit halves in thinking it might draw out more of the citrus flavour into the syrup. Turns out, that it makes it rather strong and it's best to discard it before cooling it.
Make the Baklava: Put oven rack in middle position and preheat oven to 170C.
Whisk together almonds, walnuts, sugar, cinnamon, nutmeg, cloves, and salt until combined well.
Brush a 13x9 inch baking dish with melted butter. Cut the phyllo sheets into half along the width and stack them all up. Keep stack covered with a dampened clean kitchen towel to prevent it from drying out. Lay 2 sheets of phyllo in bottom of baking dish and brush top sheet with butter. Continue to layer 2 sheets at a time, staggering sheets in each double layer slightly to cover bottom of dish, then brushing every second sheet with butter, until you have used 10 sheets of phyllo total. After brushing top layer of phyllo with butter, spread about 1 1/2 cups of nut mixture over it. Spoon over 2 tablespoons butter.
Repeat this layering process 3 more times. Top with 10 more sheets of phyllo. (You will use 50 sheets of phyllo total.) Butter top and let baklava stand at room temperature for the butter to firm up slightly to facilitate cutting, 10 to 15 minutes.
Using a sharp knife, cut baklava into 16 equal rectangles, then cut each piece in half diagonally, making sure to cut all the way through.
Bake baklava until golden, 50 minutes to 1 hour. Transfer dish to a rack to cool, then slowly pour cold syrup around edges of hot baklava, in between all cuts, and over top. Let stand at room temperature at least 8 hours. (Cover once baklava is at room temperature.) Do not chill.
http://purplefoodie.com/baklava-recipe/